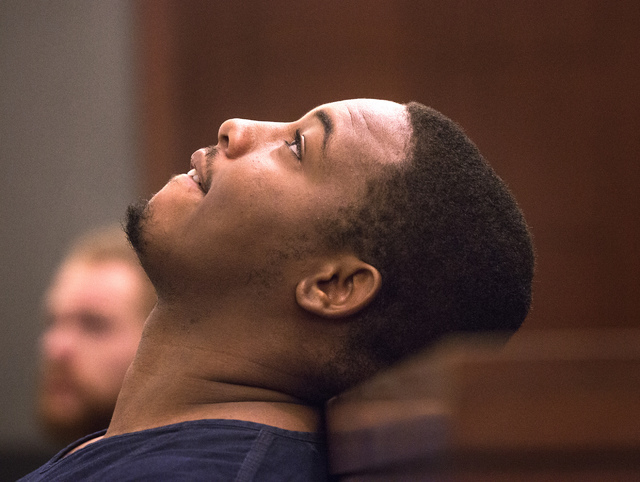 A man convicted of opening fire in the parking lot of a Las Vegas hookah lounge was sentenced Wednesday to 27 years to life in prison.
Prosecutors said Preston Emerson, 22, opened fire May 11, 2014, in the parking lot of CEO Hookah Lounge at 5900 W. Flamingo Road after a quarrel.
After the shooting that left Jean Claude Mombo dead, Emerson fled the scene in a vehicle with a female driver, authorities said.
Homicide detectives matched Emerson with photos taken at the lounge that night, and Emerson was arrested after the photos were televised.
In March, a Clark County jury found Emerson guilty on seven charges: murder with use of a deadly weapon, three counts of attempted murder with use of a deadly weapon, two counts of battery with use of a deadly weapon resulting in substantial bodily harm and one count of battery with use of a deadly weapon.
"It's a sad case," Chief Deputy District Attorney Frank Coumou said. "This was absolutely not necessary for the defendant to pull out that handgun and start shooting … He is lucky that more people did not lose their lives."
Defense lawyers argued that another man who was at the scene, Vernon Turner, actually pulled the trigger, and said they planned to appeal Emerson's conviction.
"After verdict, I was surprised, shocked, upset, fell into a depression for a significant time period," said Deputy Special Public Defender Scott Bindrup, adding that he second-guessed his own trial tactics.
Emerson, the father of a 2-year-old boy, told District Judge Carolyn Ellsworth that he had "sympathy" for the victims, but denied his role in the shooting.
"This is real difficult for me," he said. "I understand the pain they feel, but I am not the one who did this to them … I had no problems with anybody that night."
Contact reporter David Ferrara at 702-380-1039 or dferrara@reviewjournal.com. Find him on Twitter: @randompoker