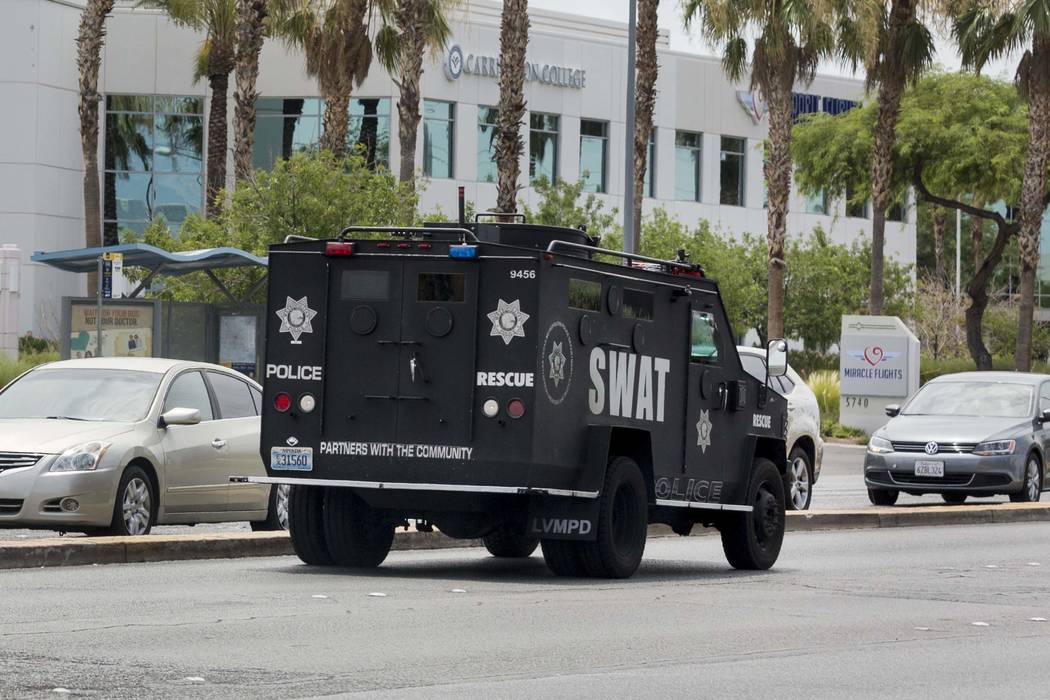 Las Vegas police records identified a suspect in a four-hour barricade with an armed suspect at an eastern valley funeral home Sunday, delaying flights and closing roads.
Metro documents say Douglas P. Jacobs II, 48, resisted police with a gun before shooting himself in the shoulder. He was booked into Clark County Detention Center, and his bail was set at $5,000.
The incident started about 10 a.m. when police responded to reports of a gunman at the Davis Funeral Home at 6200 S. Eastern Ave., near Patrick Lane.
Police negotiated with the man, who they said put the gun to his head and stomach multiple times.
The east-west runway at McCarran International Airport was shut down because of the barricade, with air traffic being diverted to the north-south runway, McCarran Airport spokesman Michael Oram said. The runway was reopened about 3:30 p.m.
Metropolitan Police Department Lt. David Gordon said at least 30 flights were delayed by the closure.
About 2 p.m., Jacobs "finally gave up," Gordon said.
He was taken to Sunrise Hospital and Medical Center for treatment of the self-inflicted gunshot would. Police said his injuries weren't life-threatening.
Contact Mike Shoro at mshoro@reviewjournal.com. Follow @mike_shoro on Twitter.