Man shot near downtown Las Vegas parking garage
January 16, 2017 - 7:08 am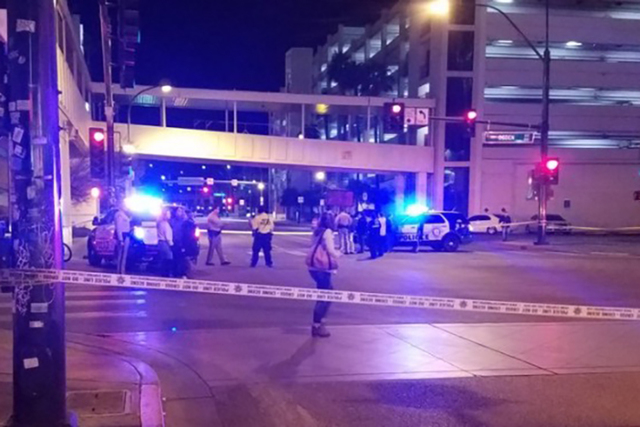 One man was shot near a downtown parking garage early Monday morning.
An 18-year-old woman and a 17-year-old girl said they were walking at about 1:15 a.m. near East Ogden Avenue and North Casino Center Boulevard on Monday when they came within a few feet from a man as he was shot by a driver in a white car.
The driver shot the man in the stomach, the 18-year-old, a California native, said. Police later said the man was shot in the chest.
The man fell forward partially onto the car, and it carried him a few feet as it drove off before he fell to the ground, the woman said. The two witnesses were visiting from the Bay Area and were looking for their car at the time of the shooting.
They were walking with a third person near the corner of the intersection when a man, who they said appeared to be carrying an empty bottle of alcohol, asked them if they were looking for a fight. They told him no.
They kept walking but got lost and turned around and returned to the corner of Ogden and Casino Center. They saw the same man try to engage with the driver of a white car at the corner.
The driver pointed a handgun at the man and shot him, the women said. The driver then turned right from Casino Center onto Ogden and drove away.
Metropolitan Police Department Sgt. Mike Souder confirmed that one person was shot by another person inside a car, but he wouldn't confirm their genders. He said nobody was in custody as of early Monday.
The 17-year-old said she was standing behind the man when he was shot, while her friend was a few feet to his side.
They ran as their instincts took over, the 18-year-old said.
"I don't know how to describe it," she said. "Shock comes differently to everyone, I think."
Neither the man's identity nor his condition were known.
The witnesses' names are being withheld while police investigate and the suspect remains at large.
Contact Mike Shoro at mshoro@reviewjournal.com. Follow @mike_shoro on Twitter.