Medical workers reflect on ER aftermath of Las Vegas shooting
Updated January 19, 2018 - 4:53 pm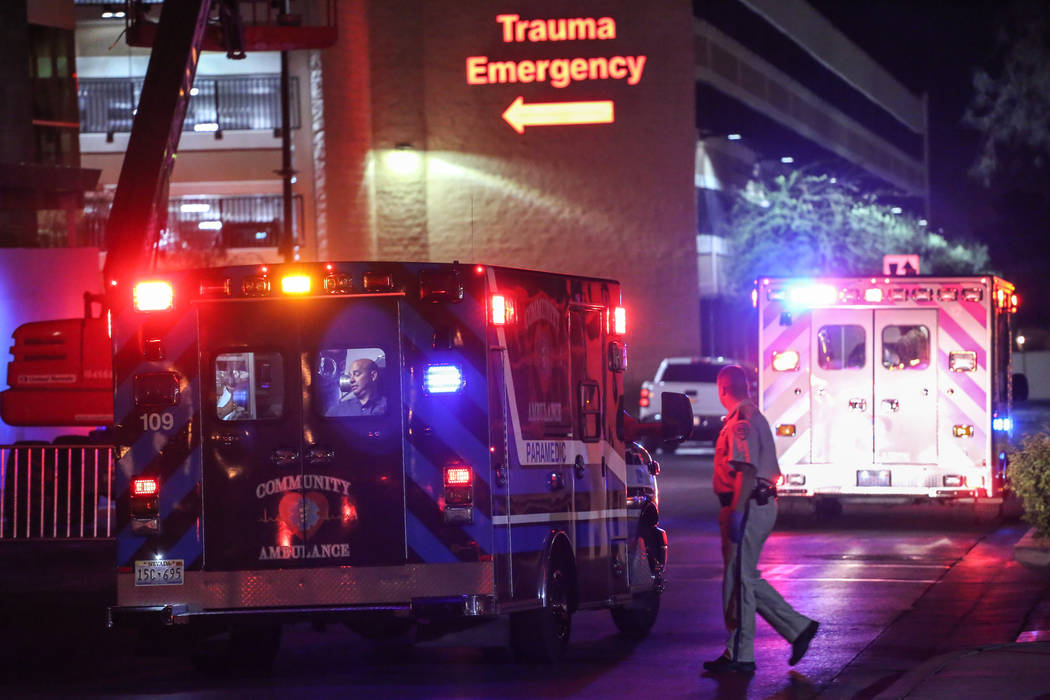 Dr. Scott Scherr was nearly asleep when his phone buzzed on Oct. 1 with a message to report to Sunrise Hospital and Medical Center.
The hospital's chairman of emergency services donned his scrubs and began driving. To his knowledge, a handful of people had been injured after someone fired a gun on the Las Vegas Strip.
"I just thought this was going to be (like) another Friday, Saturday night at Sunrise," he said.
Scherr arrived to a scene borne of the deadliest mass shooting in modern American history. By 2:30 a.m. the hospital had admitted nearly 230 patients who were injured after a gunman fired from a Mandalay Bay hotel room upon the Route 91 Harvest country music festival.
"We grew the footprint of our ER to about four to five times of its normal size," Scherr said.
The doctor and several other local medical professionals shared their accounts of that night during the first Southwest Regional Emergency Medicine Conference at Mountain View Hospital on Friday morning.
The shooting flooded local hospitals. Dr. Clarence Dunagan said 639 patients were treated in emergency rooms and trauma centers.
Of the people who made it to hospitals alive, 14 died, Dunagan said.
"I think that's incredible," he said.
Still, Dunagan and the other speakers acknowledged that there is much room for improvement.
"There's a lot of competition between hospitals in this valley," Scherr said. "We need to brush that aside and plan for the next event because, unfortunately, there's a lot of soft targets in Las Vegas and the likelihood of this happening again is pretty high."
Robert Weiss, an emergency medicine physician assistant at Sunrise Hospital, said he was attending the concert with his wife when the shooting began. He rushed to the nearest medical tent to help treat the wounded, but little could be done with the supplies on-site.
"The medical tent was set up to deal with sprains, strains and sunburns, primarily," he said.
Scherr said Sunrise Hospital and Medical Center ran out of chest tubes within an hour and had to reach out to other for more of those, blood and other supplies.
Clark County Fire Department Assistant Chief Troy Tuke said he wants first responders to train more with local hospitals' emergency departments to create a more efficient and cohesive response.
And hospitals also need to establish altered standards of care for when they become inundated with emergency patients, Scherr said.
"We lucked out," he said. "It was a Sunday night, 10 p.m., relatively empty (emergency department). Physicians answered their phones. … If the timing of this was different, what would we do?"
Contact Michael Scott Davidson at sdavidson@reviewjournal.com or 702-477-3861. Follow @davidsonlvrj on Twitter.