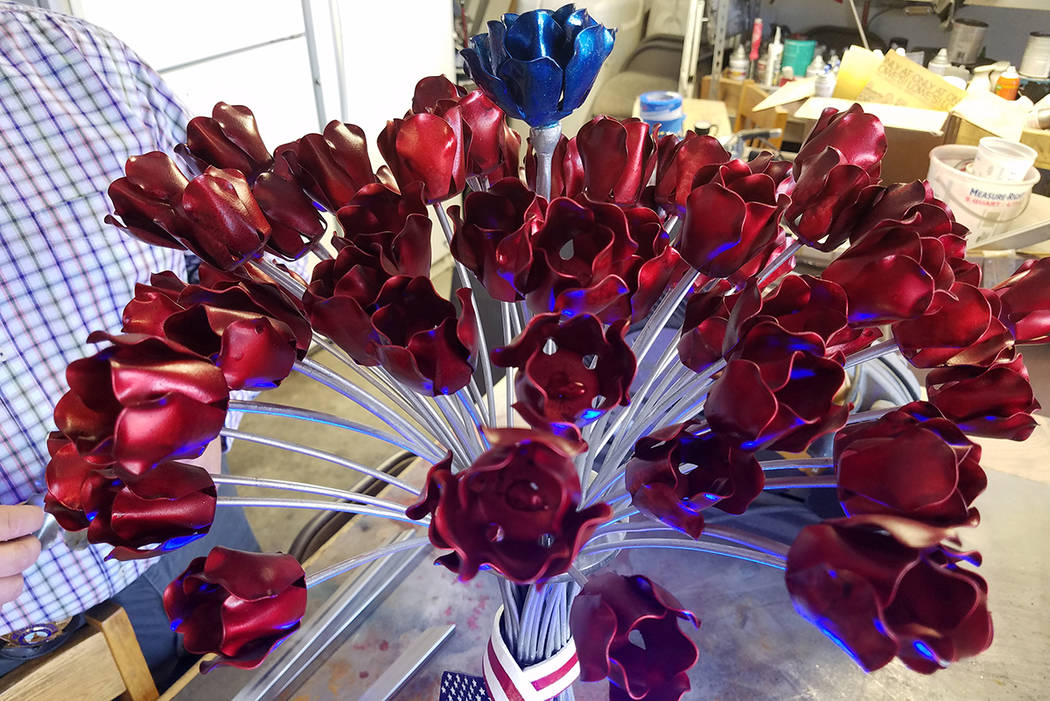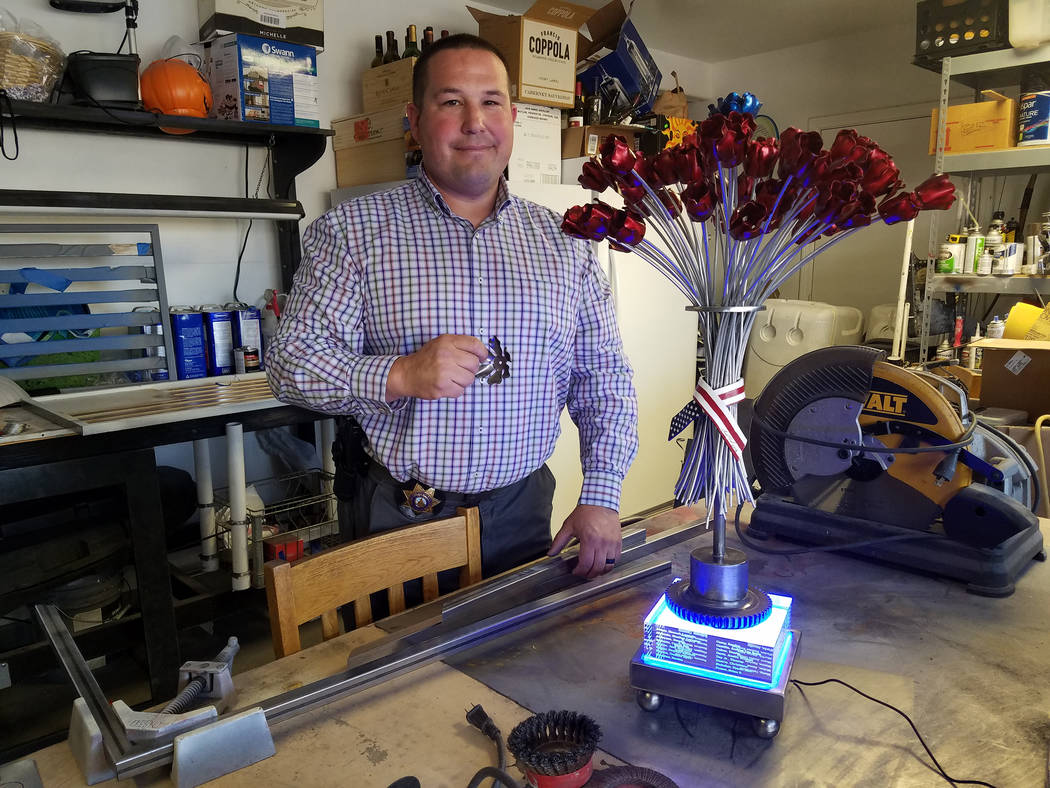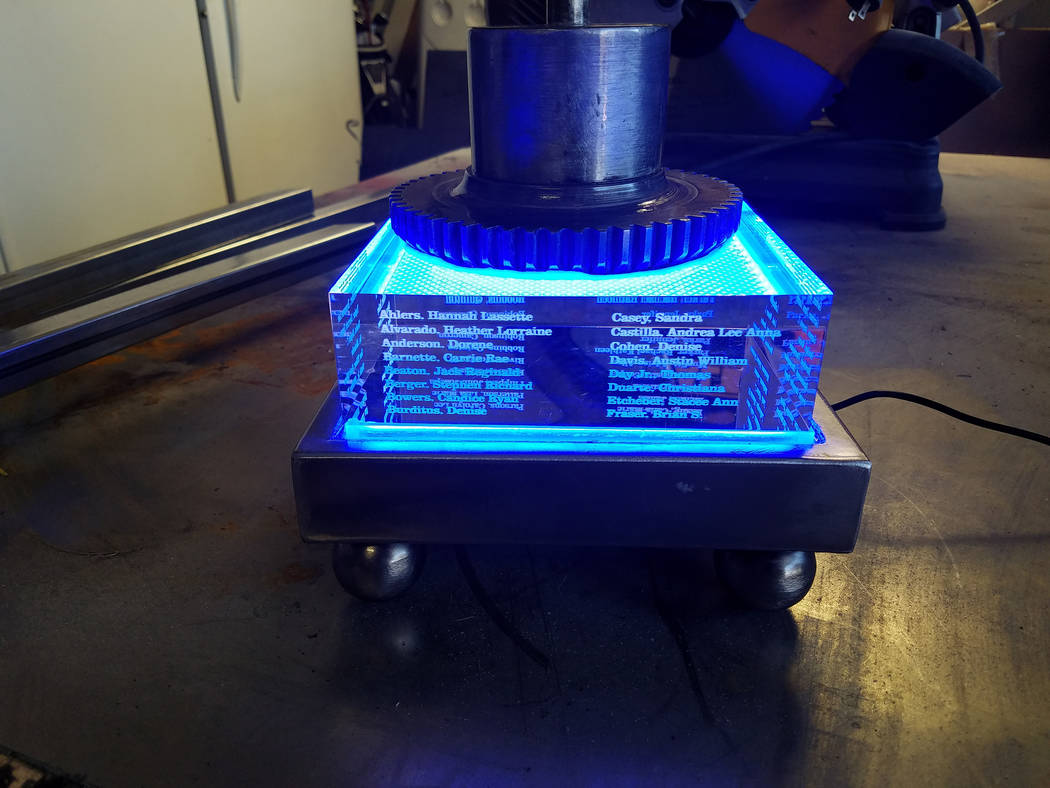 The bouquet is fake, but the love it represents is anything but.
The metal bouquet of 58 painted roses — one for each person killed in the Oct. 1 mass shooting on the Las Vegas Strip — was created by Metropolitan Police Department detective Darryl McDonald. It has a metal American-flag ribbon wrapped around it and the victims' names engraved in a glass prism below it. He spent a month crafting it in his garage.
It will be up for auction at 6 p.m. Thursday at the Cops & Canvas 4th Annual Art Auction Fundraiser at Area 15, 3230 W. Desert Inn Road.
Art by Metro officers will be auctioned off to help the department pay for community-outreach programs, foundation spokeswoman Latoya Holman said.
McDonald sculpted and welded the bouquet and its base, but he had a company engrave the names and install a light in the prism.
While his past artwork has featured bullets or shell casings, McDonald decided against including them as part of his bouquet design out of respect for the victims and their families.
McDonald got the idea for the bouquet at a foundation banquet about a month ago. He had started to create what he called a "Betsy Ross" metal American flag for the auction but was wavering on the idea and wanted to honor those killed in the shooting.
"I need to do something different," he said.
He spotted roses decorating a table nearby at the banquet, and he thought of a Bible verse, 2 Corinthians 5:8, about the soul rising after death.
He quickly scribbled his vision for the piece, "58 Rose," on a napkin.
"A rose is something to show that for the families — the victims' families — that we're here for them, we love them," he said.
McDonald was the first police officer many victims' families saw the night of the shooting. He responded to Metro's headquarters while it was a temporary family reunification center, he said, where he patted down many of them before they entered and tried to find their loved ones.
"It was an emotional roller coaster," he said.
Fifty-seven of the roses were painted red. The 58th rose, centered and higher in the bouquet than the other roses, was painted blue to honor officer Charleston Hartfield, who was killed in the shooting and worked on the same floor as McDonald. McDonald said he and Hartfield's family have grown closer since the tragedy.
"When we found out an officer died that night, and then when one of the sergeants came down and said it was Hartfield, I was like, 'Oh my gosh,' " McDonald said.
The bouquet is tough to talk about, he said, but the result perfectly matches the vision he first scribbled on a napkin a month ago.
"I don't want to get rid of it," McDonald said.
Contact Mike Shoro at mshoro@reviewjournal.com or 702-387-5290. Follow @mike_shoro on Twitter.
Cops & Canvas fundraiser
For more information or to purchase tickets ($75), visit lvmpdfoundation.org. Donations also can be made on the website.