MGM paying for hotel stay for Las Vegas shooting witness Jesus Campos
October 26, 2017 - 7:44 pm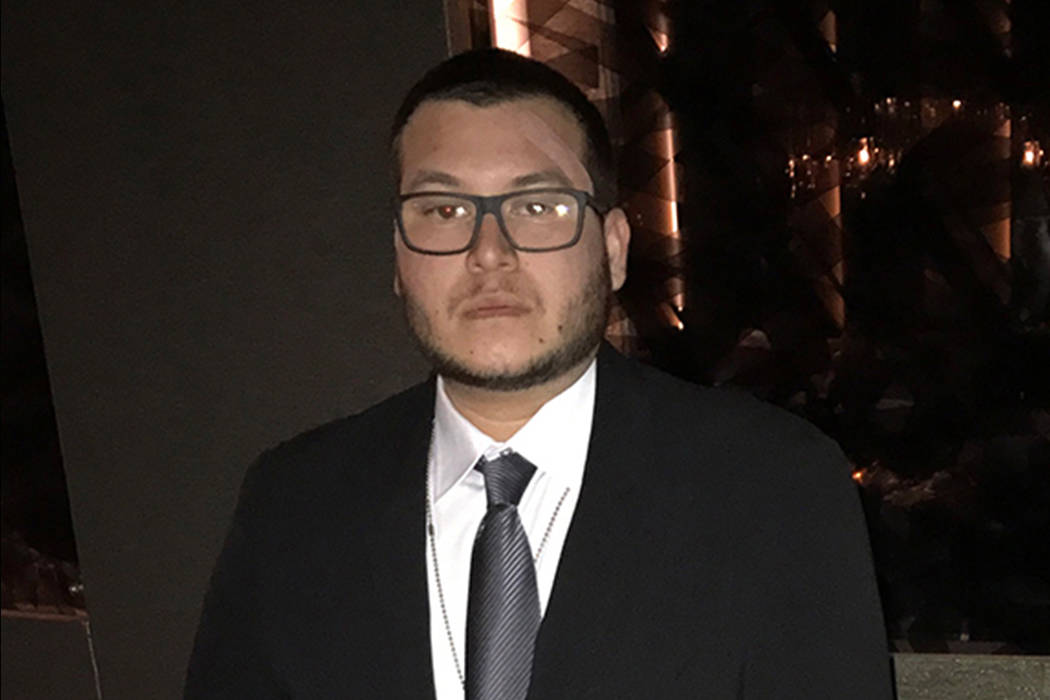 Mandalay Bay security officer Jesus Campos has been staying at an MGM Resorts International property at the company's expense following the Oct. 1 shooting on the Strip, the Las Vegas Review-Journal has learned.
As a result, some veteran trial lawyers are questioning the company's gesture and potential influence over Campos, a key witness in the criminal investigation and civil litigation against MGM Resorts.
Campos accepted the paid hotel stay for his own protection after he was identified Oct. 4 as the officer shot by the gunman the night of the massacre, Campos' lawyer, Frank Flansburg III, told the newspaper Thursday.
The 25-year-old security officer was shot in the leg while approaching the suite from which the gunman opened fire. Campos' account of the shooting has grown in importance since Las Vegas police made multiple changes to the timeline of the shooting, which killed 58 people.
"There's a suspicion that they are trying to shape his testimony and don't want him to provide information to the public about the incident," said Las Vegas attorney Will Kemp, who rose to national prominence while suing the MGM Grand after its deadly fire in 1980. "Obviously, they want him to come out with a version of the timeline that's favorable to them."
Another veteran trial lawyer, Robert Eglet, said the company's decision to shelter Campos from the public could backfire.
"Potentially, if they are influencing him in any way on his testimony, it's reasonable for people to suspect that they could be engaging and trying to control what his testimony or what his statement would be," he said.
Eglet's firm, which has won multimillion-dollar jury verdicts against large corporations, surveyed the crime scene and took aerial photographs, and it has a team of investigators dissecting the shooting. Several victims and their relatives have retained Eglet for possible lawsuits against MGM Resorts, he said.
'Unwanted attention'
Flansburg said Campos has spent most of his time at an MGM property since his name became public, except for several days in Mexico on a pre-planned and company-approved trip to visit family.
"Following the tragedy, Mr. Campos' name was publicly released, resulting in extensive and intrusive media attention," Flansburg said. "Because of the unwanted attention days after the event, MGM Resorts offered Mr. Campos lodging for his privacy and protection, which Mr. Campos accepted and appreciated."
MGM Resorts Senior Vice President Alan Feldman also confirmed Thursday that the gaming company has provided accommodations for Campos.
"When his name became public, Jesus was inundated with media coming to his home," Feldman said. "Out of concern for our employee's safety, we provided a room for him. This was a very unusual circumstance, and our first and only concern was his safety."
Flansburg said law enforcement officers interviewed Campos at the hospital and approved his trip to Mexico. He has been available to investigators since returning to the country.
Larry Hadfield, a spokesman for the Metropolitan Police Department, declined to answer questions about how many times police have interviewed Campos and whether investigators have concerns that MGM is keeping him under wraps.
"He is a victim in this investigation, and he is cooperating," Hadfield said.
Travel to Mexico
Campos, who has had trouble sleeping since the shooting, left Las Vegas for Mexico on Oct. 6 to spend time with family members there and returned the evening of Oct. 8, Flansburg said. Campos returned to an MGM property when he came back and was still being housed by the company as of Thursday afternoon.
Security officers have often stood guard at his house.
"He went from being a private citizen with no attention to suddenly being in the spotlight, and it was overwhelming while he was trying to recover from the tragedy," Flansburg said in an interview.
Flansburg said Campos, who was born in Southern California before moving to Las Vegas as a teenager, is aware that he will be dealing with the shooting for a long time, but he is anxious to return to his home and attempt to live a normal life.
He was the first to encounter gunman Stephen Paddock at his Mandalay Bay suite on the night of Oct. 1. Paddock shot him in the leg through the door.
About the same time, the shooter began firing at roughly 22,000 people across the street at the Route 91 Harvest music festival.
Unique position
Campos is uniquely positioned to answer questions about the hotel's response to the shootings and discrepancies about how long it took police to breach the shooter's hotel room door.
"If they're putting him up at one of their resorts, then somebody has some explaining to do," veteran Las Vegas lawyer Rob Murdock said. "My concern is that they may be trying to have an improper influence with a witness."
But Murdock, who handled lawsuits tied to the 2007 hepatitis C outbreak in Las Vegas, said it also is possible that MGM has an "innocent" motivation to take care of one of its employees.
Chicago attorney Robert Clifford shared that view.
"Here's a man who just witnessed one of the most dramatic episodes a human being could witness, and they're trying to do the right thing to protect him from the hyper paparazzi-type environment that must be swirling around this tragedy," said Clifford, a key lawyer in the litigation stemming from the 9/11 terrorist attacks.
Longtime Las Vegas defense attorney Thomas Pitaro said he sees nothing wrong with the way MGM has handled Campos.
"As long as police are satisfied with the access they're getting to him, I don't see it as a problem," Pitaro said. "They're doing what they should be doing, taking care of their employee."
Former federal prosecutor Paul Padda, who handles both civil and criminal cases, agreed.
"While the public and victims deserve answers, Mr. Campos deserves to feel safe," Padda said. "To that end, it may well be that MGM is trying to help its employee. At some point, the courts will need to sort all of this out, and it is too early to jump to any conclusions."
But Clifford said MGM eventually will have to return Campos to independent living so the company cannot be accused of attempting to influence him.
Campos faces scrutiny
Southern California lawyers Richard Bridgford and Patrick McNicholas — who are part of a team of lawyers suing MGM on behalf of victims — said their group will be aggressively pursuing information about Campos for the civil cases.
"Campos is a material witness in an ongoing investigation," Bridgford said. "We will certainly want to know the details of where he stayed, why he disappeared, who paid for his stay and, most importantly, what if anything he was told and by whom. It goes to the credibility of the witness, his bias and the ever-changing timeline we are being provided."
McNicholas described the lodging arrangement between MGM and Campos as "very disconcerting" and said the security officer will be the focus of "intense scrutiny" as the lawsuits proceed through the court system.
Campos appeared on "The Ellen DeGeneres Show" last week after he had dodged planned interviews with five news programs.
As questions swirled about his whereabouts, MGM released a statement that said, "Jesus Campos wants to tell his story at a time and place of his choosing. He's asked that everyone respect his request for privacy. We could not be more proud of Jesus."
Later that day, DeGeneres announced she had landed an interview with Campos.
In the days after the shootings, Clark County Sheriff Joe Lombardo revised the timeline of events. Initially, Lombardo said Paddock shot Campos after he began shooting at the crowd.
Then the sheriff reversed course and said Paddock shot Campos minutes before firing on the crowd. MGM publicly contested that account. Finally, Lombardo said Paddock shot Campos at about the same time he started shooting at concertgoers.
DeGeneres did not ask Campos any questions about the timeline during her interview with him, and Campos has not granted any other interviews.
Contact Jeff German at jgerman@reviewjournal.com or 702-380-4564. Follow @JGermanRJ on Twitter. Reporters David Ferrara, Brian Joseph, Rachel Crosby and Sandy Lopez contributed to this story.