Museum to catalog every item from Las Vegas shooting memorial
December 4, 2017 - 12:10 am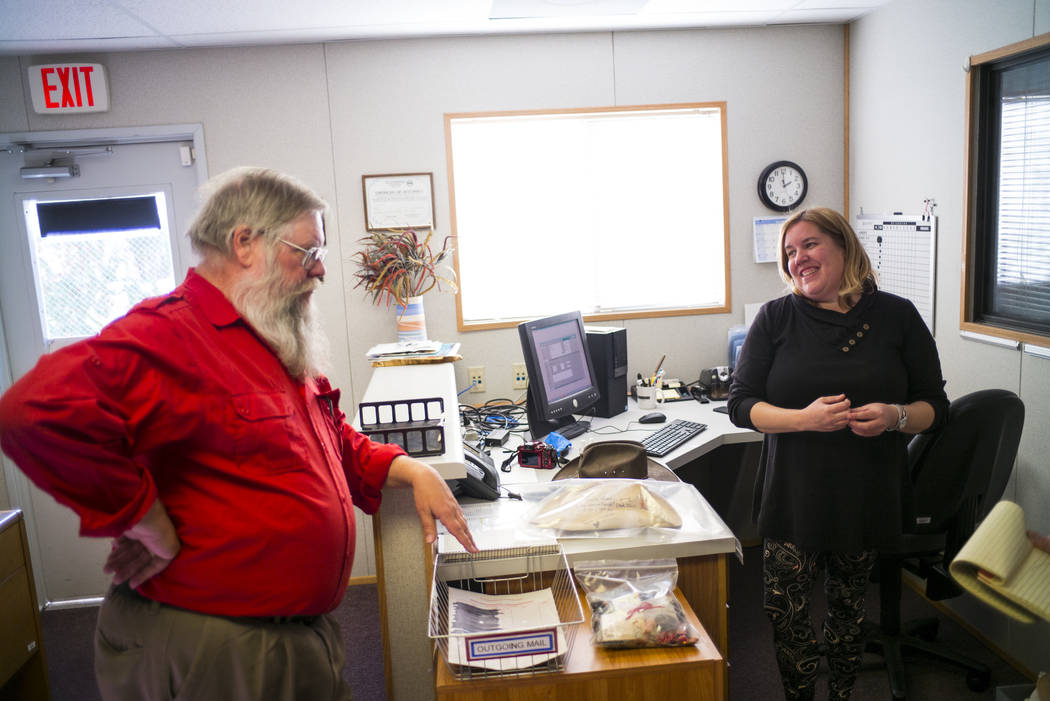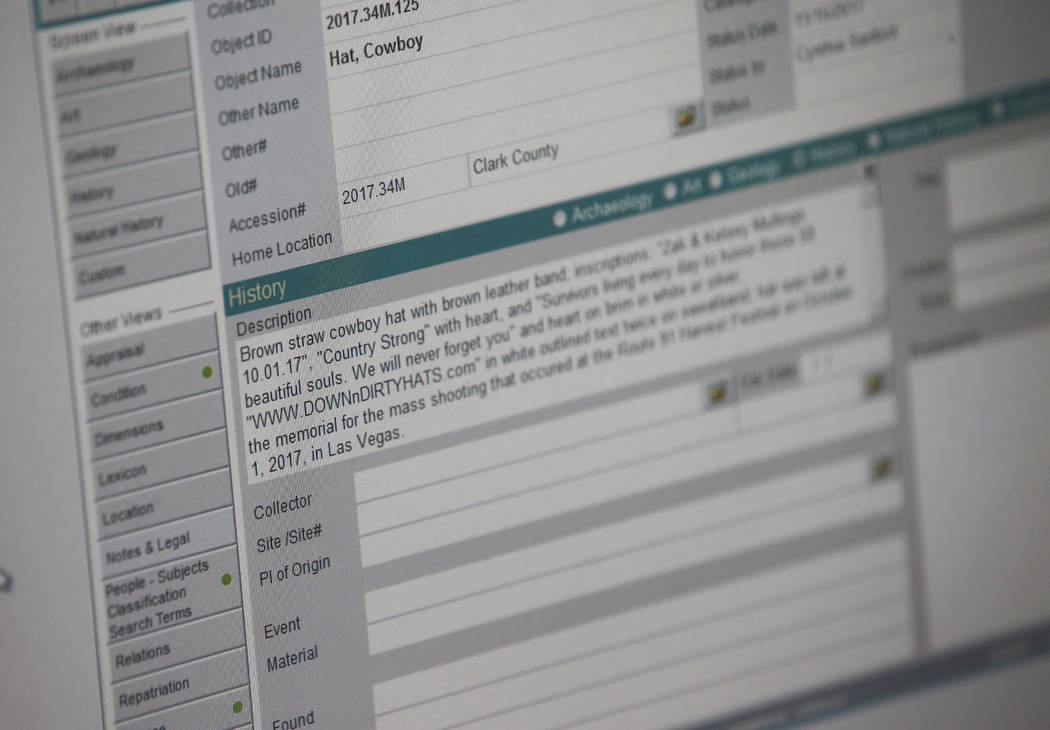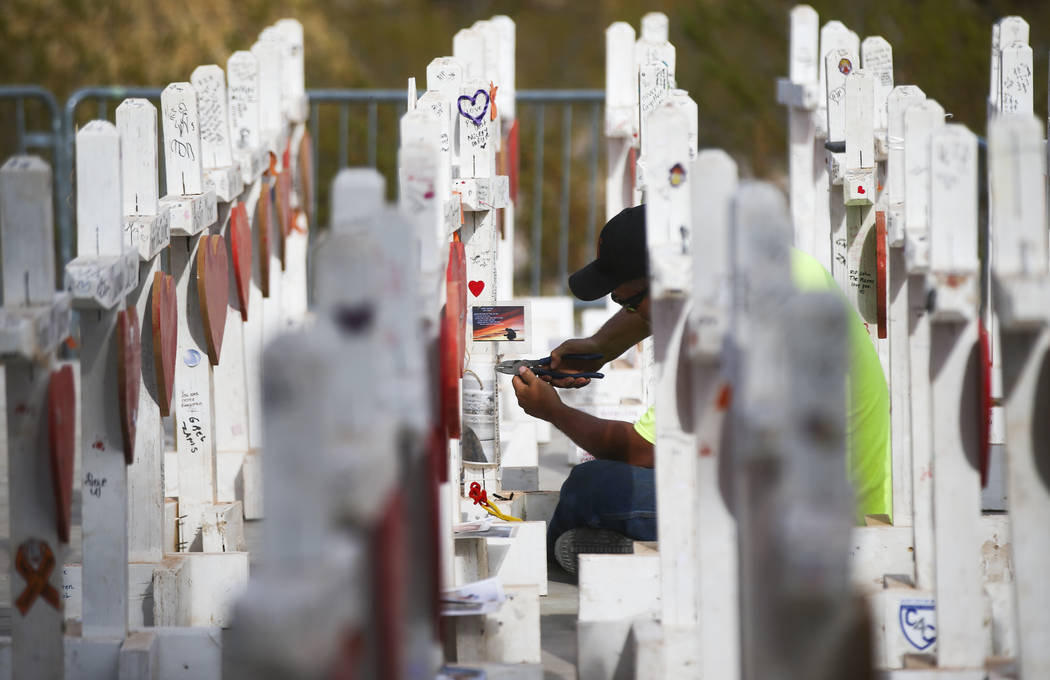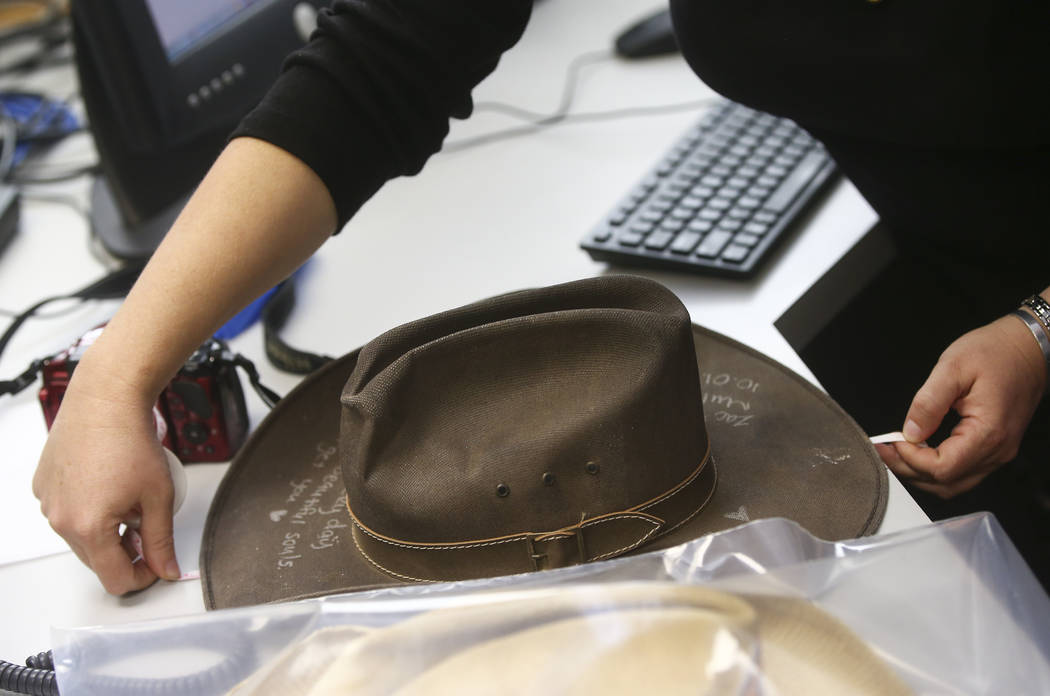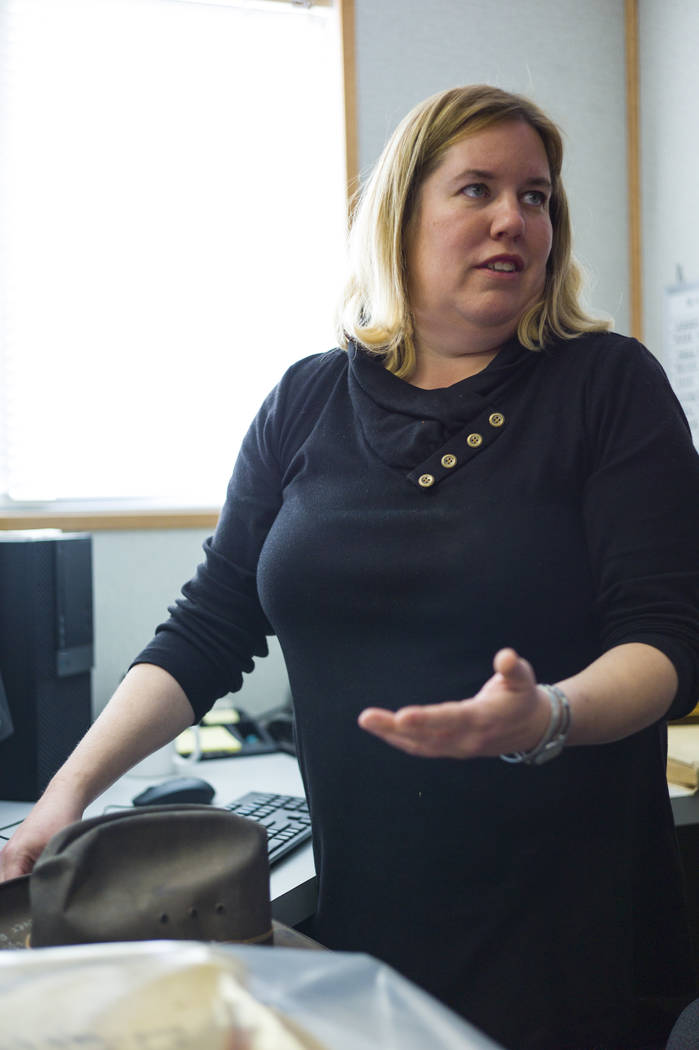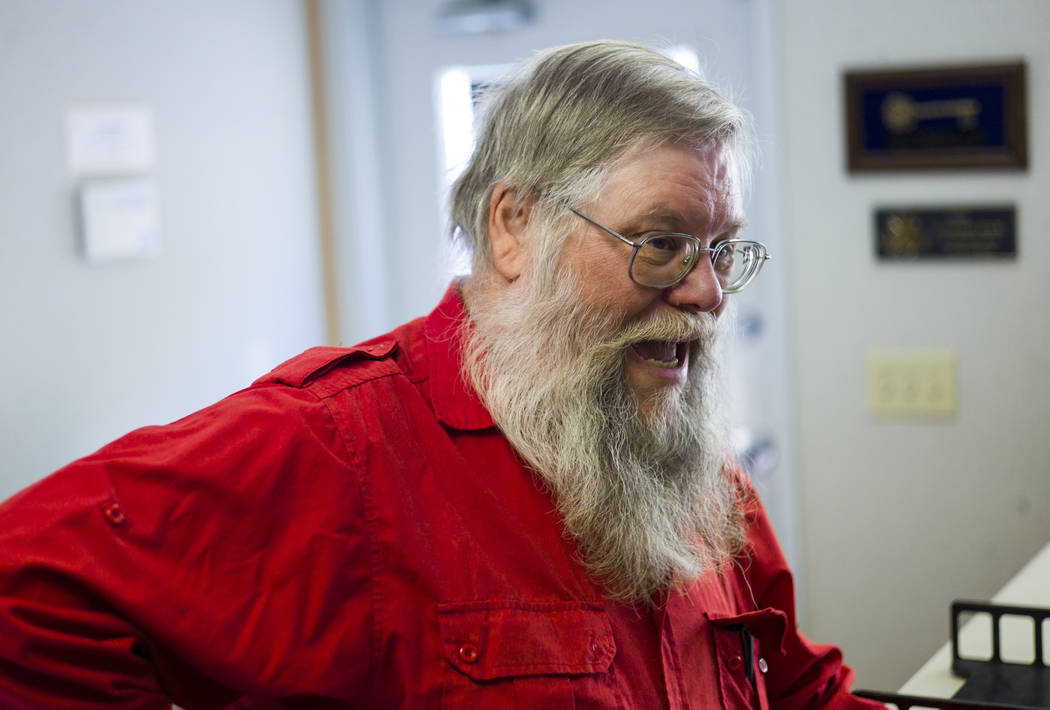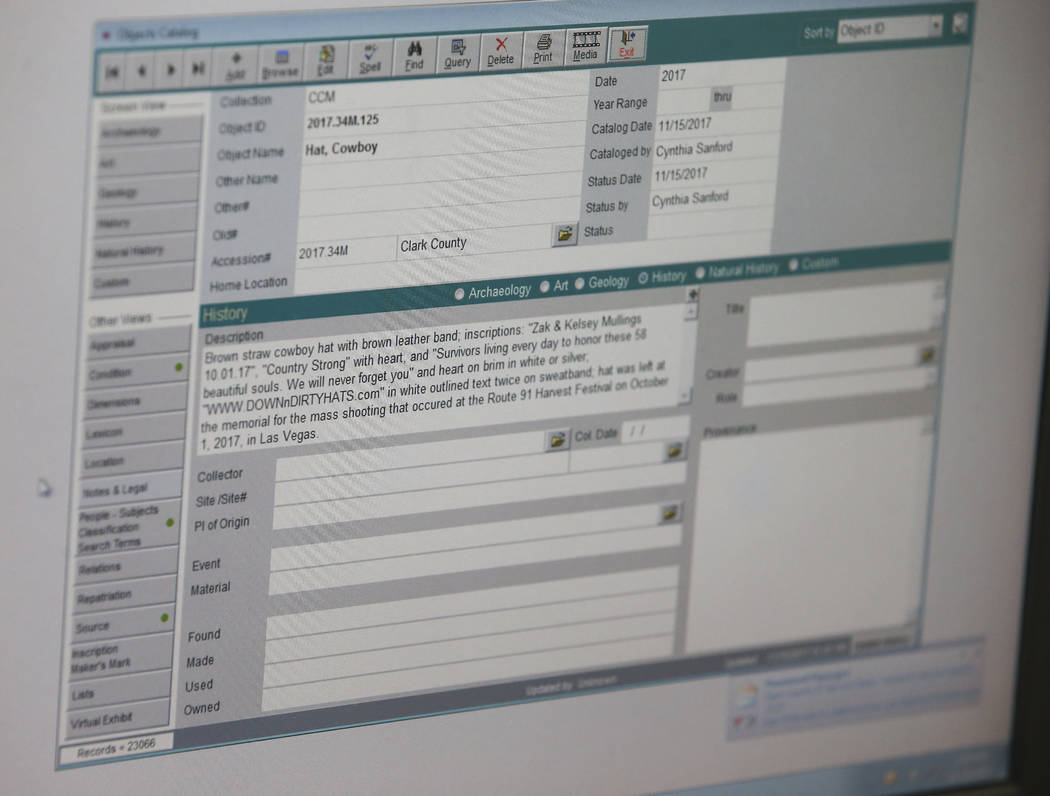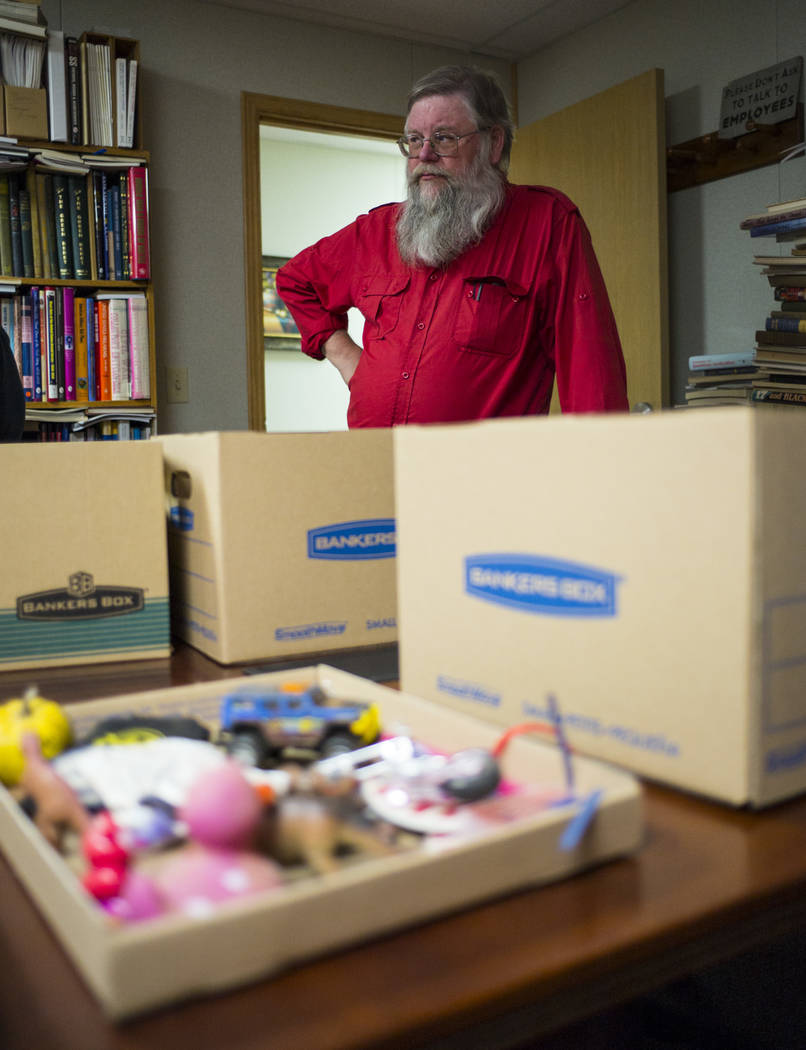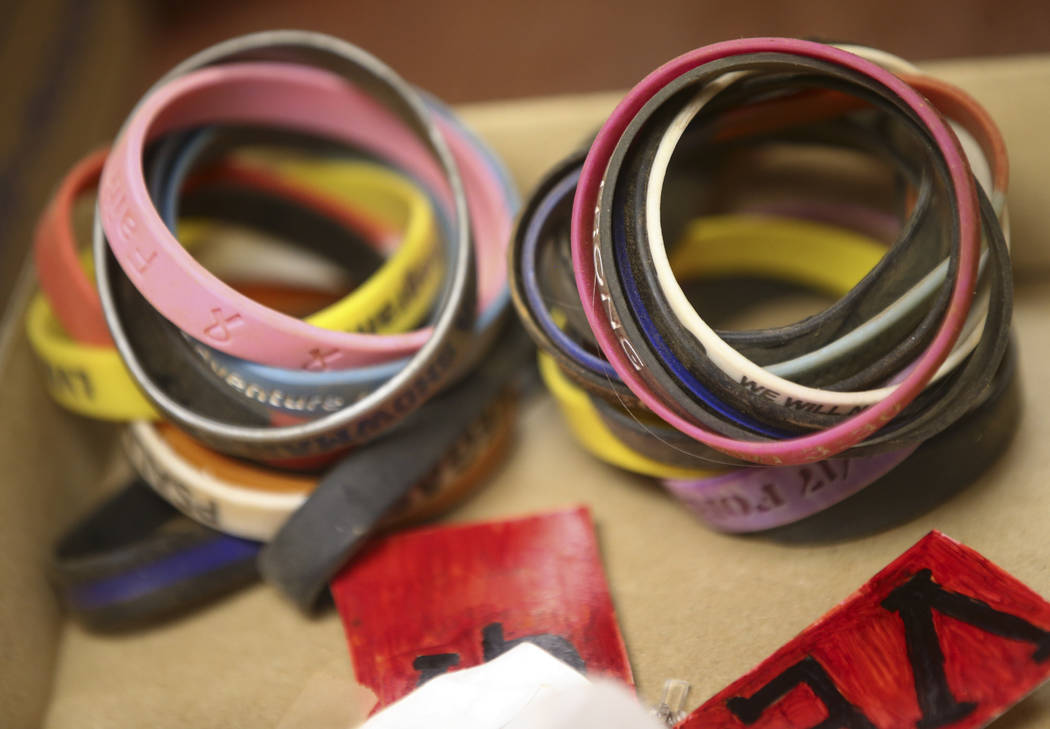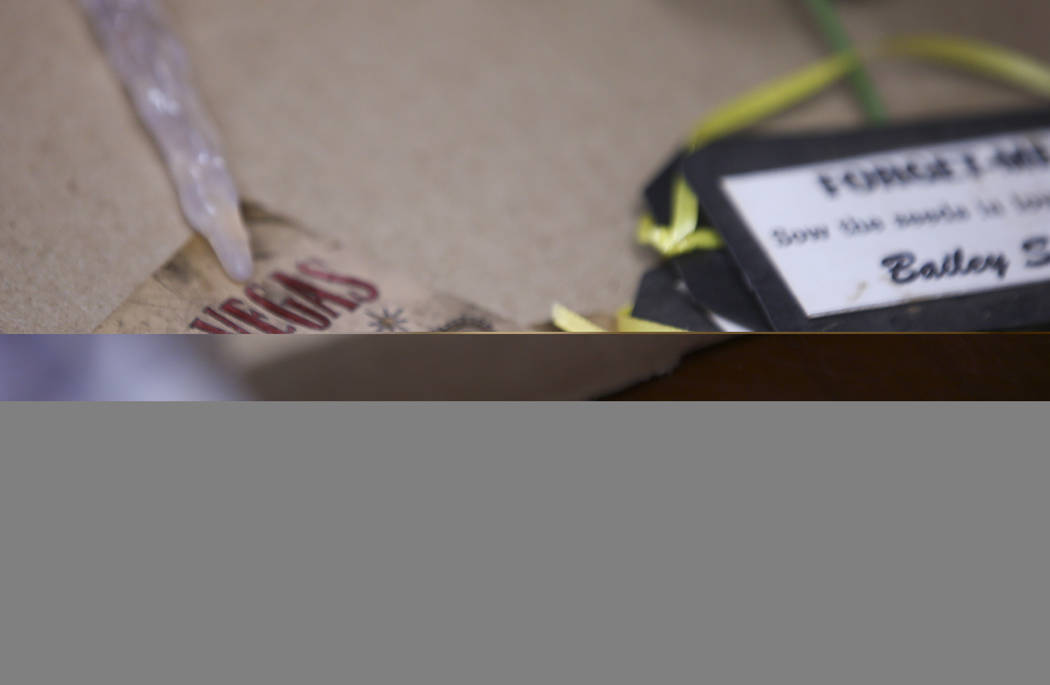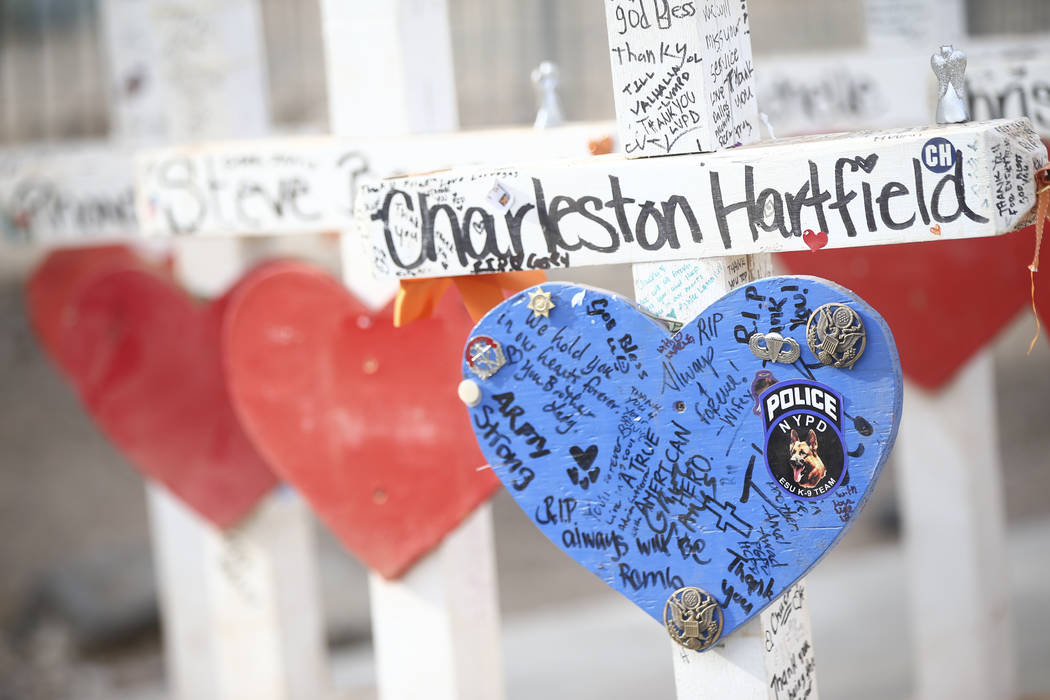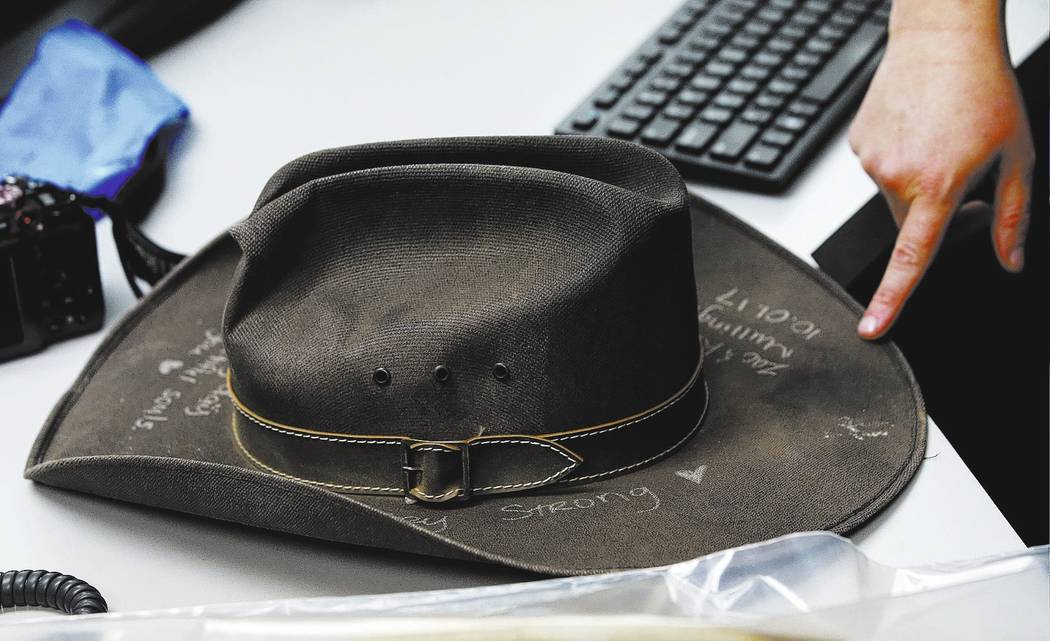 The collection of crosses and everyday objects that evolved into a public memorial to victims of the Route 91 Harvest festival shooting are about to make one last stop on their journey to becoming an official part of Southern Nevada history.
And, as with most travel these days, paperwork is involved.
On Nov. 12, the array of mementos left by mourners was transported from the Strip median by the Welcome to Fabulous Las Vegas sign to the Clark County Museum, 1830 S. Boulder Highway. Since then, the crosses that formed the backbone of the accidental memorial have been displayed in the museum's outdoor amphitheater.
Viewers have until Dec. 17 to see them. After that, the crosses will be taken indoors, and, along with other memorial pieces from sites on the Strip, stored awaiting formal processing into the museum's permanent collection.
Mark Hall-Patton, Clark County museums administrator, said cataloging the thousands of items will take months, even a year or more, to complete. But, he says, when the process is done, the objects — many of which are fragile or have become so over the past two months — will be preserved for future generations.
Cyndi Sanford, the museum's registrar, says objects in the collection include stuffed animals and toys, photos and cards, small crosses and angel pins, hotel room card keys and "a lot of tickets to area concerts and events — not the Route 91 concert, (but) other ones."
Mourners also left perishable items such as flowers and food. While those won't be preserved, photos of some will become part of the record.
The collection's overall title — which also is being used by other area museums that are recording and preserving the events of Oct. 1 — is "Remembering 1 October."
An exacting process
As part of the museum's cataloging, each item will receive a number designating it as part of that collection. Additional subnumbers will identify the items more precisely.
Each item will be recorded in a computer database. Take, for example, a cowboy hat that Sanford recently cataloged. The number assigned to the item was inscribed on the hat with a lacquerlike liquid that resembles nail polish.
"We put down a base coat, write a number on it and put another coat on it," Sanford says. "That way, even if it gets separated from the rest, the exhibit number will be on it."
That number is entered into a computer record that includes a detailed description of the item. Sanford then measures the hat's height, width and length. She describes its color, any stains on it, and notes the messages that mourners have written on it. She includes the materials that the hat is made of, its size and manufacturer. She also evaluates and notes the hat's condition.
Finally, Sanford lists in the new computer record keywords that will allow future researchers to find the hat on the basis of multiple search terms, "because you never know what people will be searching for."
The hat also is photographed from several angles. Those photos and the detailed description will become part of the hat's museum record and eventually will be available online to anybody who wishes to read about it. For researchers who will need to see the actual hat, the record that has been created will offer museum staff an efficient way to find and retrieve it.
Hall-Patton says the same exacting, time-consuming process — known in the museum trade as accessioning — is used for any items processed into the museum's collection. The only difference, he says, is that "we don't usually get this many (items) in a collection at a single time."
Once a memorial item's computer record is created, the item will be packaged and preserved in materials designed for long-term storage, including acid-free folders and archive-quality bags and containers.
Volunteers will be needed
Such materials are more expensive than regular packing materials. Hall-Patton says he doesn't yet know how much it will cost to catalog and preserve the Route 91 collection.
Hall-Patton says the archiving process has begun with, for example, items that were removed from other impromptu memorial sites that sprang up along the Strip. Although museum staff will oversee and do much of the work, Sanford says they are seeking volunteers to help.
But, Hall-Patton says, "it's really a very boring, detailed job."
If a volunteer's notion is, "I want to get to play with everything, no, you're not going to," he says.
"This isn't a game. This is a very serious process that needs to be followed and be done right, and it will be done right."
Contact John Przybys at reviewjournal.com or 702-383-0280. Follow @JJPrzybys on Twitter.
Call for volunteers
People who wish to volunteer to help in the Clark County Museum's cataloging effort should email Cyndi Sanford, the museum's registrar, at cynthia.sanford@ClarkCountyNV.gov.
Applicants must undergo background checks and conform to county regulations and policies.