No Nevada retailers sell bump stocks, but buyers find them online
November 17, 2017 - 12:52 pm
Marc Minami thinks he knows a deal when he sees one.
In the middle of October, the Las Vegas resident bought a bump stock — named for how it causes a gun to bump its trigger against a shooter's finger for quicker firing — online for about $200.
He's seen some people selling the devices for as much as $1,000. If he decides to use the stock, he'd use it to fire at a range.
"The one I got now, I got because of the threat of the ban," said Minami, an Air Force veteran. "I said, 'Hey, everybody's buying because they could go up in price.'"
No retailer in Nevada sells bump stocks, the device that allowed the Strip shooter to fire weapons at a faster rate on Oct. 1.
The closest retailers are near Los Angeles and in Centerfield, Utah.
Slide Fire Solutions, a company founded in 2010, is a main manufacturer of bump stocks. The company is in the north central Texas town of Moran, population about 270 people, according to the U.S. Census Bureau.
Slide Fire Solutions in the north central Texas town of Moran, population about 270, is a main manufacturer of bump stocks. The company was founded in 2010.
Slide Fire suspended new orders for most of October, but resumed limited orders Nov. 1, according to an email sent to prospective buyers.
The company's website now lists orders for those items as on hold until inventory is replenished.
The company did not respond to written requests for comment.
Does 2005 law apply?
Slide Fire is a defendant in multiple lawsuits filed following the Oct. 1 Las Vegas Strip shooting.
As of Wednesday, more than a dozen lawsuits have been filed against Slide Fire.
A class action lawsuit against Slide Fire alone seeks unspecified damages and notes that the company made more than $10 million in bump stock sales during its first year.
The company was named along with Mandalay Bay owner MGM Resorts International, Live Nation Entertainment, security company Contemporary Services Corp. and the estate of gunman Stephen Paddock as defendants in the first wrongful death complaint filed in connection with the massacre.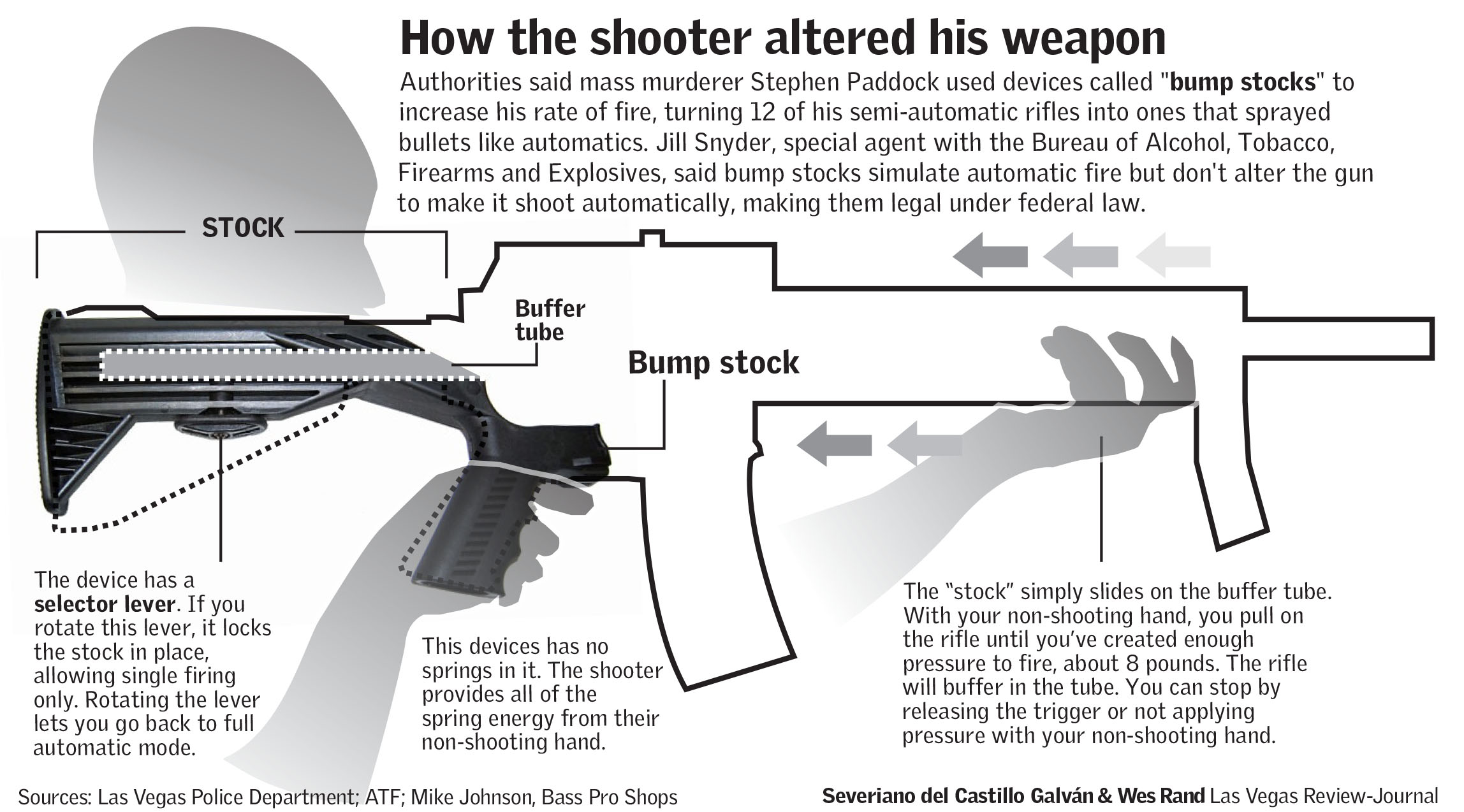 At issue is whether bump stocks are protected under a 2005 federal law that says firearms and ammunition makers, distributors, dealers and importers are not responsible for the actions of criminals who use their products.
The Protection of Lawful Commerce in Arms Act also applies to firearm parts, which could include bump stocks, said Ben Bunker, a Las Vegas Valley-based attorney whose specialties include personal injuries and products liability.
"If this involved a less essential component part, such as a light or something similar … there would be more room to argue the PLCAA didn't apply," Bunker said.
Anything can happen in a courtroom, however, he said. This week, attorneys representing family members of some of those killed in the 2012 Sandy Hook Elementary School shooting in Newtown, Connecticut, argued before a Connecticut Supreme Court.
The Sandy Hook families argued that they can sue gun maker Remington and others over the shooting under a legal doctrine that holds product makers liable for selling products to high-risk customers, according to Reuters.
Empty magazine in seconds
Minami, the 40-year-old local bump stock owner, said he owned a different bump stock years ago when ammunition was cheaper and he could afford the indulgence of emptying a magazine in seconds at a range.
"It was fun," he said. "I liked shooting just to show it off. Not many people have that rapid-fire capability."
He remembers selling that bump stock along with an attached semi-automatic rifle after the fun of rapid fire waned. He's waiting to see whether new laws or interpretations of existing law block the sale of bump stocks before he tries to sell his current device, he said.
"Most shooters ridicule these things," he said. "They'd ask, 'You just dumped 30 rounds. How does it feel?'"
Contact Wade Tyler Millward at wmillward@reviewjournal.com or 702-383-4602. Follow @wademillward on Twitter.
Bipartisan legislation to ban
The Strip shooting prompted bipartisan legislation to both ban, and to give the Bureau of Alcohol, Tobacco, Firearms and Explosives more authority to tightly regulate bump stocks or devices to accelerate the rate of fire of semi-automatic weapons.
U.S. Rep. Bob Goodlatte, R-Va., chairman of the House Judiciary Committee, said he was open to looking at legislation dealing with bump stock accessories, although no hearing has yet been scheduled.
A Senate hearing has been scheduled on devices used in the Oct. 1 Strip shooting, and the enforcement of federal and state reporting requirements to the FBI database, as issue at the center of the Nov. 5 church shooting in Texas.
U.S. Sen. Charles Grassley, R-Iowa, chairman of the Senate Judiciary Committee, has scheduled the hearing for Dec. 6.
— GARY MARTIN/REVIEW-JOURNAL WASHINGTON BUREAU