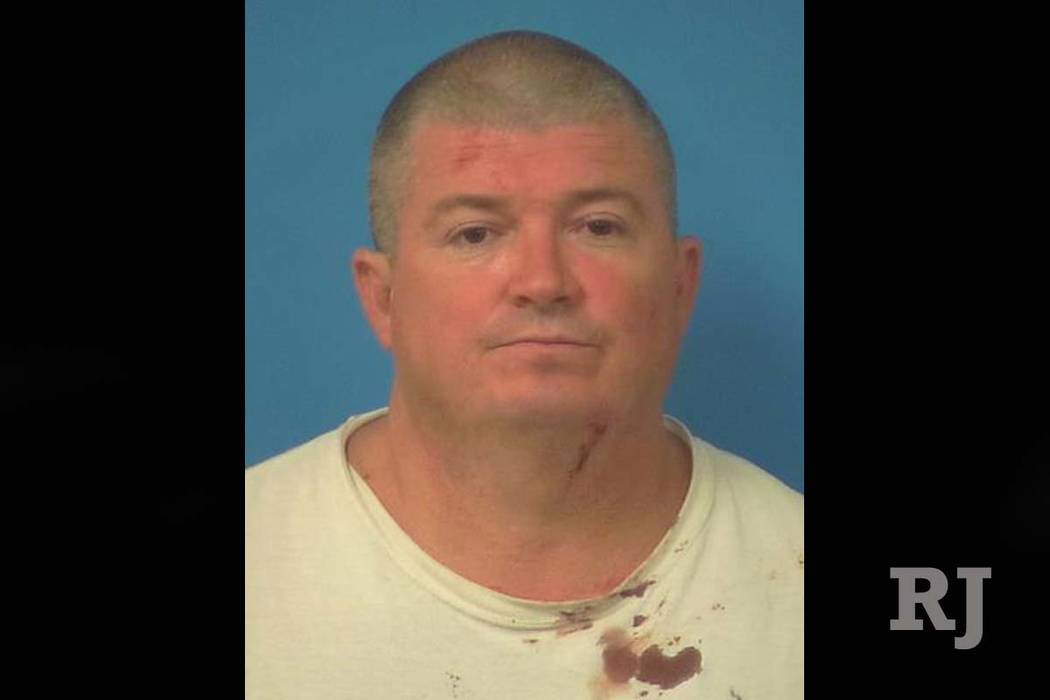 A deputy shot and killed a Pahrump man Thursday night after he opened fire during a standoff with officers, marking the first officer-involved shooting this year for the Nye County sheriff's office.
Body-worn camera footage of the encounter released Friday showed the suspect, identified by the sheriff's office as 46-year-old Jason Paul O'Bannon, yelling, behaving erratically and firing several shots as officers attempted to negotiate with him.
The deputy who shot O'Bannon has been identified as Detective Wesley Fancher, 34. He is a SWAT team and general assignment detective and has been employed with the sheriff's office for eight years.
Fancher activated his body-worn camera when he arrived at the scene, but the camera fell at one point when Fancher dropped to the ground to take cover after the suspect opened fire, Nye County Sheriff Sharon Wehrly said at a news conference.
The three short videos released Friday were instead captured by the body-worn cameras of two other officers who responded to the scene.
Shortly after 8:10 p.m. Thursday, officers were called to 2241 North Kelso Way in Pahrump, where O'Bannon was "actively shooting" in his yard, Wehrly said. People were "hunkered down" in a nearby desert area and inside their homes during the standoff, spokesman David Boruchowitz said.
One of the videos played during the news conference showed an officer arriving at the scene about 8:20 p.m. As she exits her vehicle, O'Bannon can be faintly heard in the background screaming. It is not clear what he is saying.
Over a speaker, the officer yells to O'Bannon, "Nye County sheriff's office. I cannot hear you."
The suspect responded with one gunshot, the video showed before cutting off. Wehrly said O'Bannon was armed with a rifle.
Another clip by the same officer captured Fancher arriving at the scene, though the video is dark and only shows lights in the distance.
The female officer can be heard directing Fancher to the suspect, whispering, "He's right in front of me."
Moments later, several rounds of gunfire are heard.
Wehrly said Fancher fired four rounds at 9:23 p.m. after O'Bannon pointed his weapon at him. O'Bannon was taken to Desert View Regional Medical Center, where he was pronounced dead. No one else was injured during the encounter.
O'Bannon had a "lengthy criminal history" in California and Nevada dating to 1998, according to Wehrly. Charges included vehicle theft, evading a peace officer, battery on a protected person, possession of a stolen vehicle and robbery.
Had he survived, Wehrly said, O'Bannon would have faced a charge of discharging a firearm across a roadway, a weapons charge for being a prohibited person in possession of a firearm and seven counts of assault with a deadly weapon on a protected person.
Fancher has been placed on paid leave pending the outcome of am investigation into his deadly use of force. An outside investigation by the Nevada Investigation Division also will be conducted "to ensure we acted in accordance to state and federal laws," Wehrly said.
Contact Rio Lacanlale at rlacanlale@reviewjournal.com or 702-383-0381. Follow @riolacanlale on Twitter.