Oct. 1 survivors, victims' families object to MGM lawsuits — VIDEO
Updated July 23, 2018 - 7:16 pm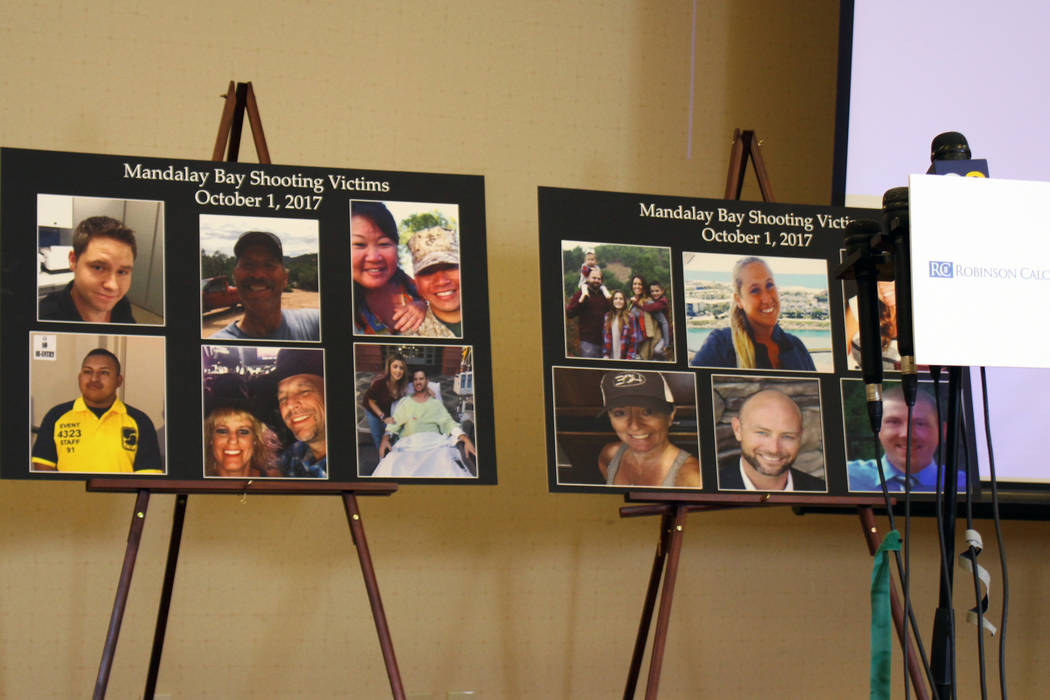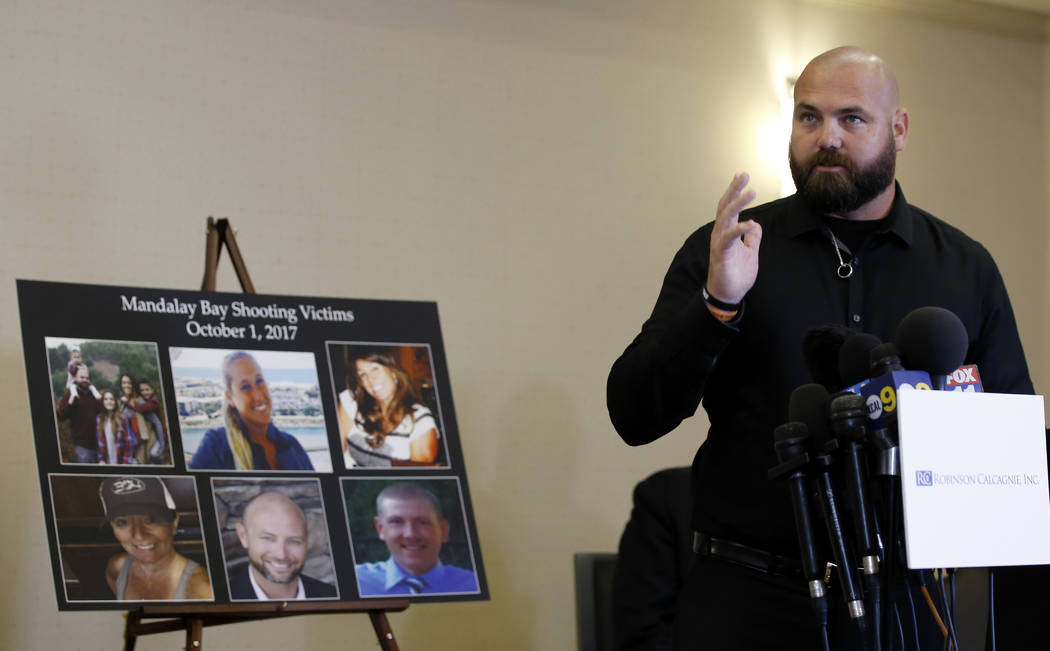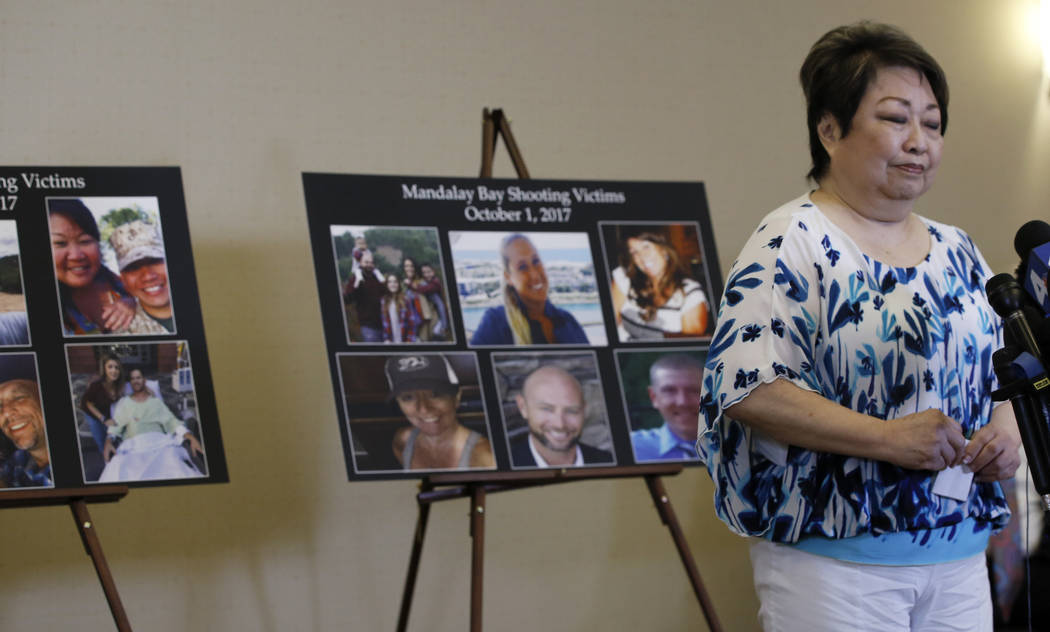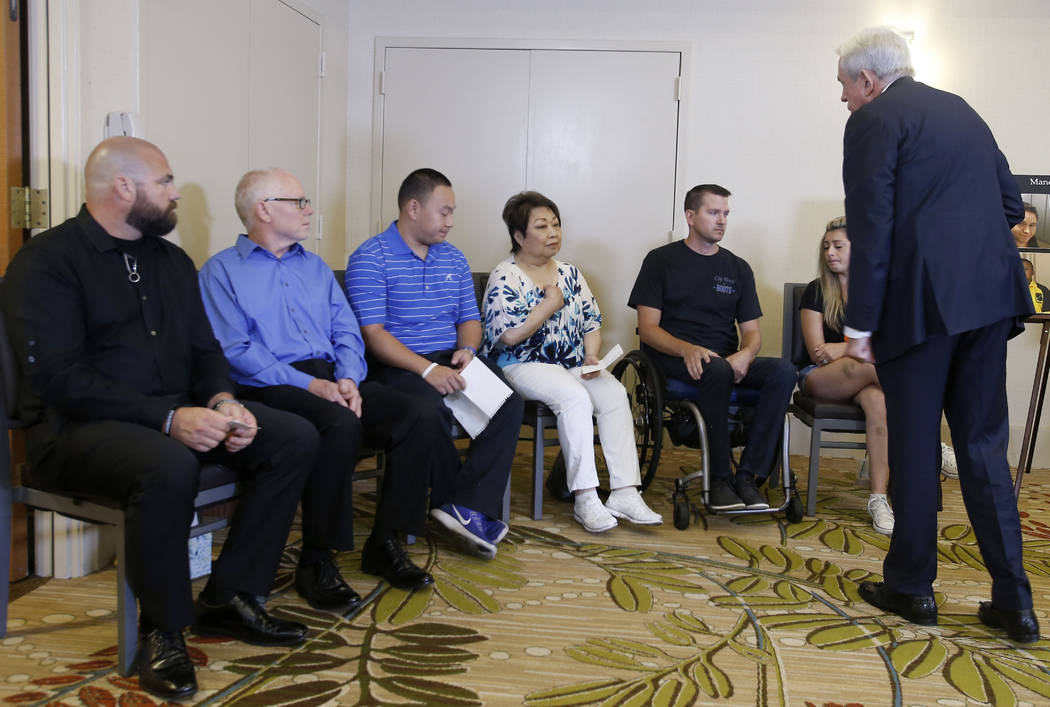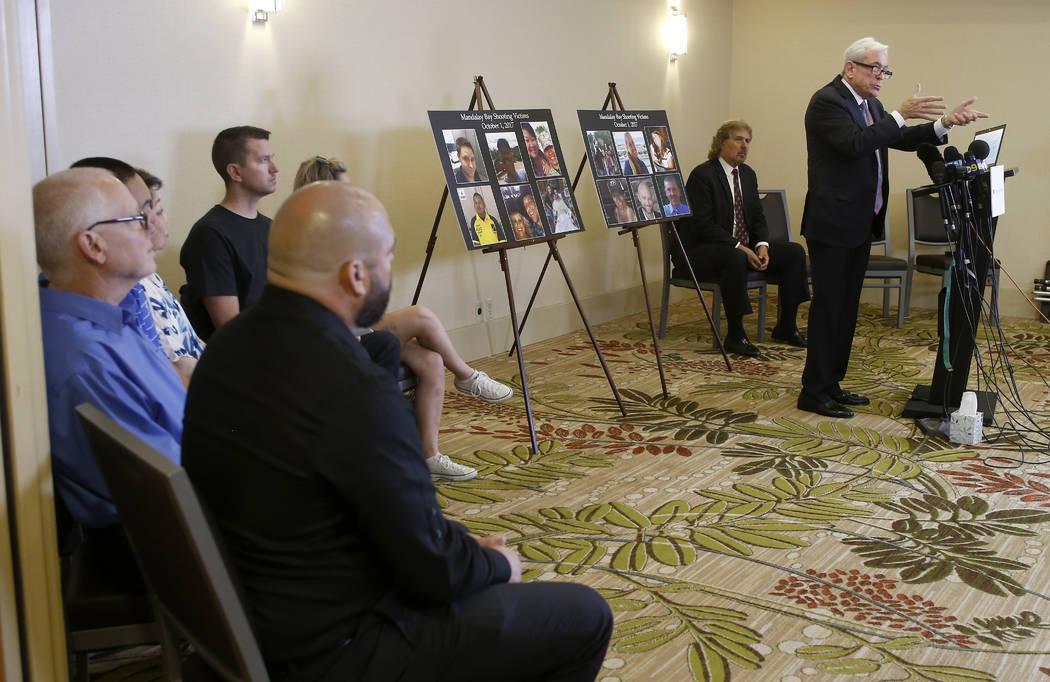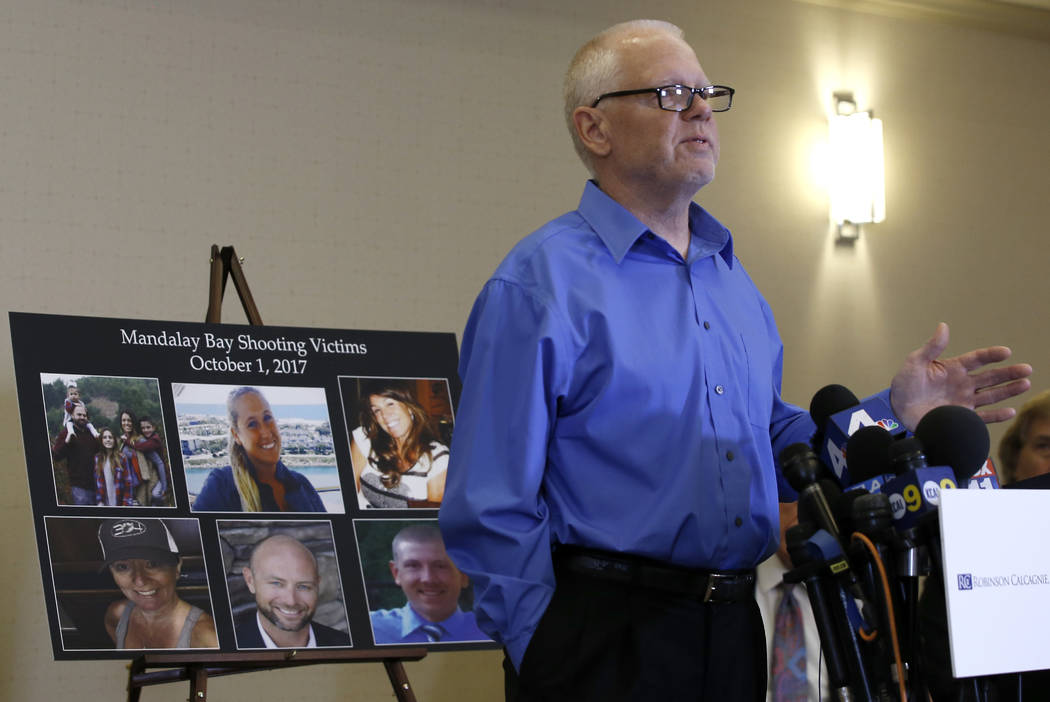 NEWPORT BEACH, Calif. — Oct. 1 changed everything for some.
A bullet lodged in Riverside County Sheriff's Deputy Jason McMillan's spine paralyzed him.
Hannah Ahlers, of Beaumont, California, was shot in the head; her husband and high school sweetheart became a single father of their three children.
Las Vegas single mom Laura Shipp was killed, leaving behind her only son.
Austin Meyer, of Monterey, California, was celebrating his 24th birthday at the Route 91 Harvest festival before he was killed by a gunman firing from his Mandalay Bay suite.
McMillan and family members of Ahlers, Shipp and Meyer are among the 1,977 people in eight states listed as defendants in federal lawsuits filed in Nevada and California by MGM Resorts International in an effort to avoid liability.
On Monday morning, victims spoke at a press conference at the Newport Beach Marriott Bayview hotel in California in response to the suits by MGM, which owns both Mandalay Bay and the Route 91 Harvest venue. The victims and their attorneys said the lawsuits have reopened wounds that have yet to fully heal and brought them new pain.
Mark Robinson, one of the attorneys for the victims, said the lawsuits were a way of "revictimizing" individuals.
"They start suing the victims. It's not American. It's not what we do. It's not what our justice system does," Robinson said.
MGM is being sued by thousands of people who claim the resort operator was negligent for not preventing the Oct. 1 massacre, in which a gunman killed 58 people and injured hundreds. Craig Eiland, a Dallas attorney representing some of the victims, said none of the victims who spoke at Monday's press conference had filed suit against MGM.
MGM not seeking money
In its federal lawsuits, MGM argues it cannot be held liable for the deaths, injuries or other damages that occurred Oct. 1.
MGM is not seeking money from the victims in its lawsuits, but is asking that a federal judge decide whether a 2002 anti-terrorism act absolves it of liability for injuries or deaths that occurred during the shooting.
In this case, the company argues, the security vendor MGM hired for the festival, Contemporary Services Corp., was protected from liability because its services had been certified by the Department of Homeland Security for "protecting against and responding to acts of mass injury and destruction."
The lawsuits argue that this protection extends to MGM, since it hired the security company.
Robinson said the lawsuit was an attempt to divert attention from the recently publicized fact that a man named Kyle Dunbar was caught with multiple weapons inside a Mandalay Bay hotel room nearly three years before the mass shooting on the Strip.
"For nine months, we didn't know that. The judge didn't know that. The victims didn't know that," Robinson said. "Mandalay Bay was put on notice of this event three years before."
On Monday, MGM spokeswoman Debra DeShong released a statement that said employees did the right thing in the Dunbar case.
"They saw weapons and we immediately called the authorities," the statement said. "The judge, when sentencing Dunbar openly said he did not believe he planned to use them to commit a violent crime, unlike Paddock who actually committed a horrendous crime. There is no comparison."
'My wife was the glue'
On Monday morning, Brian Ahlers talked about his wife, Hannah, whom he met when she was 15, and how he has had to learn how to do all the things his wife would do for their three kids.
"My wife was the glue. She was what made it happen," said Ahlers, wearing what appeared to be his wife's wedding ring around his neck. "I'm going through all this, and still going through this, and to find out that this huge company, MGM Resorts, is suing me, how do you deal with that? I don't know what else to say."
DeShong, the MGM spokeswoman, said in Monday's statement: "It is heartbreaking to hear these personal accounts of an unspeakable tragedy. We grieve with all of the victims. No one wins from endless litigation and it will not change the fact that one person is responsible for this horrendous act of violence and he took his own life rather than face justice."
According to the statement, plaintiffs' lawyers have filed and refiled dozens of lawsuits, in multiple jurisdictions, in state and federal court.
"We believe Congress determined these cases should be in federal court, and that getting everyone in the same court is the best and fastest way to resolve these cases," the statement said.
On Monday, Joyce Shipp, 72, explained the painstaking three days leading up to identifying the body of her daughter, Laura.
"I wasn't at that concert, but I relive it every day," she said. "What gives them the right to do this again? To put us all through that."
Laura Shipp's son, Corey, said he carries his dog tags around with him and a pendant in remembrance of his mother.
"I've got to live without the most important person in my life, and you're going to try to sue me for that?" he asked.
Looking to the ceiling, he said, "I love you, mom."
Speaking for other victims
Wayne Meyer talked about his son Austin, who was living in Reno and looking forward to the day when he could marry the love of his life, Dana.
They wanted three kids — two girls and a boy — and he wanted all three kids to have fiery red hair.
"I'm not here just to speak about my son. I'm also here to speak for the other victims of Route 91, the other people that couldn't be there today," he said. "The people who are still injured, the people who struggle each and every day just to do the simple things in life that some of us take for granted. Please, remember them."
McMillan, the Riverside deputy shot at the concert, wore a shirt that bore the words "city roots in boots."
When the bullets started flying, everything stopped. Then he crumpled up, leaning on somebody, his whole body shaking.
"I can't move my legs. I can't feel them," he told his fiancee, Fiorella, whom he credited with saving him that night.
He took a long pause, a deep breath, tears welling in his eyes.
"I go to work every day and I put on a uniform. I put on a vest. I wear a gun. I do my job to protect people from stuff like this," he said. "I can't do that anymore."
He detailed how he had to learn to live all over again and parent his two daughters, 4 and 7, from his wheelchair.
"I just want them to know that I'm not just a victim from the concert," he said. "I'm a survivor, and they're not going to get away with anything. We'll keep this going, as long as it takes."
Contact Briana Erickson at berickson@reviewjournal.com or 702-387-5244. Follow @brianarerick on Twitter.