Ohio man draws portraits of Las Vegas shooting victims
October 21, 2017 - 11:42 pm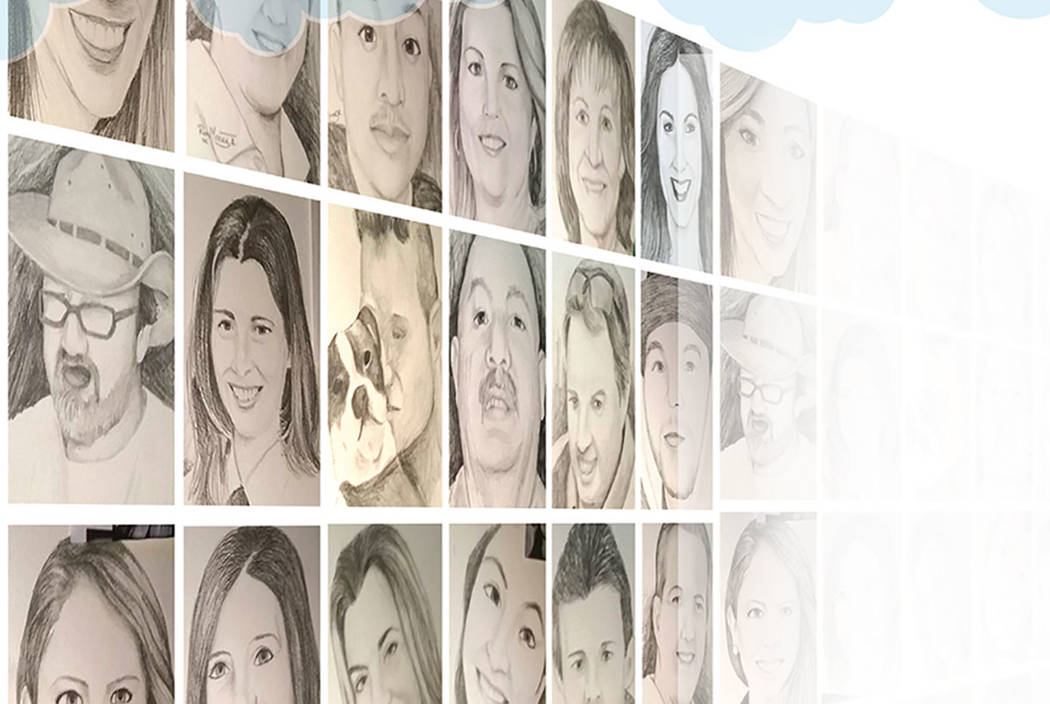 As the desert sun began to emerge in Las Vegas, Ron Moore Jr. sat in his living room more than 2,000 miles away and prayed.
Overnight, the Ohio-based artist watched the details of the Oct. 1 shooting on the Strip unfold from his television. By morning, the death toll had risen to 58.
"What am I supposed to do?" he asked, praying aloud. "What can I do for these families?"
In the coming weeks, Moore would spend more than 125 hours drawing black and white portraits of the people killed in the shooting.
"When I prayed, God told me to use the talent he gave me," Moore told the Las Vegas Review-Journal. "I got to thinking, and well, the only thing I know how to do is create artwork."
In 2004, he nearly lost what he calls his God-given talent when he was diagnosed with Parkinson's disease. With his symptoms progressing fairly quickly, he said, it wasn't long after his diagnosis that he could no longer put pencil to paper. Eight years would pass before the artist would draw again. In 2012, he underwent deep brain stimulation, a surgical procedure used to treat a variety of disabling neurological symptoms.
Still, drawing and painting takes more time now for the 49-year-old artist. He can't sit for too long, and he said the tremors in his left hand — the one he uses to draw — are worse some days than others. But Moore believes his artistic talent is his way of spreading kindness and healing.
"I'm allowing my tremors to move the pencil for me," he explained. "I have to constantly alter my technique, but that just means every picture is unique, like the 58 victims."
Each portrait takes Moore about three hours to complete. In that time, it isn't only the pencil strokes of a victim's smile or the lines near their eyes that he learns. The details of their lives, Moore said, are etched into his memory.
"Erick Silva was a security guard. Jennifer was a teacher, and Cameron worked for the city," he said. "I wish I could meet all their family members, but since I can't, this is my way of doing that."
As of Friday, the artist had completed 42 of the 58 portraits. On his list Friday, he said, were Carolyn Lee Parsons, Patricia Mestas and Jordyn Rivera.
"Carrie's from Seattle, and Jordyn and Pati both loved country music," he explained. "Before I finish detailing the portraits, I'll go online and read more about them."
So far, he said, at least five families had received a drawing of their loved one in the mail.
"Hannah Ahlers' husband was very descriptive," Moore said. "He told me the portrait was a blessing."
The artist hopes to finish the last of the portraits by Wednesday, so he can shift his focus to reaching out to more family members.
"It doesn't matter if we know each other or if we agree on political issues," Moore said. "I'm a firm believer of loving beyond our walls."
The artist, who lives in Austintown, Ohio, said he will ship the portraits to victims' families free of charge. Moore can be contacted on Facebook at www.facebook.com/ronmoorejrstudio or at www.facebook.com/ron.moore.52056.
Contact Rio Lacanlale at rlacanlale@reviewjournal.com or 702-383-0381. Follow @riolacanlale on Twitter.