One dead, two injured in late-night shooting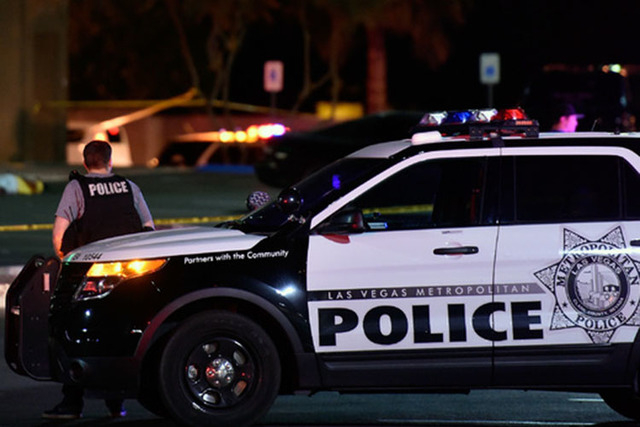 Las Vegas police are investigating a Saturday night shooting that left one person dead and two others injured near Silverado Ranch.
Officers responded to the scene in the 10400 block of Bermuda Road, near Cactus Avenue, just after midnight Sunday morning and found three men who had been shot inside a car. They were taken to the University Medical Center. Two are in stable condition; the third was pronounced dead.
The Metropolitan Police Department said three men were inside a car in a convenience store parking lot when they got into an altercation with two other men. Police said that one of the two men walked up to the car and fired a handgun at the car, hitting all three occupants.
The two men ran from the parking lot and drove away from the scene in a dark-colored car, which police said may have been driven by a third person.
Police are searching for two black men in their 20s in connection with the shooting. One man is 5-foot-9 and about 160 pounds; he was last seen wearing a dark ball cap, a white shirt and faded jeans. The other is 5-foot-10 and about 220 pounds; he was last seen wearing a black shirt and red shorts.
This is the 84th homicide Metro has investigated this year.
Anyone with information about the shooting can contact Metro's homicide section at 702-828-3521 or Crime Stoppers at 702-385-5555 to remain anonymous.
Contact Max Michor at mmichor@reviewjournal.com or 702-383-0381. Find @MaxMichor on Twitter.