Peccole Ranch honors fallen Las Vegas shooting victims
November 5, 2017 - 9:30 am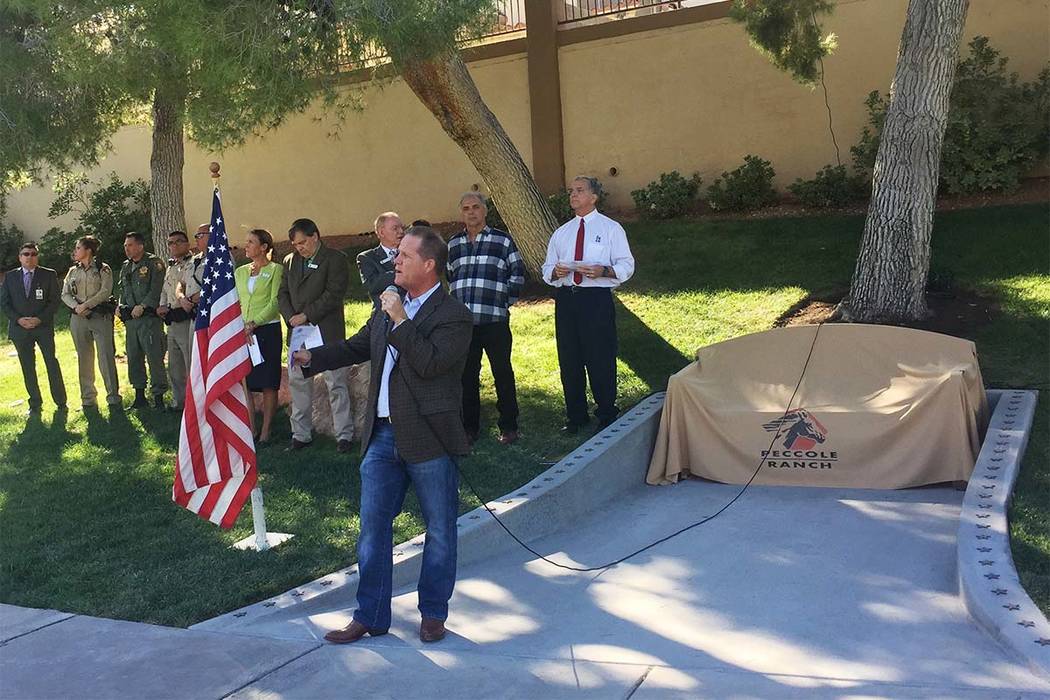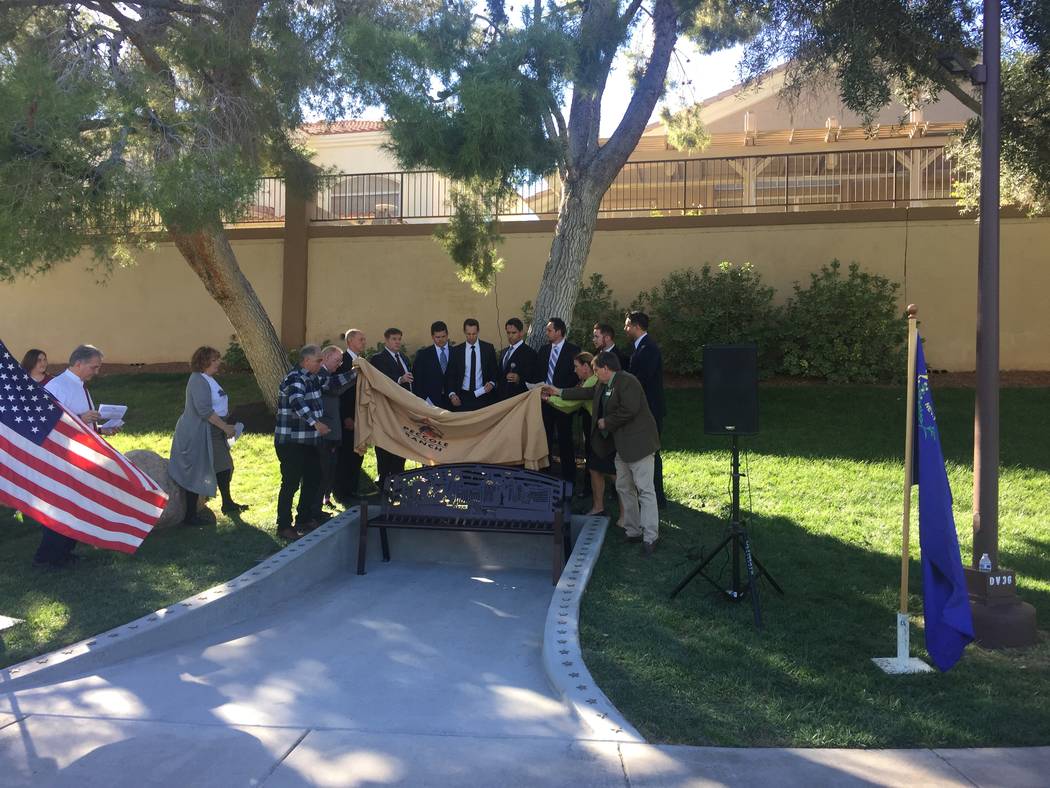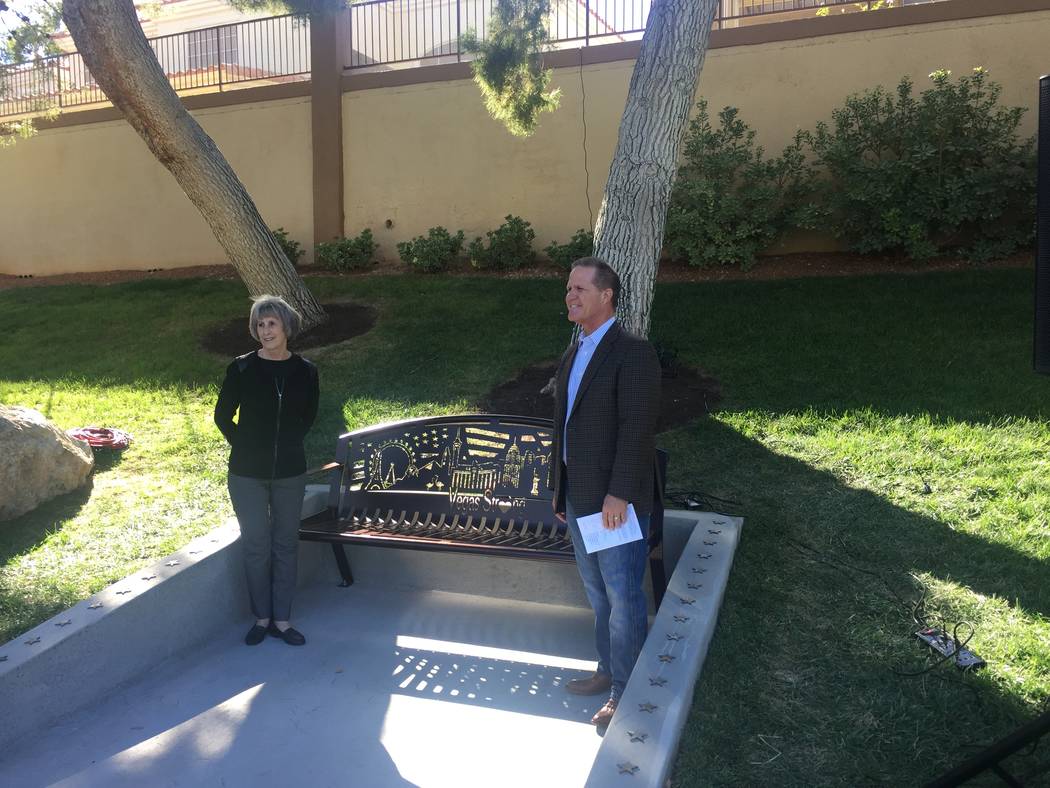 Peccole Ranch resident Annemarie Vino teared up a little as she sat on a boulder awaiting the start of a ceremony Saturday to dedicate a bench in remembrance of local Las Vegas shooting victims.
"It means a lot," said Vino, 53. "It's just very special."
She said her 28-year-old daughter had planned to attend the Route 91 Harvest concert, site of the Oct.1 mass shooting, but didn't. That night, Vino said, her daughter told her that her friend attended the concert and was forced to climb over bodies to escape as a shooter rained bullets down from his 32nd-floor Mandalay Bay hotel suite. "It was awful," Vino said.
Vino said she was moved by the efforts by the Peccole Ranch Community Association to honor the victims with the bench, the planting of seven chaste trees, and creation of an Avenue of Honor, with help from Boy Scout Troop 425, along Apple Drive with 100 American flags, many with flag standards displaying hero stories from the Oct. 1 shooting.
"This is bringing people together in our community. It's just beautiful," said Vino, a 19-year Peccole Ranch resident.
Nevada Lt. Gov. Mark Hutchison later spoke to the small crowd gathered for the ceremony near a walking trail off Apple Drive and West Charleston Boulevard.
Hutchison recounted visits to local hospitals where he met with victims and their families. He said he heard story after story about first responders and selfless individuals who braved hailstorms of gunfire to rescue victims and help concertgoers escape.
"This community sometimes gets a bad rap. Las Vegas sometimes gets a bad rap," Hutchison said. Some people, he said, call Las Vegas a soul-less city, a city without a community, a city without a heart.
"I think after October 1st, and the days following the October 1 tragedy that those myths have been shattered forever," Hutchison said. "Because we saw the heart and the soul of a community in the aftermath of October 1st. We saw the heart and soul of a state. We saw the heart and soul of a country come together and show love and compassion and concern in a way that made us all proud and reminded us of what we already knew who we are as a community."
He said he was grateful to join with residents Saturday and remember what happened. "Yes, it will be remembered as a very dark day in Las Vegas' history." But, he added, "In my hometown and your hometown, it will also be remembered as a day of light, hope and of love and compassion."
In addition to Hutchison, those attending the event included Clark County commissioner Susan Brager, a contingent of Metropolitan Police Department officers and other community officials.
After the unveiling of the metal bench crafted by Smith Steelworks of Spanish Fork, Utah, Maryanne Goodsell, vice president of the Peccole Ranch community association board, explained the significance of its design, which includes an American flag, a detailed Las Vegas skyline and in the center the words "Vegas Strong."
The "o" in strong was replaced with a heart-shaped outline. Goodsell said the leftover heart-shaped piece was then preserved and duplicated to produce a total of six hearts to be given to families of the local victims: Charleston Hartfield, Quinton Roberts, Laura Shipp, Erick Silva, Brennan Stewart and Neysa Tonks.
"We hope one day they will come to this bench and know that there will always be a place in our hearts for the suffering that their families went through," she said, "and that they are not alone in our hopes and prayers that they find peace in their own lives as they manage the challenges of being without their loved ones."
Fifty-eight metal stars line the concrete walkway leading to the bench, and the view from the bench includes the hillside where the six newly planted trees honor each of the six local victims. A seventh tree commemorates those victims killed who were from outside Nevada.
Afterward, Peccole Ranch resident Sarah Bogh reflected on the "honor and respect" shown during the ceremony on the ceremony as her 3-year-old daughter, Ayva, perched on the bench.
"It shows Vegas' true colors — the way people really are."
Contact Marian Green at mgreen@reviewjournal.com or 702-387-5205. Follow @mgreen0708 on Twitter.