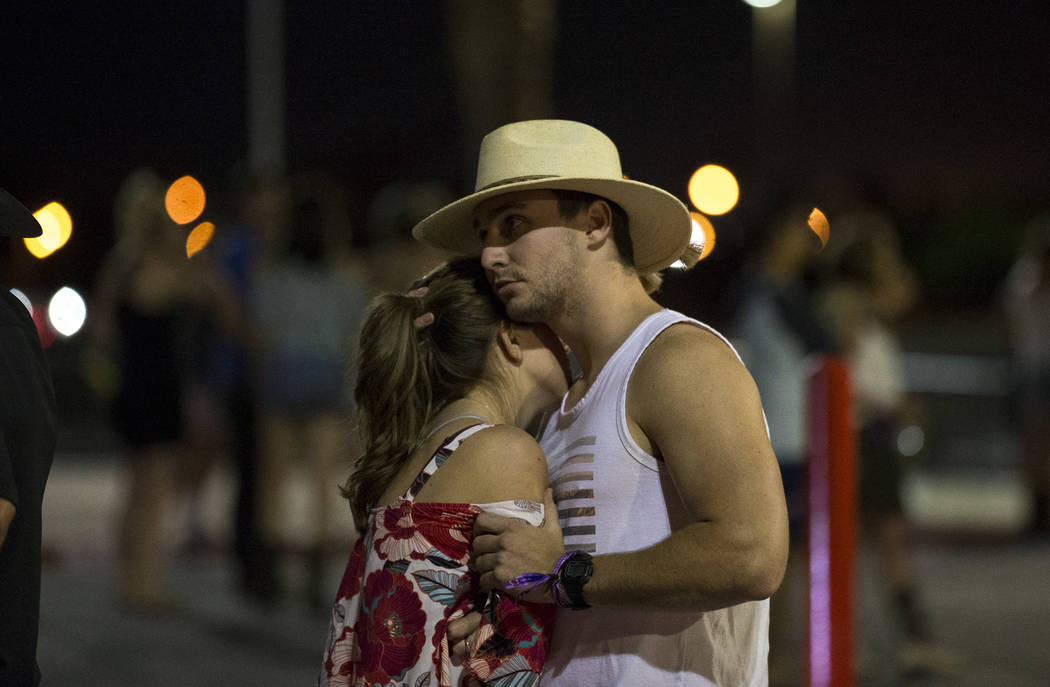 Jordan Mitchell was backstage, enjoying a post-show beer with her bandmates.
Minutes later, she'd be taking cover under the Route 91 Harvest festival main stage, huddled among a number of fellow musicians and crew members, some of them bleeding.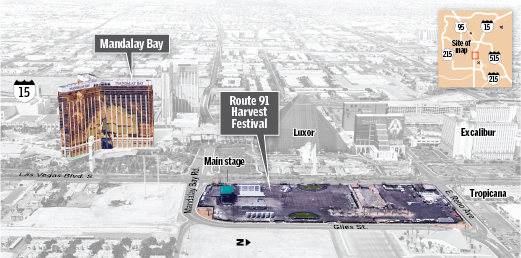 The rising country singer, and Las Vegas native, had performed on the Next from Nashville stage earlier Sunday, then stuck around for the rest of the show.
Mitchell was hanging in the artist's lounge, getting ready to leave, when she heard what she initially thought were fireworks.
"It didn't sound like gunfire at all. It was really close," she recalls. "We didn't really think anything of it, and then like a minute went by and everyone said, 'Run!' So we just started running."
They took refuge between a pair of headliner Jason Aldean's tour buses. Aldean had been performing when the shooting started.
"At that point, they had just cut the lights and we saw them bring Jason up on the bus," Mitchell says. "Then security was like, 'You gotta keep moving,' so everyone was hiding under the main stage. I couldn't see the crowd at all. I didn't know what was going on."
'We had no idea'
While seeking refuge beneath the stage, Mitchell texted her manager to figure out what was happening.
His response was short and grim: "Shooter at Mandalay Bay. Stay there."
But security had other ideas, instructing everyone to head east.
"When security said we had to keep moving, we just kept going," Mitchell says. "There were police with shotguns running at us from the opposite direction. It was nuts."
Eventually, the band made it to their van but had trouble trying to exit the grounds.
"We tried to head east, but we dead-ended in, like, one of the private airport parking lots," Mitchell says. "There was a cop with a shotgun who made us get out, get strip-searched and then he walked us to a hangar."
After spending several hours there, they were all taken to the Thomas &Mack Center, where Mitchell's father eventually picked them up.
They got home at 3 a.m. to news accounts of the carnage they had narrowly avoided.
"We had no idea until we got home in the middle of the night," Mitchell says of the extent of the tragedy. "We just went to bed and woke up to it. I woke up to like 180 messages and pictures of people dead."
'We would have been there'
A wrinkle in another act's normal show schedule spared them a firsthand view of the massacre.
Big &Rich, who hit the Route 91 main stage at 6:35 p.m., left right after they finished their set to head to an after-party at singer-guitarist John Rich's Redneck Riviera bar in the Grand Bazaar Shops in front of Bally's.
Rapper Cowboy Troy (Troy Coleman III), who performs with Big &Rich, recalls learning of the mayhem there.
"We were doing another performance when we got word from the tour manager," he says. "At that particular point, John had requested that the televisions be turned from sports to news. There were off-duty law enforcement personnel in the venue. One was standing watch at the door. All the doors were locked."
Had this been a regular tour date without the side gig in question, they all would have remained at the festival grounds.
"It was a bit unnerving because had it been our normal show-day schedule, we would have been there," Coleman says. "John and (singer-guitarist Big) Kenny would have been watching the show from the side of the stage. I would have probably been coming from the merch stand area, which is usually out front, because that's my custom after each performance. I go sign autographs.
"So I could have easily been walking through the crowd headed back to the bus at the time that was happening."
'It's just a sad thing'
The country music scene is a notoriously close-knit community, and Coleman says everyone spent Monday checking in on each other.
"All the artists are friends with each other, all the road crew guys from each camp are all friends with each other," he notes. "So far, from what we've been able to gather, everybody in the music community is safe."
But he sounds a far more somber tone when reflecting on the revelers who came to see them all do their thing.
"Twenty-two thousand fans were there, having a good time, enjoying themselves and listening to some good country music," he says. "It's just a sad thing."
Contact Jason Bracelin at jbracelin@reviewjournal.com or 702-383-0476. Follow @JasonBracelin on Twitter.