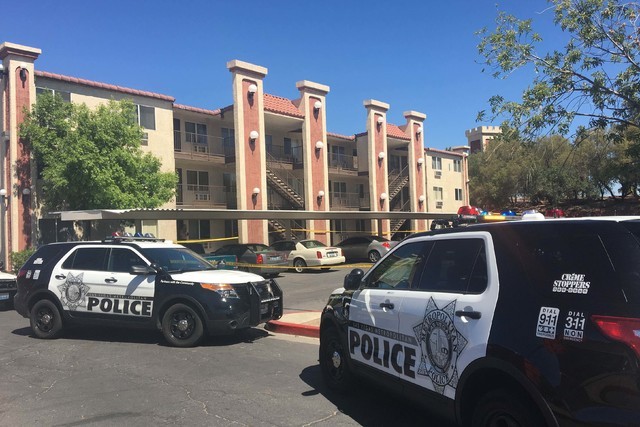 Two people were shot at an east valley apartment complex Wednesday morning, and Las Vegas police are investigating.
Officers responded to the 10 a.m. shooting at the Sportsman's Royal Manor Apartments in the 5600 block of Boulder Highway, near Tropicana Avenue.
One of the people shot was taken to Sunrise Hospital and Medical Center's trauma unit in critical condition. The other was taken to a different valley hospital in an unknown condition, Metropolitan Police Department spokesman Larry Hadfield said.
Though police could not confirm the injuries, neighbors reported that the two people shot were in their 20s and that one was shot in the head and the other in the leg.
As of Wednesday afternoon, no fatalities had been confirmed. Homicide detectives, who typically investigate deaths and near-fatal incidents of a criminal nature, had not been called to the scene as of 3:30 p.m.
Kathy Moser, an eight-year resident of the apartments, said, "In the last eight months it has gotten so scary."
"I've been here a long time and it's never been this bad, ever," she said, adding that she plans on moving. Moser initially moved to complex to pay off her student debt, "because it was just easier not having a power bill." She studied culinary arts at Le Cordon Bleu.
"I'm from Gary, Indiana, and I came from the ghettos. It's nothing like this. This is scarier than that. Every month somebody is getting shot, somebody is getting stabbed," Moser said. "My daughter works at Albertson's across the street and she does not get off until midnight. We have to get up every night and make sure she gets home."
A Metro officer on scene said, "There has not been a shooting in these buildings since August. We've cleaned it up."
As of Wednesday afternoon, no one had been arrested in connection to the shooting. Police did not release any information regarding suspects.
This is a developing story. Check back for details.
Review-Journal reporter Christian Bertolaccini contributed to this report. Contact Lawren Linehan at llinehan@reviewjournal.com or at 702-383-0381. Find @lawrenlinehan on Twitter. Contact Tatiana Villamil at lvillamil@reviewjournal.com or 702-383-0264. Find @tatianavr92 on Twitter.