Police release more Las Vegas shooting records as deadline approaches
Updated October 10, 2018 - 10:54 pm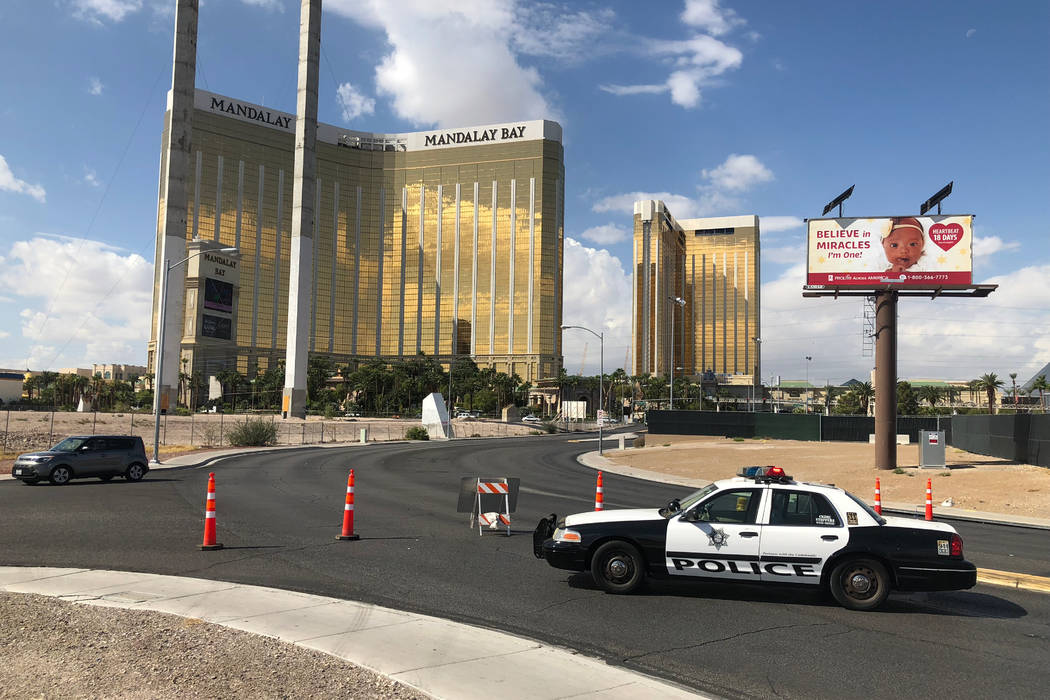 As the court-ordered deadline approaches for the release of records from the Route 91 Harvest festival shooting, Las Vegas police turned over 30 new body camera videos Wednesday.
The Metropolitan Police Department has not said when the weekly releases will conclude, but it announced that more records are coming next Wednesday. Metro has until the end of October to finish making the records public.
Since early May, the department has released 23 batches of records from the Oct. 1, 2017, shooting, which left 58 concertgoers dead and hundreds more injured.
The newly released videos were all recorded sometime after the attack ended.
In one, two officers stationed on Koval Lane south of Tropicana Avenue just after 2 a.m. direct traffic away from the festival grounds. Keeping watch, they compare notes about what they saw during the mass shooting.
One describes trying and failing to get a tourniquet on a woman with a wound high up on her leg.
The other talks about unloading three bodies from the back of someone's pickup truck.
"Chick got one through the jaw. Saw that one. Another one through the head. Back. Chest. Everywhere," the officer says.
Later, they discuss how the department's training and tactics are likely to change as a result of the shooting.
"One thing they're going to start teaching us is shooting at elevated positions now, too," the young man says, "because no one's trained to hit that. Even if someone had a rifle."
The gunman fired into the festival crowd from his 32nd-floor suite at Mandalay Bay.
In another video, a team of officers follows a security guard to a guest room at the Luxor, where a young woman in cowboy boots is sitting stiffly in a chair with what might be a wound on her arm. A group of medics look her over.
A separate clip shows an officer chastising his partner for not being alert enough as the pair direct pedestrians and drivers on the Strip.
"You understand that people are dead, right?" the first officer asks. "You understand that we've got to act, right?"
"Yes," the second officer replies.
"We don't stand around anymore, man. We act. Every person that walks by, every car that (drives) by, make sure you look to see if they have any weapons," the first officer says.
Another video begins with officers clearing a floor of Mandalay Bay guest rooms. At one point, the group pauses and huddles together near an elevator as a supervisor with a police dog updates the officers about the attack.
"We have right now 46 dead and over 119 injured," the supervisor says.
Reacting to the news, one officer offscreen groans an expletive. Another officer, wearing a black helmet, grimaces.
"Any word on (off-duty officer Charleston) Hartfield?" another officer asks.
"Yeah," the supervisor replies. "They came over the radio and said that basically we don't need to look for him anymore. … They didn't say it, but I'm getting from other people probably 419."
The number "419" is police code for "dead." Hartfield was killed in the attack.
"I just talked to him," one officer replies to the news.
"I just saw him at the gym," another says.
Police previously released more than 3,000 pages of witness statements and officer reports, as well as 911 calls and other body camera footage. A Review-Journal examination of those records found that many officers experienced communication problems during the mass shooting response.
The newspaper and other media organizations sued for the records in the days after the shooting. Metro fought their release for months, then began handing over the records in batches of varying size and type after a court forced the department to comply.
Contact Rachel Crosby at rcrosby@reviewjournal.com or 702-387-5290. Follow @rachelacrosby on Twitter. Review-Journal staff writers Henry Brean, Amelia Pak-Harvey and Michael Scott Davidson contributed to this report.