Police shoot man outside Henderson business
Updated December 14, 2019 - 6:57 pm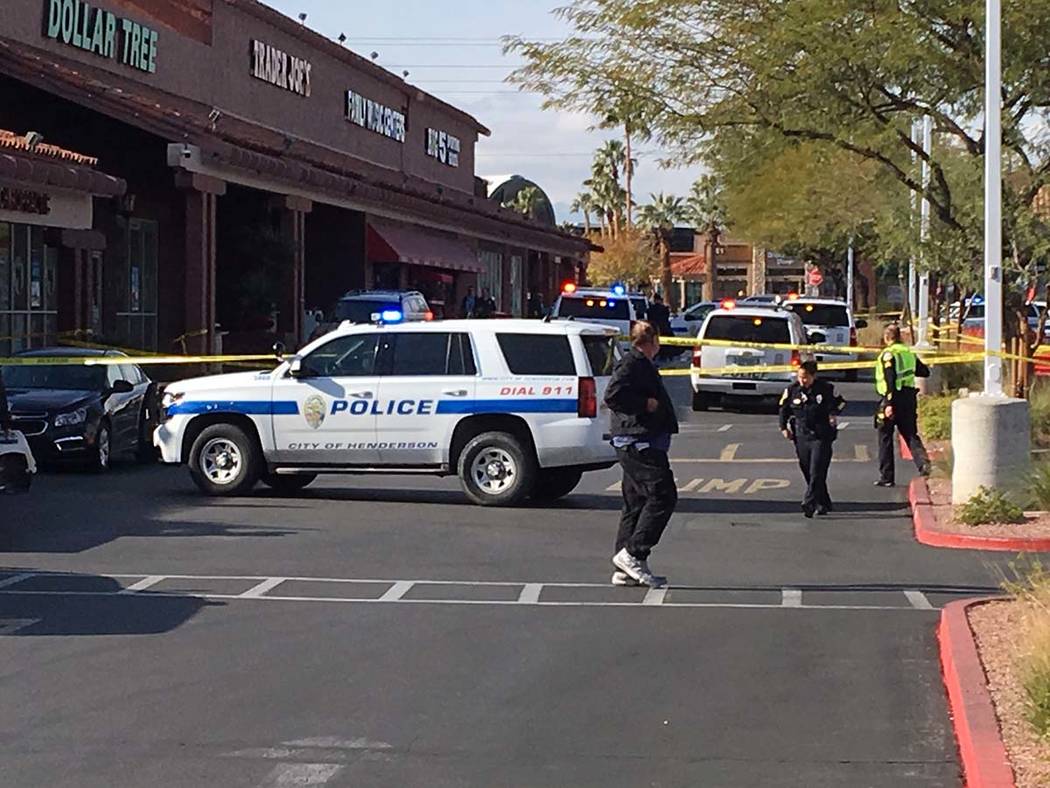 Henderson police shot a man armed with a knife Saturday morning at a strip mall, in what was the third police shooting in the city this week.
A 37-year-old man was shot by police and hospitalized in critical condition, Henderson Police Chief Thedrick Andres told reporters during a briefing Saturday morning at the Green Valley Plaza shopping center.
At the scene, caution tape and police vehicles cordoned off a portion of the shopping center in front of Trader Joe's market.
Officers were called about 8:05 a.m. to a business in the shopping center on the 2700 block of North Green Valley Parkway, near Sunset Road, after report of a man with a knife outside the business.
The department's release did not specify the business.
Multiple callers told police a man outside the business said, "I'm going to stab someone. Call the police," according to a press release sent Saturday afternoon.
Officers found the man, later identified as John Watson, with a knife outside the business, police said. Watson "advanced on officers," and an officer shot him.
Andres said he didn't know how many shots were fired. No officers were injured during the shooting.
The officer who shot Watson was placed on routine paid administrative leave pending the outcome of an investigation, police said. The officer's name will be released within 48 hours of the shooting.
Andres said he was proud of the officers' fast response time, which he said helped keep the public safe.
In response to a reporter's question about the number of officer-involved shootings this week, he said: "I think one of the most important things is this is unusual for our community."
There's no information at this time to call it a trend, Andres said.
Watson faces "at least one" count of assault with a deadly weapon on a protected person, police said Saturday afternoon. The department said further details would not be released "at this time" because of the open investigation.
The shooting marked the third police shooting in Henderson since Tuesday and the eighth police shooting this year, according to records maintained by the Review-Journal. At this time last year, officers were involved in three shootings, which were the only Henderson police shootings in 2018.
Thursday shooting
On Thursday night, a 42-year-old man was shot at a home on the 300 block of Cannes Street, across the street from Brown Junior High School.
The shooting happened after officers stopped a man and a woman on a motorcycle, which police determined had been stolen in Boulder City, the department has said. The two directed officers to a home on the 300 block of Cannes Street, across from Brown Junior High School, where they said the owner of the motorcycle was.
When officers approached the owner, later identified as 42-year-old Daniel Thornburg, the man shot at them and officers returned fire, police said Thursday night.
Thornburg remained in the hospital Friday in critical but stable condition, the department said.
His condition Saturday was unclear.
Henderson police on Saturday identified four officers and a sergeant as involved in that shooting. They are Sgt. Kevin Abernathy, Chad Burgess, Chad Casey, Jesse Hehn and Daniel Medrano. It was not immediately clear if all of the officers fired their weapons during the shooting.
Abernathy has been employed with the department since August 2003; Burgess since September 2007; Medrano since June 2008; and Casey and Hehn since July 2014, police said Saturday. All are assigned to the department's field operations bureau.
All of the officers were placed on paid administrative leave while the department investigates.
Thornburg faces charges of attempted murder of a protected person and possession of a stolen firearm, as well as a weapons charge for allegedly being a felon in possession of a firearm.
Shooting outside sports bar
Early Tuesday morning, Henderson officer Andrew Avanessian shot 40-year-old Israel Valle-Lopez at the Bourbon Street Sports Bar at North Major Avenue and Boulder Highway.
Police approached Valle-Lopez in the parking lot and he pulled out a knife after officers pushed him to the ground, police said. When officers tried to take him into custody, Valle-Lopez tried to stab one of them, and Avanessian shot him.
Valle-Lopez was transported to a hospital and was in stable condition. No officers were injured.
Contact Julie Wootton-Greener at jgreener@reviewjournal.com or 702-387-2921. Follow @julieswootton on Twitter. Review-Journal staff writer Katelyn Newberg contributed to this report.