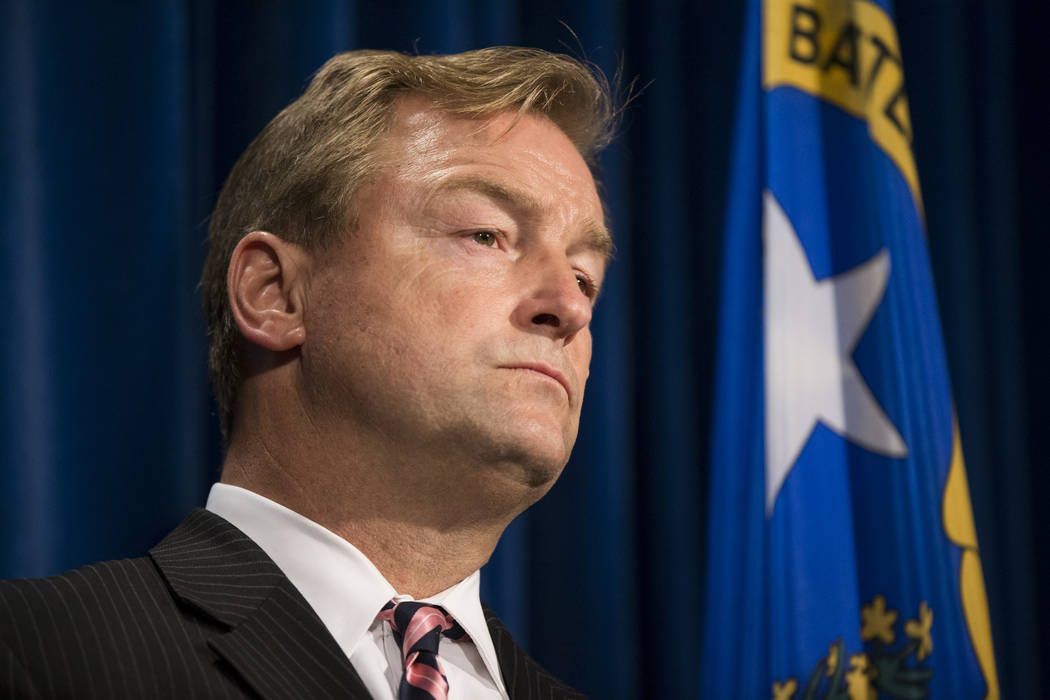 WASHINGTON — A bipartisan group of senators filed legislation Thursday to strengthen requirements for reporting criminal history to an FBI database in the wake of the church shooting in Texas.
Numerous bills have been filed following the Oct. 1 mass shooting on the Las Vegas Strip and the Nov. 5 massacre in Sutherland Springs, Texas, where a gunman with a history of domestic abuse was able to purchase weapons used to kill churchgoers.
Sen. John Cornyn, R-Texas, and Sen. Chris Murphy, D-Conn., whose congressional district includes Newtown, where 20 first-graders died in a 2012 mass shooting at Sandy Hook Elementary School, filed the bill.
Other Republican supporters of the bill include Sen. Dean Heller, R-Nev., and Sen. Orrin Hatch, R-Utah.
Sen. Catherine Cortez Masto, D-Nev., also signed onto the bill and earlier this week, she joined Democrats to file a similar bill to force the Armed Services to report convictions of abuse to the FBI database as domestic violence, not assault, which would prohibit those convicted of purchasing a firearm.
"We've lost too many lives to gun violence at the hands of dangerous individuals who should not have been allowed to buy a gun in the first place," Cortez Masto said. "This bill will protect lives."
Stephen Paddock, 64, of Mesquite had no criminal record and purchased weapons legally before he used his Mandalay Bay resort hotel room as a sniper's nest and pumped bullets into a crowd of concertgoers gathered below.
In the church shooting, Devin P. Kelley, 26, of New Braunfels, Texas, was an Air Force veteran who was convicted of domestic violence and was incarcerated 12 months before he received a bad conduct discharge.
The Air Force said it did not report the conviction to the National Crime Information Center database, which would have prevented Kelley from purchasing weapons.
"Just one record that's not properly reported can lead to tragedy, as the country saw last week in Sutherland Springs, Texas," Cornyn said.
Cornyn, the Senate's second highest ranking Republican, said his bill would fix "what's become a nationwide, systemic problem so we can better prevent criminals and domestic abusers from obtaining firearms."
Murphy said the bill would be the strongest "update to the background checks system in a decade, and provides the foundation for more compromise in the future."
Sen. Chuck Grassley, R-Iowa, the chairman of the Senate Judiciary Committee, has scheduled a Dec. 6 hearing to focus on weapons and reporting regulations.
Several bills have been filed in the House since the shootings, including bipartisan legislation co-sponsored by Nevada's congressional Democrats that would give authorization to the Bureau of Alcohol, Tobacco, Firearms and Explosives to tightly regulate devices to accelerate the rate of fire of semi-automatic weapons.
Paddock equipped 12 of 23 semi-automatic rifles used in the Las Vegas attack with bump stocks, legal accessories that increase the rate of fire of semi-automatic weapons to mimic fully automatic guns.
A bipartisan bill has been filed in the House to outright ban the devices.
Rep. Robert Goodlatte, R-Va., the chairman of the House Judiciary Committee, said following the Las Vegas shooting that he was open to holding a hearing on laws regarding bump stocks and other devices.
No hearings on weapons, or NCIS reporting requirements, have been scheduled in the House.
Contact Gary Martin at gmartin@reviewjournal.com or 202-662-7390. Follow @garymartindc on Twitter.