Teen arrested in Las Vegas middle school shooting
Updated May 9, 2023 - 7:31 pm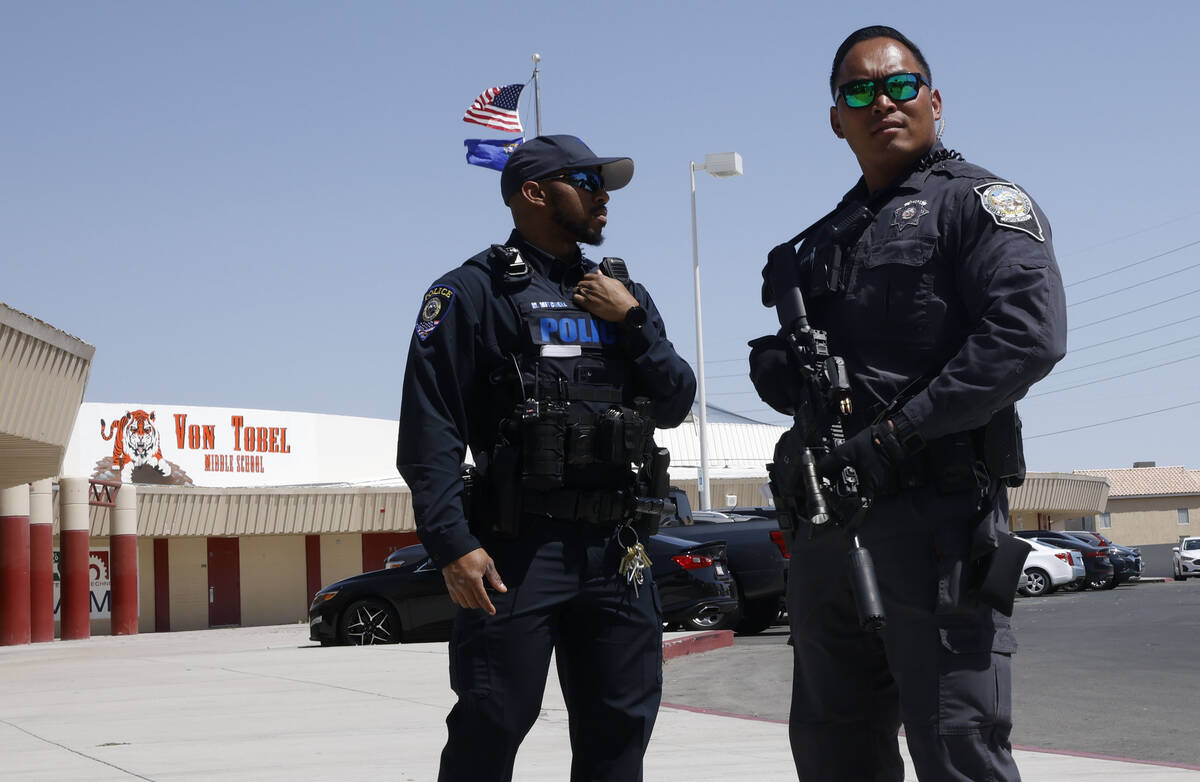 An 18-year-old man has been charged with two dozen felonies in connection with a shooting that wounded a Las Vegas middle school employee, court records show.
Jessie Rios is suspected of shooting a security monitor around 12:30 p.m. Monday at Von Tobel Middle School, 2436 N. Pecos Road.
"During the investigation detectives were able to determine that the shooting took place a few blocks away from the school and a stray bullet struck the victim who was on school property," the Metropolitan Police Department said in an emailed statement on Tuesday.
The man who was shot was taken to University Medical Center and was expected to survive.
No students were injured in the shooting, but the middle school and two nearby elementary schools were locked down while police searched for the shooter.
Even though it would later emerge that the shooting itself happened off school property, with a bullet from that shooting then hitting the security monitor on school property, district and union officials both used the incident to draw attention to the violence, and number of weapons seizures, that happen on school properties.
"The lack of safety in our schools is nothing short of a crisis, and with hundreds of deadly weapons confiscated already on CCSD campuses this school year, CCEA has been loud and clear that we believe this situation was a school shooting waiting to happen," said the statement from the Clark County Education Association, the union that represents school district teachers.
"As I have been saying for years, community issues are creeping onto our campuses, affecting our students negatively," Clark County School District Superintendent Jesus Jara said in a statement Monday. "What are our cities and the county doing to stop these situations?"
According to the Clark County School District's Firearms Confiscation Report, which is available online, 30 guns have been seized by school police since the start of the 2022-2023 school year. That total includes 29 handguns and one long gun.
School police have also seized 35 BB and/or air guns, 182 knives, and 52 weapons classified as "other weapons."
In total, that's 299 weapons seized since the beginning of the school year.
Although the numbers are current to April 30, Clark County School District Police spokesperson Lt. Bryan Zink said Tuesday that a few other guns had been confiscated since then.
The vast majority of weapons seized, according to the report, were taken from children.
Zink said in a text message that police encourage parents and guardians to take a more active role in school safety.
"Keep your guns secure, periodically change your gun safe combinations, don't leave your guns in your car in your driveway at night, make sure you write down your guns' serial (number) so if they get stolen you can report them stolen," Zink said in a text.
"Check your kids' backpacks before they leave for school and talk to them about the consequences they face at school and at home if they get caught with a gun at home or at school," Zink also said.
Rios faces four counts of attempted murder, four counts of discharging a gun at an occupied structure, one count of battery with a deadly weapon and 15 counts of discharging a gun into a prohibited area, according to court records.
According to jail records, Rios also was arrested Feb. 16 and booked on one count of buying, possessing or receiving stolen property or a gun.
Court records indicate that the case was dismissed by the Clark County district attorney's office at the initial appearance.
Contact Sabrina Schnur at sschnur@reviewjournal.com or 702-383-0278. Follow @sabrina_schnur on Twitter. Contact Brett Clarkson at bclarkson@reviewjournal.com.