Tennessee Titans honor widow of Las Vegas shooting victim
December 3, 2017 - 7:12 pm
Updated December 3, 2017 - 9:40 pm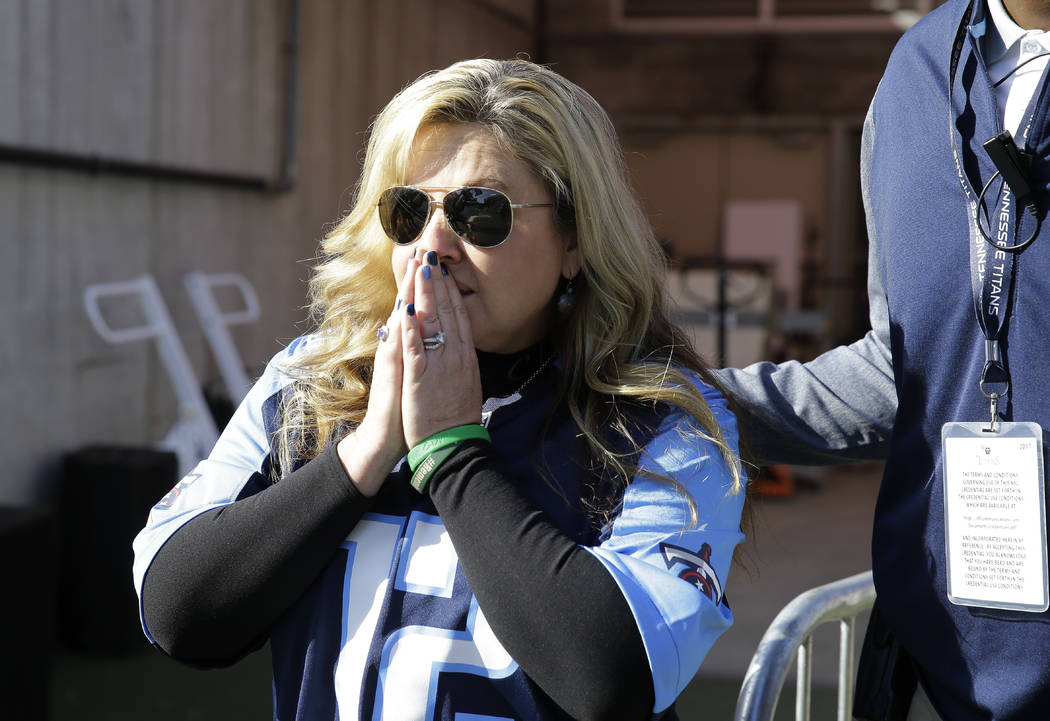 The widow of a man who died in the Route 91 Harvest festival shooting in Las Vegas was honored Sunday in a pregame ceremony by the Tennessee Titans.
Several Nashville, Tennessee, news outlets reported that Heather Melton, whose 29-year-old husband, James "Sonny" Melton, was one of the 58 people who died in the Oct. 1 massacre, was named the honorary 12th Titan before the Titans game with the Houston Texans at Nissan Stadium.
The Meltons had been celebrating their first full year of marriage Oct. 1 at the festival on the Strip when gunfire rained down from a nearby hotel.
"(Sonny) saved my life," Heather Melton told Nashville newspaper The Tennessean in October. "He grabbed me from behind and started running when I felt him get shot in the back."
The Meltons were fans of the NFL team and had attended a Titans game against the Green Bay Packers at Nissan Stadium in November 2016. On Sunday, Heather Melton drove a sword into the field at the 50-yard line before the game, which the Titans won 24-14. The team posted video of the ceremony on Twitter.
Heather Melton with the honorary 12th Titan sword. #TitanUp

Heather's husband Sonny was a victim of the Las Vegas shooting. pic.twitter.com/ggj2p6snHy

— Tennessee Titans (@Titans) December 3, 2017
Also, the Titans Foundation said it had donated $10,000 to the Sonny Melton Scholarship Fund.
"I'm sure he would be proud," The Tennessean reported her saying before the game, which Titansonline.com said she attended with her 8-year-old daughter, her two teenage children and Sonny's mother.
Heather and Sonny Melton, who married in June 2016, had met a few years earlier at Henry County Medical Center in Paris, Tennessee, the Tennessean reported. She worked there as an orthopedic surgeon; he worked as a registered nurse.
Heather Melton told Titansonline.com that she's still coping with Sonny's death. This week, she told the website, the FBI delivered his death certificate to their home in Big Sandy, Tennessee, about 100 miles west of Nashville.
"I am immensely proud of the person my husband was before this happened. I can't put it into words," she said. "He was an amazing human being, even to his last breath.
"He would hate all the recognition, because he was a pretty humble guy," she added. "But I am so proud of him, and that's what keeps me doing all these things."
Contact Matthew Crowley at mcrowley@reviewjournal.com. Follow @copyjockey on Twitter.