Vigil held for Las Vegas mom and daughter hit, killed by SUV
December 16, 2017 - 11:29 pm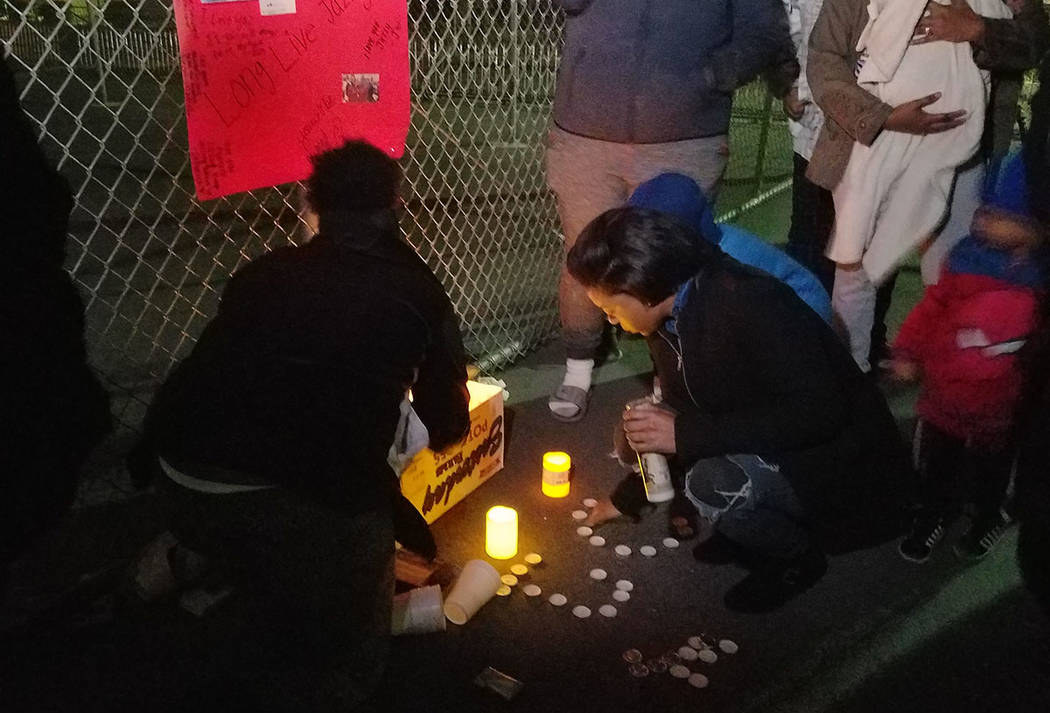 When a suspected impaired driver hit and killed three pedestrians in a Wednesday crash, a woman said she lost both her mother and her sister. Friends and family said the world lost two loving souls.
"She was truly an angel of Earth," LaToya Pasillas said of her 19-year-old sister, Jazzy Smith.
Reached by phone Saturday afternoon, Pasillas said Smith and her mother, Carrie Williams-Smith, died in a crash Wednesday afternoon while crossing Eastern Avenue at Flamingo Road. Pasillas said they were trying to catch a bus home from a local government office.
Pasillas' mother called her about 11:45 a.m. Wednesday, asking whether she could have a ride to the office. Pasillas was at a Henderson hospital with her son, so she told her mom she couldn't take her at that moment.
"It's OK, baby," Pasillas recalled her mom saying. "We'll just get on the bus. I love you, and I'll talk to you later."
"I love you, too, and I'll call you later," she replied.
About two dozen friends and family gathered Saturday night outside Sunrise Mountain High School, from which Smith graduated earlier this year. They placed candles inside of a box to keep the wind from extinguishing their flames.
Surrounded by loved ones holding candles, Shirita Wheeler, 33, led a prayer. She prayed for comfort and peace while she grieved for her mother and sister.
"To have two people at one time that mean so much to you — such a significant part of your life — that's hard," Wheeler said.
Tomorrow isn't promised, she said, and people should do right by and show love to those they care about.
She smiled when remembering her mother, "the queen of facial expressions."
"She'd know what face to make, she'd know what comment to make, what silly dance, that was her always," Wheeler said.
A single mother who had nine children in her life, Williams-Smith, 49, grew up in Oakland, California, where she worked for many years as a registered nurse.
Williams-Smith left work several years ago to take care of one of her daughters, who was living with cerebral palsy and scoliosis, until the daughter died in 2013.
Her mother always gave to her children, Pasillas said.
"She would be late on her rent to make sure that our rent was paid," Pasillas said.
Williams-Smith hurt her back around the time she was caring for her daughter and couldn't return to work. With money from disability payments, the single mother cared for her younger children and grandchildren.
"Even in the hard times, they didn't feel like hard times because we were surrounded with love," Pasillas said of her mother, who moved to Las Vegas about three years ago. She left behind two teenage sons — twins — who lived with her. They will likely come live with Pasillas, she said.
Kayren Green said Smith was her best friend and her "backpack," with her wherever she would go.
"I feel empty," said Green, wiping tears. "I got like basically my other half taken away from me."
Smith had recently landed a job and had a bright future, said Green's mother, Alisha Horton.
Horton, frustrated, said Smith had worked hard to get the job and was getting her life together.
"Her family is not the only one hurt," Horton said.
Pasillas, 30, said her late sister was sweet, soft, uplifting and caring. Smith lived with her for about three years. Pasillas' 4-year-old son sleeps in her old room.
"It was like losing a daughter. Not just a sister, but a daughter," Pasillas said.
Her son wonders where his aunt and grandmother are. He grew accustomed to them in his life, as they lived about 10 minutes down the street. Smith, in particular, would pick him up from school and help Pasillas if she had errands to run or a medical appointment to attend.
Sometimes Smith would tag along with Pasillas to help.
"He would run and jump into her arms and tell her how much he loves her," Pasillas said.
Police named Daniel Becker, 31, as a DUI suspect in the deadly crash. The Metropolitan Police Department said he drove a 2003 Ford Expedition into several cars and three pedestrians, injuring six — one critically — and killing the pedestrians at the scene.
Becker remained in county jail Saturday night on several reckless driving and DUI charges.
The Clark County coroner's office hasn't yet identified the third person killed in the crash.
Pasillas said she's past being angry about the fatal crash, because anger doesn't help her cope. She and Wheeler would prefer to remember their mother and sister from happier times.
"I really hope somebody takes something from this incident because it was a tragedy that was unnecessary," Pasillas said.
Contact Mike Shoro at mshoro@reviewjournal.com or 702-387-5290. Follow @mike_shoro on Twitter.