Witness in murder case hit by vehicle in downtown Las Vegas
September 25, 2017 - 1:21 pm
Updated September 25, 2017 - 6:30 pm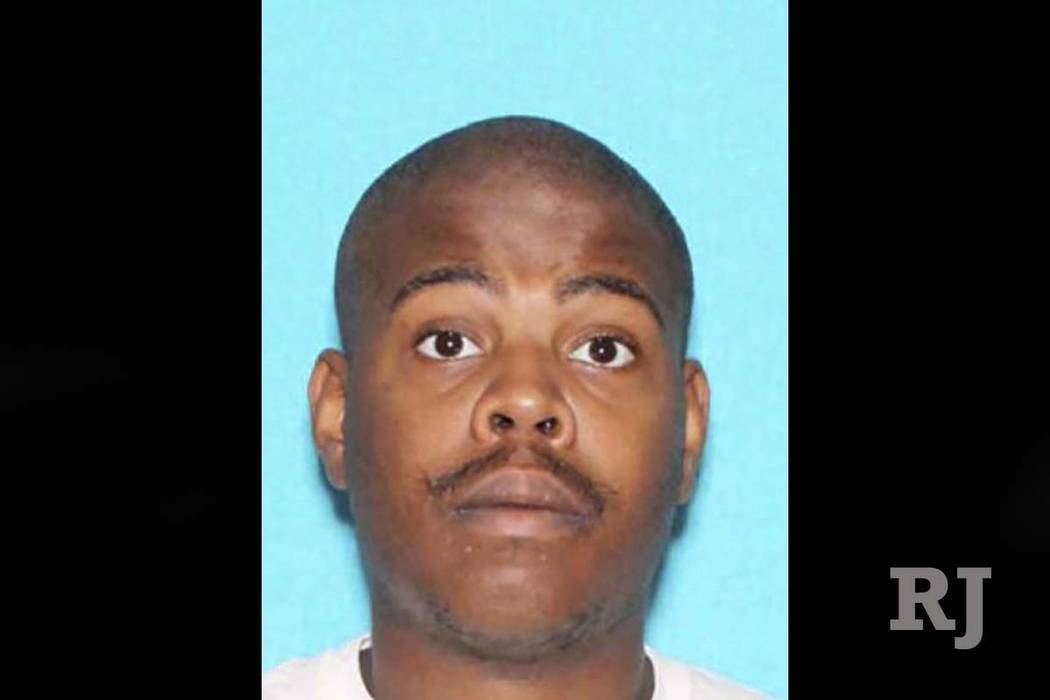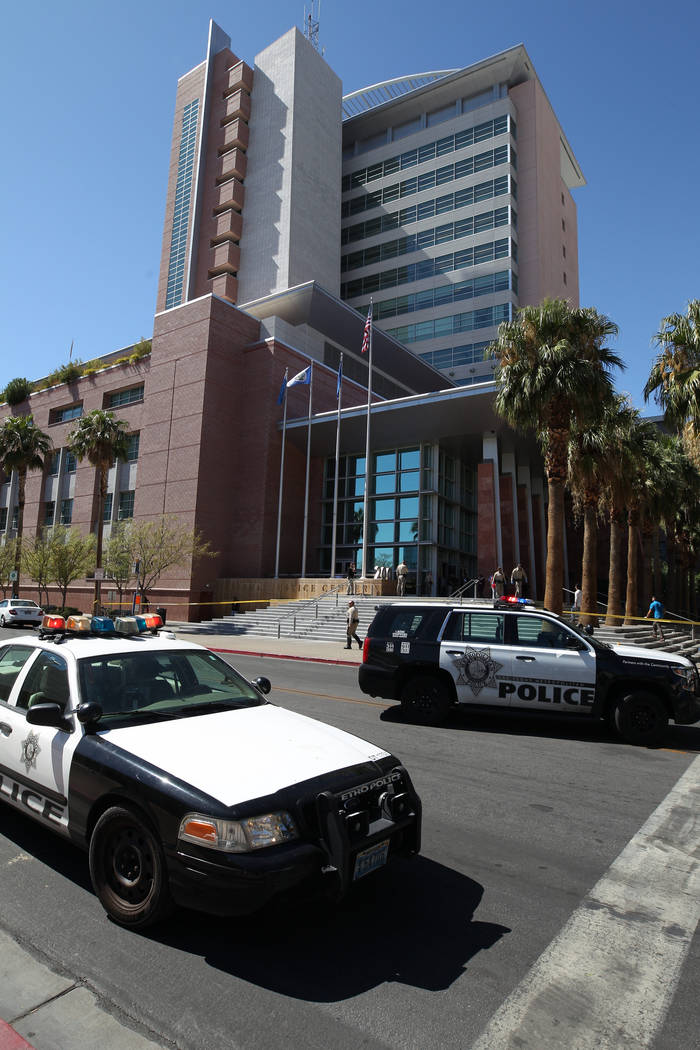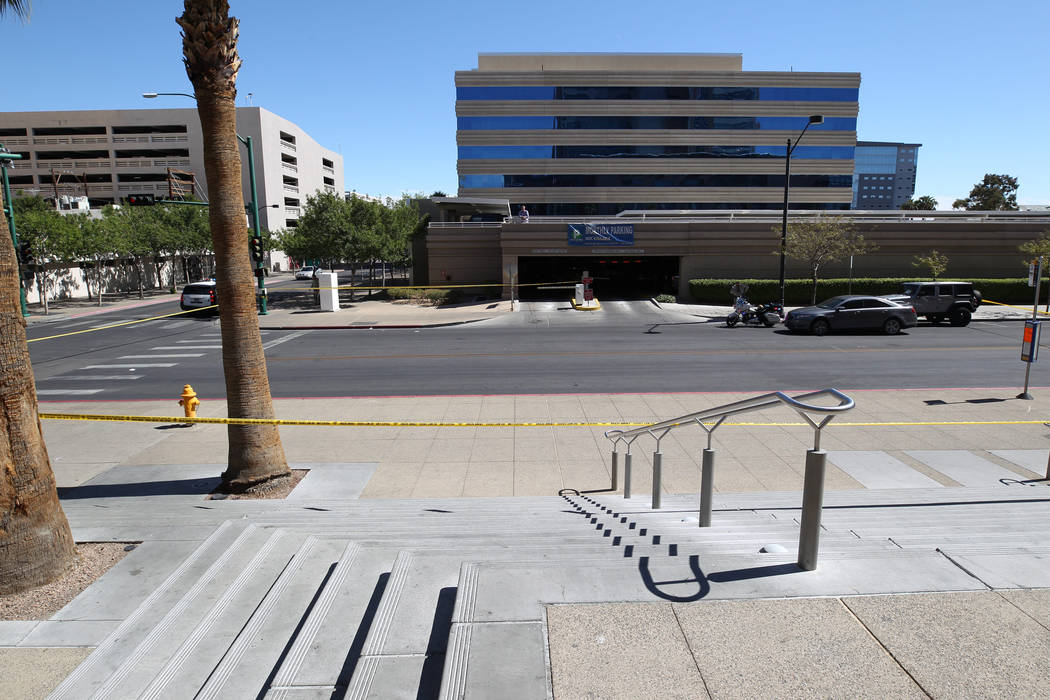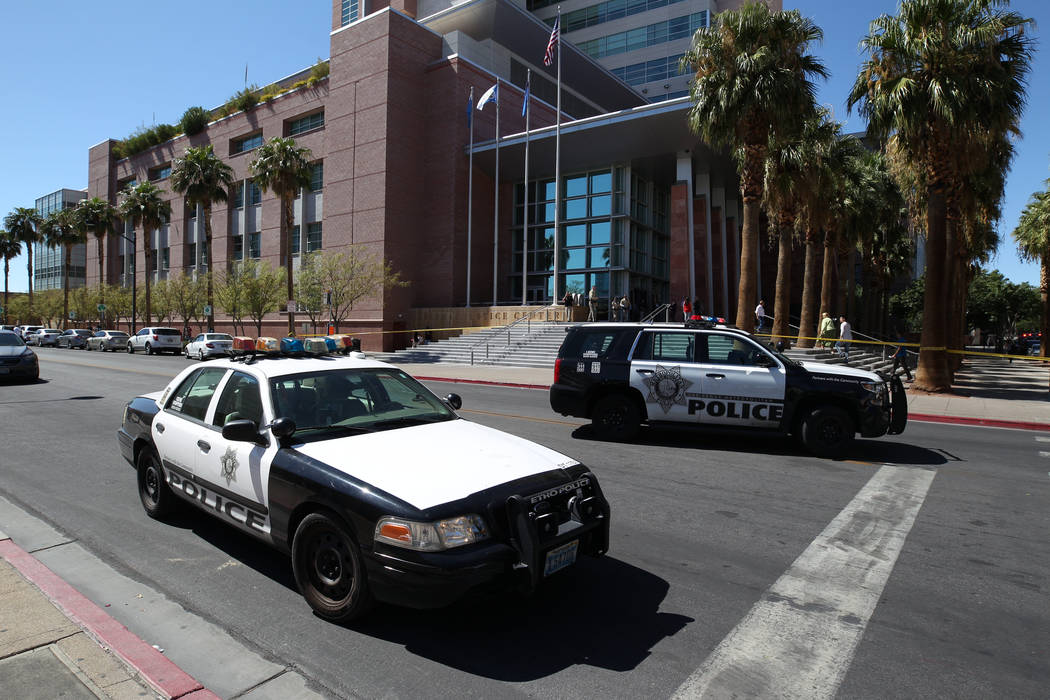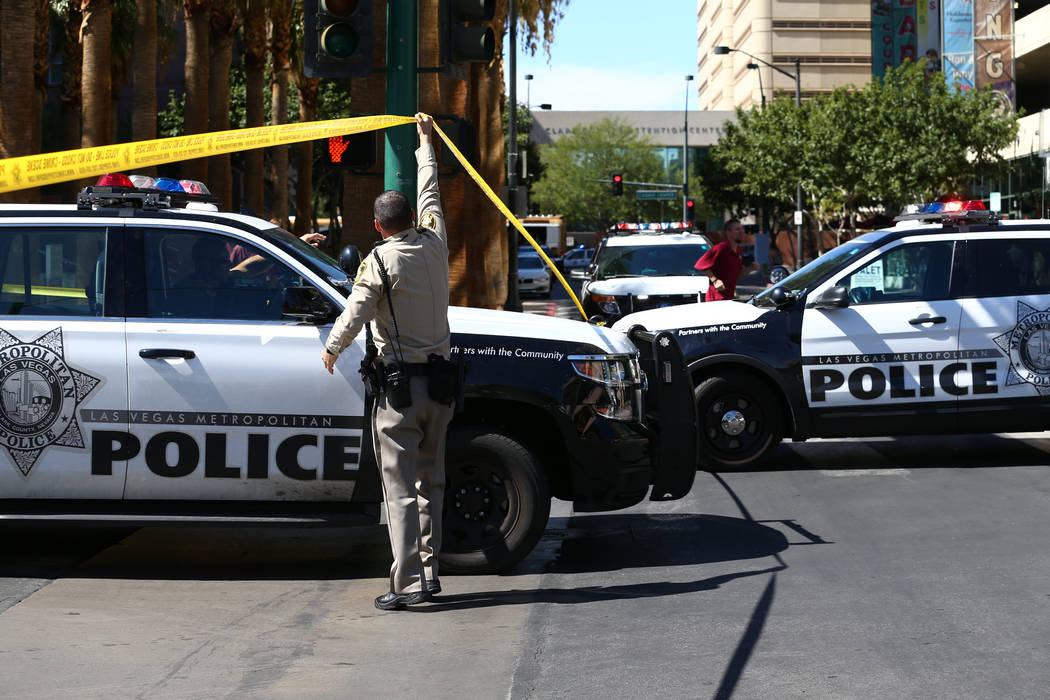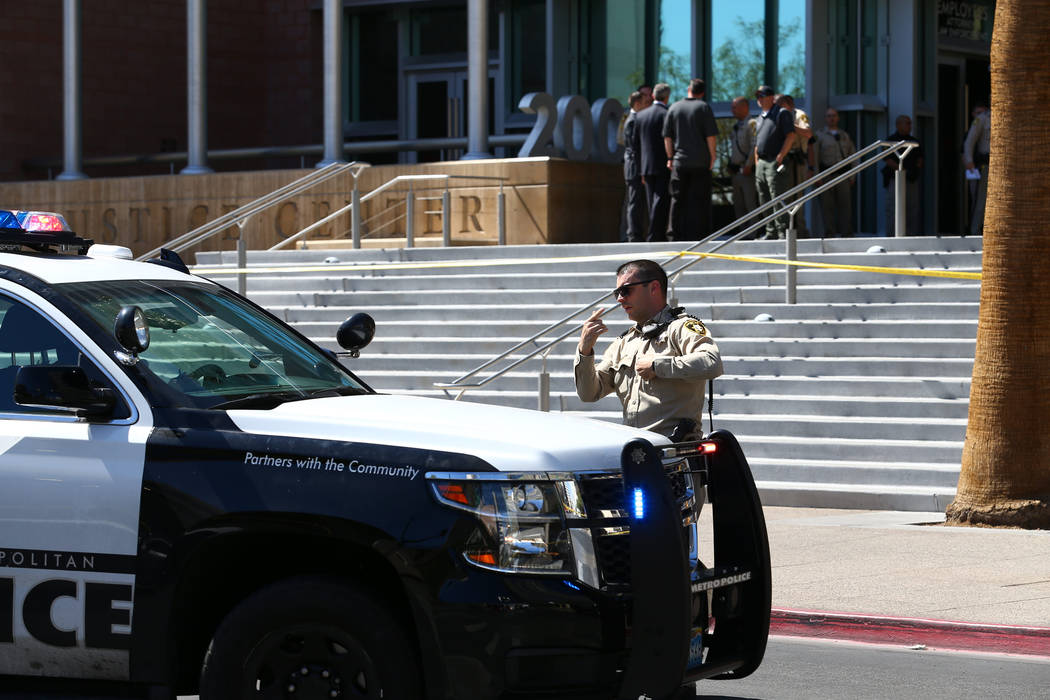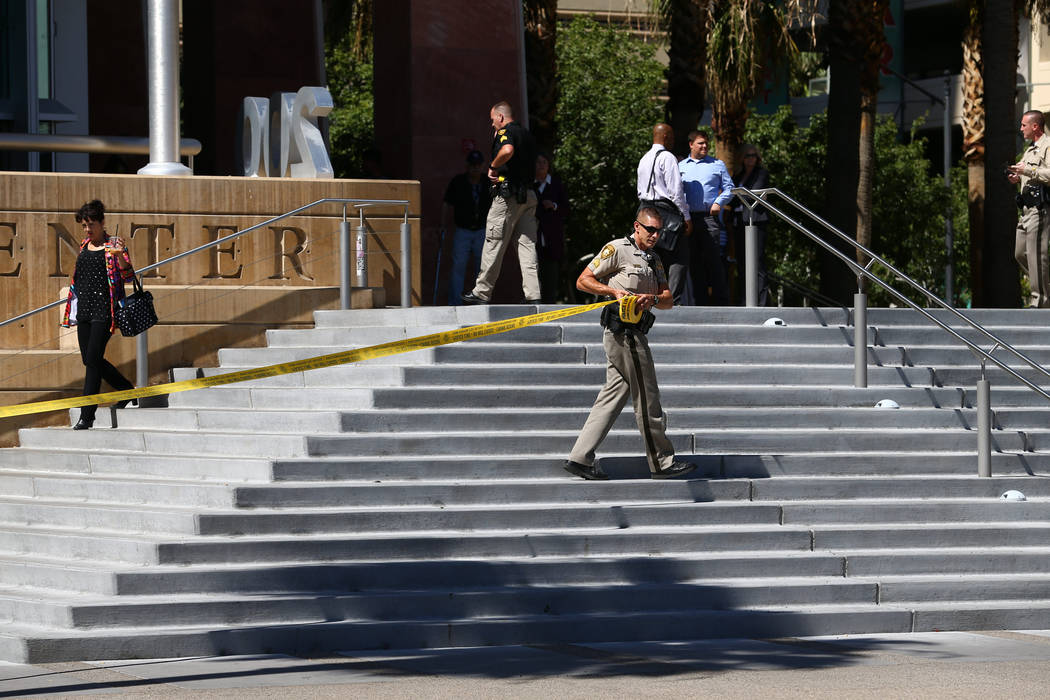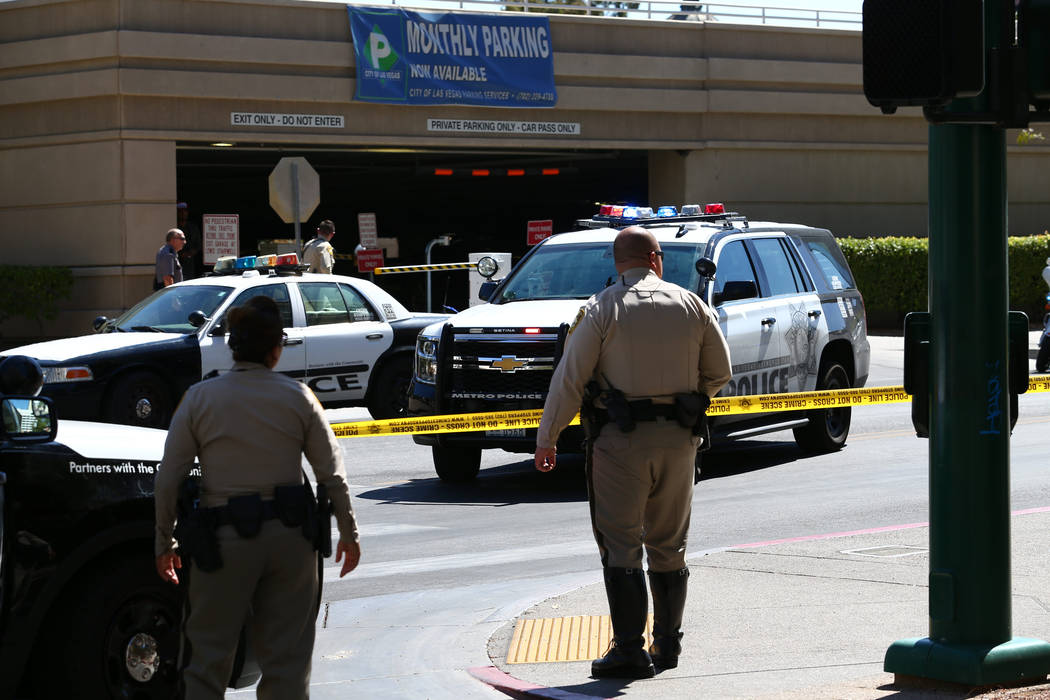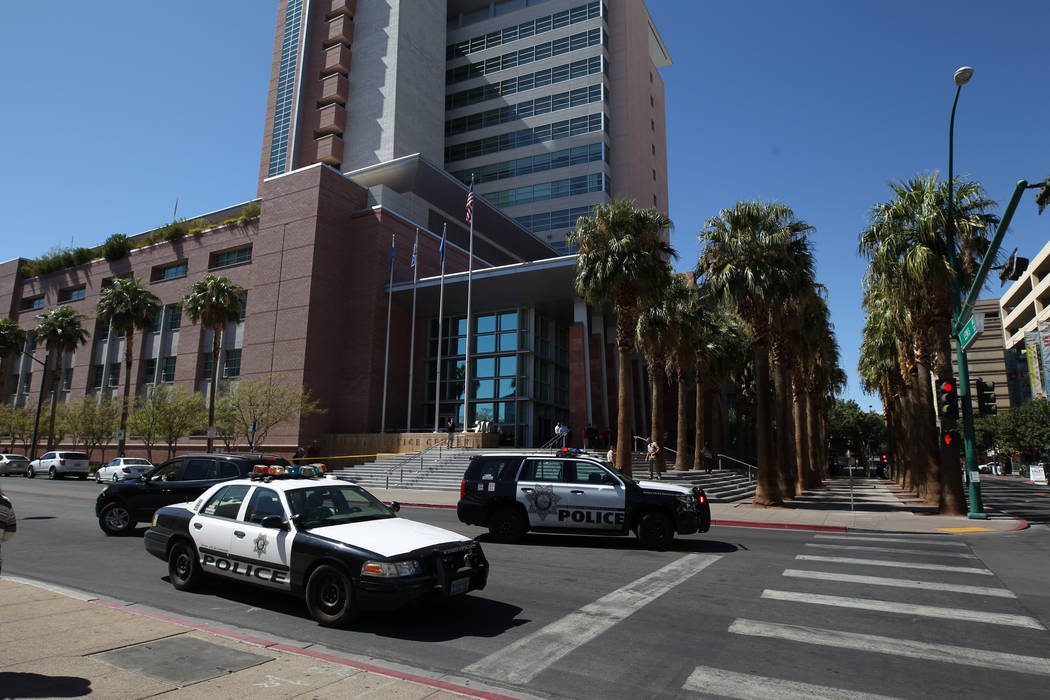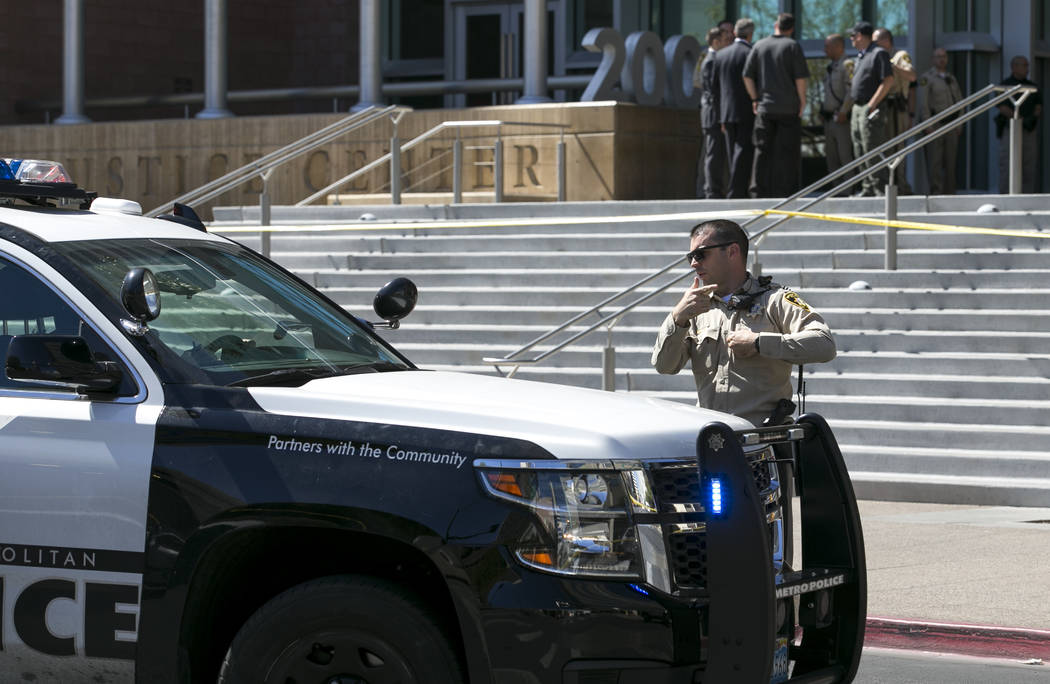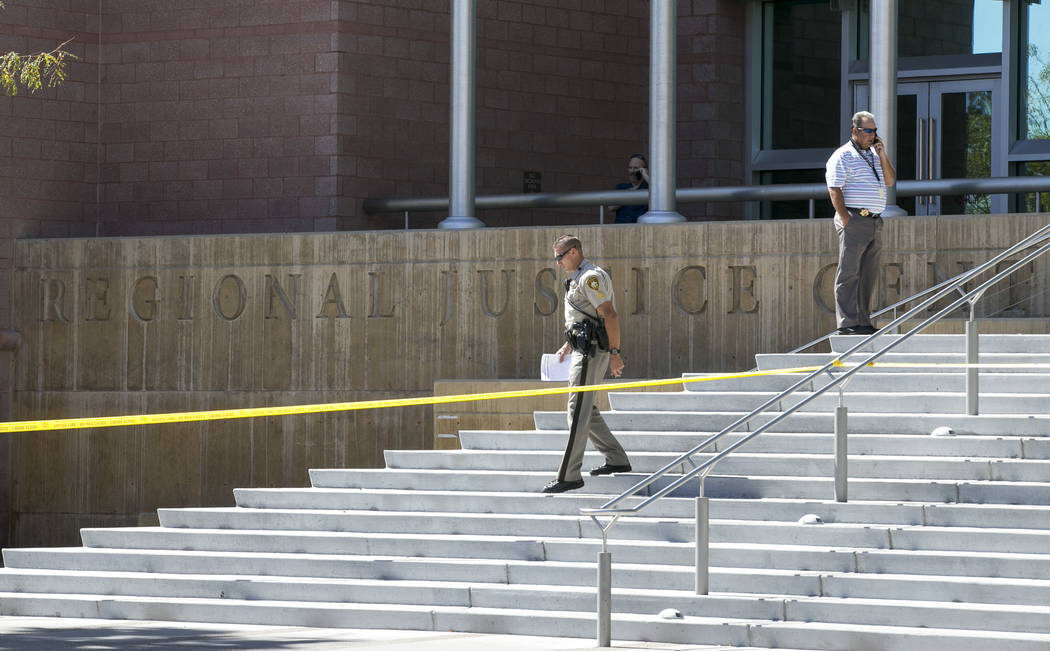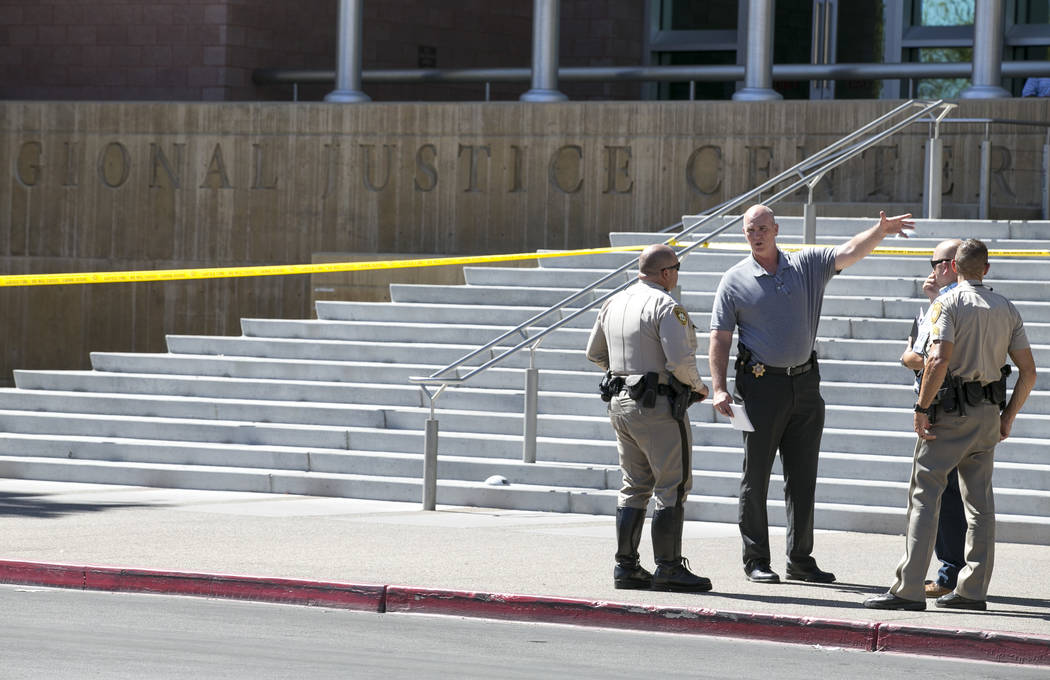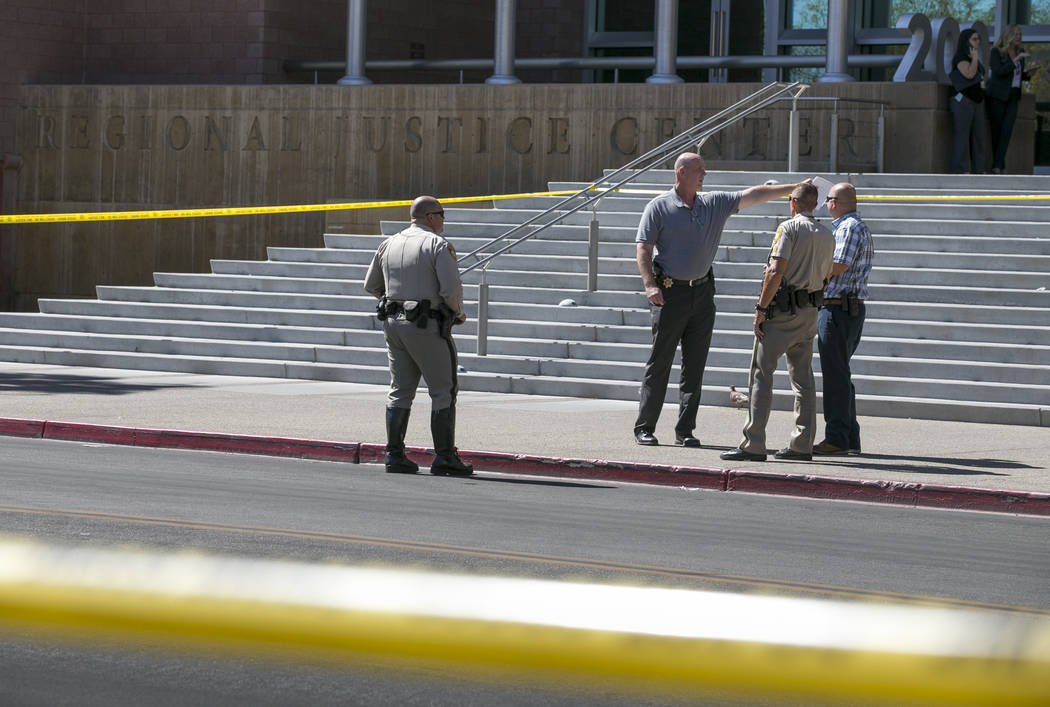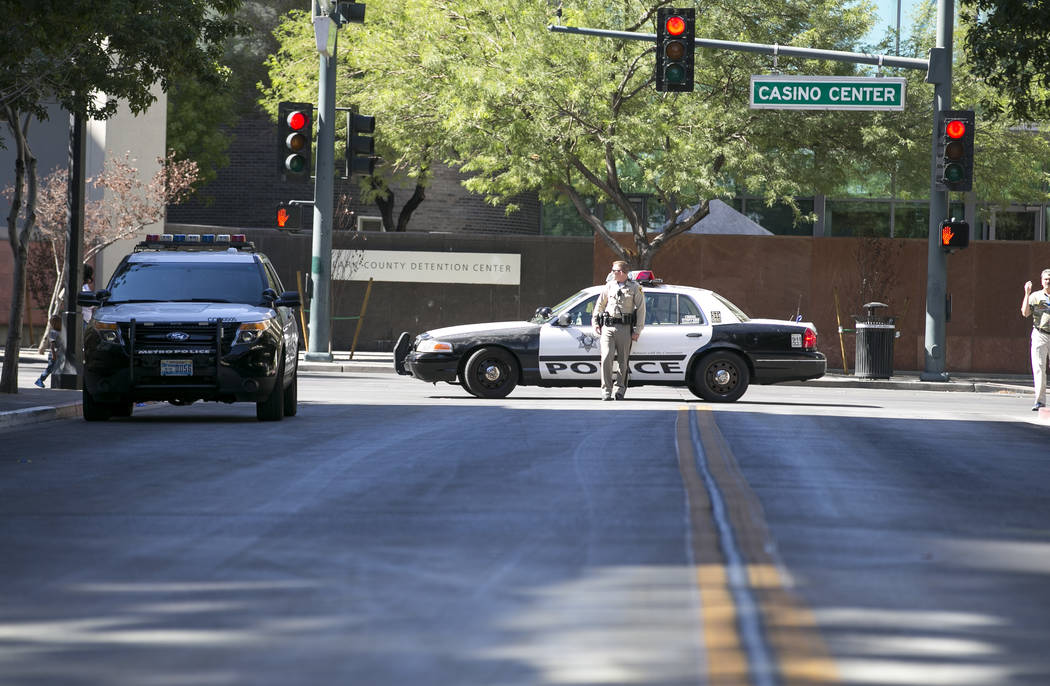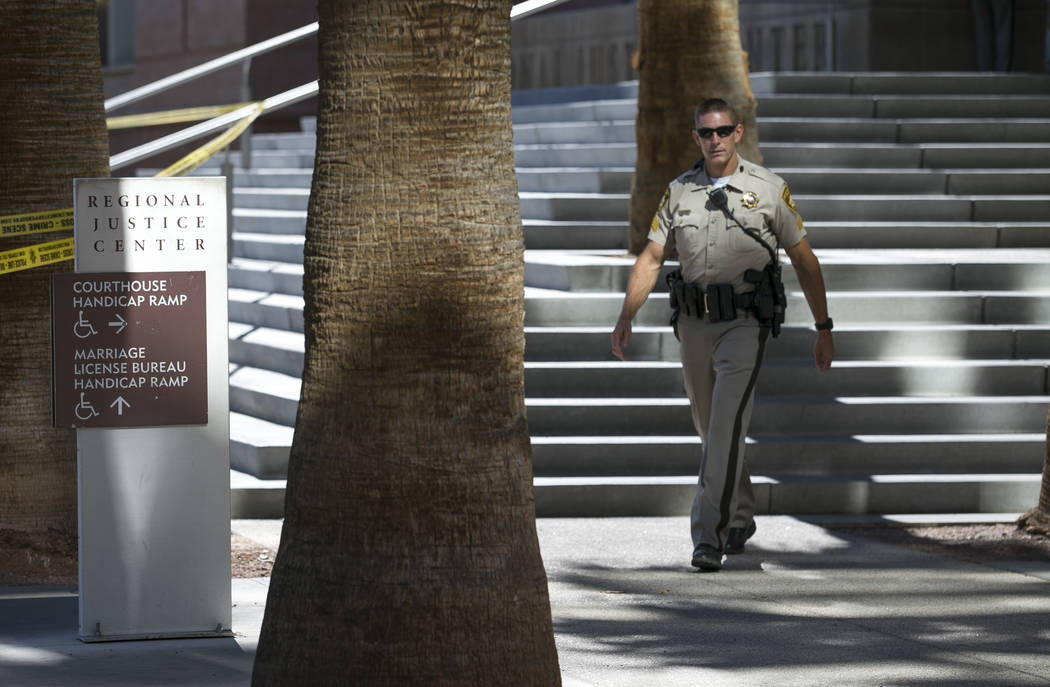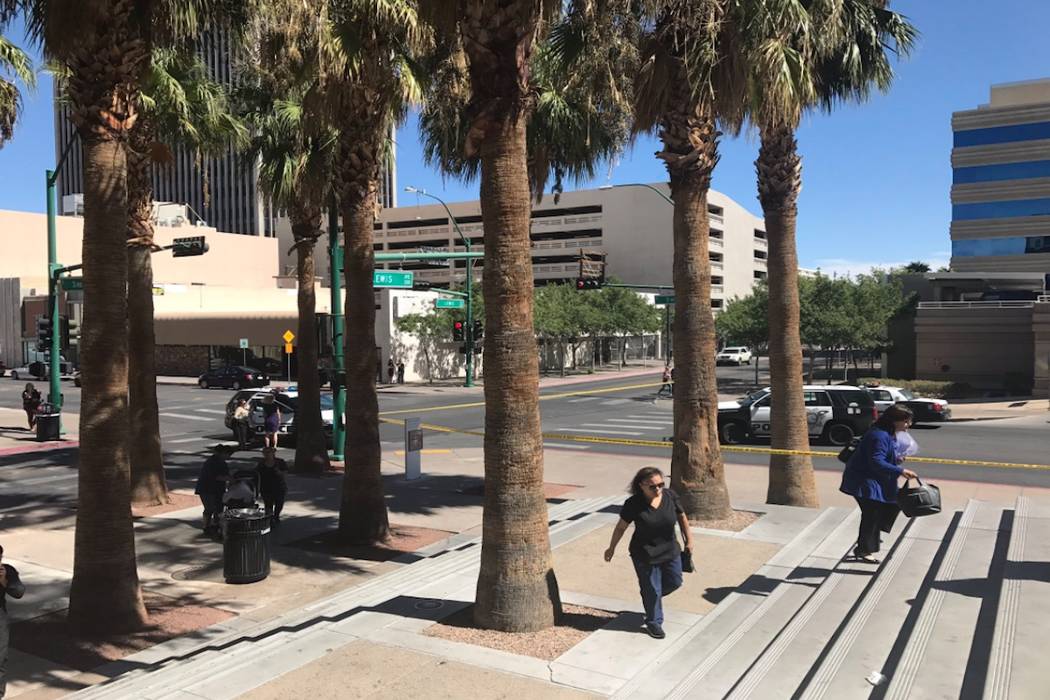 A murder victim's sister was struck by a vehicle Monday afternoon outside the Regional Justice Center, and Las Vegas police said the act appeared intentional.
Police announced around 5 p.m. that they had taken a woman into custody in connection with the incident. They did not release her name.
Moments before Queva Stafford was struck, prosecutors cautioned her to be careful about doing anything that could be considered communication with the man accused of killing her brother, Chief Deputy District Attorney Giancarlo Pesci said.
"She was getting nasty looks thrown by the defendant back at her," Pesci later told District Judge Douglas Herndon, who is overseeing the trial of Asa Brown. "We told her specifically: Don't make any gestures, comments, facial expressions toward the defense table. Just after that is when she got hit."
Attorney Jack Buchanan, who represents Brown, also mentioned a previous confrontation inside the courthouse as the trial, which started last week, got underway.
"We had a feeling earlier in court that there were some sort of threats being made," Buchanan said. "And we were concerned about the victim's family in the courtroom."
Metropolitan Police Department Capt. Andy Walsh said that as of late Monday afternoon, police were still trying to find a white or cream Cadillac with a Nevada license plate bearing the number 66G 290.
Witnesses reported hearing shouting before the incident, which was reported at 12:48 p.m., while Brown's murder trial was on a lunch break. Stafford was on the sidewalk in front of the courthouse on Third Street when she was struck.
Nearby, Chief Deputy District Attorney Sandra DiGiacomo heard screaming and saw the Cadillac hop the Third Street curb.
Defense attorney Jonathan MacArthur captured video of the Cadillac heading south on Third Street before it turned onto Clark Avenue and headed west.
MacArthur said the pedestrian appeared to be clipped by the vehicle and "didn't take it full brunt. But DiGiacomo said the car hit the woman "straight on, mid-section hard, just rammed her."
MacArthur believed the woman was struck intentionally.
"There was some beef going on between whoever the driver was and this lady," he said.
After being struck, Stafford rose to her feet and climbed stairs toward the courthouse entrance at the corner of Third Street and Lewis Avenue, witnesses said. She appeared conscious as she was helped onto a stretcher and into an ambulance, while officers wrapped yellow police tape around the street corner.
Walsh said the woman had a lower leg injury.
"We don't think this is an indication that witnesses are at risk," he said. "We take these crimes very seriously. Obviously it's a major concern that she was at court, but we haven't ruled out other motives at this point."
Authorities said the woman was at the justice center to testify in Brown's murder trial. The trial began Sept. 19 in Herndon's courtroom.
Brown, now 24, is accused of fatally shooting Las Vegas resident Jessie Bush, 47, last September. The defendant is being held at the Clark County Detention Center.
Pesci identified the injured witness as Bush's sister, and said Stafford was struck by a car that is registered to Brown's mother, Shaquella Brown.
Buchanan expressed concern that jurors in the murder case had witnessed the incident during the lunch break.
Herndon brought jurors back into the courtroom after the incident to question them. No jurors saw the car strike the woman, but some saw the crime scene tape afterward, and one juror overheard someone talking about the incident.
The trial resumed after the jurors were questioned.
Bush was killed in the 1100 block of Sierra Vista Drive, near the Boulevard Mall. Brown was later arrested in Arizona.
Contact David Ferrara at dferrara@reviewjournal.com or 702-380-1039. Follow @randompoker on Twitter. Review-Journal staff writer Rachel Crosby contributed to this story.
RELATED
Man arrested in Arizona in connection with fatal central Las Vegas shooting