Woman in custody after car chase on 215 Beltway
December 30, 2016 - 1:56 am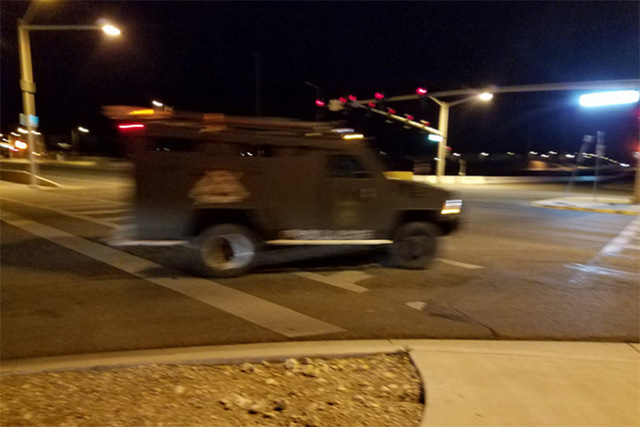 A woman is in custody after taking authorities on a vehicle chase that shut down a portion of the 215 Beltway in the west valley for more than an hour late Thursday night.
The woman had been driving a stolen Dodge Ram pickup on Charleston Boulevard near U.S. Highway 95 when a Metropolitan Police Department patrol car initially tried to pull her over at 9 p.m., suspecting the truck was stolen, according to the Nevada Highway Patrol. But the woman did not stop and instead got on the highway, NHP trooper Jason Buratczuk said.
Metro Lt. Carlos Hank said the pickup owners left the car running with the keys in the ignition while they were shopping at 4530 E. Charleston Blvd. Police said the woman got in the pickup and drove off.
Troopers later spotted the same truck headed west on the 215 near the airport connector and also attempted to pull the woman over, but she continued driving west.
As the driver sped around the beltway's bend near Durango Drive and headed north, troopers deployed stop sticks just north of the northbound Town Center Drive exit. Hank said troopers used two sets of stop sticks, and the second set blew the pickup's tires.
Once stopped though, the woman refused to get out of the vehicle. Metro, NHP and North Las Vegas SWAT units were at the scene, treating the situation as a barricade.
"We didn't know what we had," Hank said after she was in custody.
Hank said the woman appeared to be under the influence of drugs or having some sort of mental episode. He said she was uncooperative and her speech was incoherent. She demanded officers replace the ripped tires and give her wine, he said. SWAT units eventually coaxed her out of the Dodge.
The woman was in custody as of 12:15 a.m., authorities said. She was arrested and suspected of possessing a stolen vehicle, Hank said. There were no injuries during the incident.
During the barricade, the Beltway was shut down at the northbound Town Center exit and the southbound Sahara Avenue exit. Both directions on the Beltway have since reopened.
Contact Rachel Crosby at rcrosby@reviewjournal.com or 702-387-5290. Follow @rachelacrosby on Twitter. Contact Mike Shoro at mshoro@reviewjournal.com. Follow @mike_shoro on Twitter.