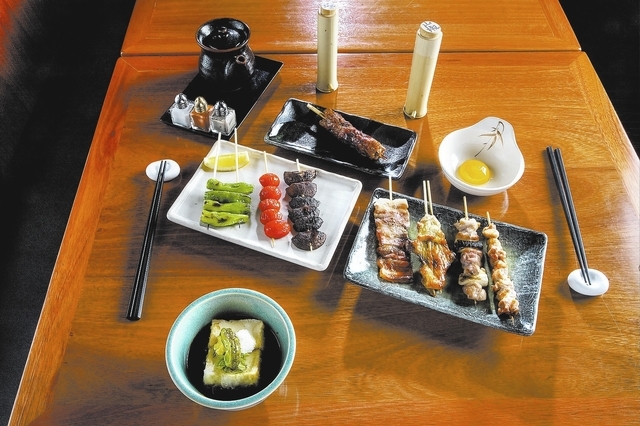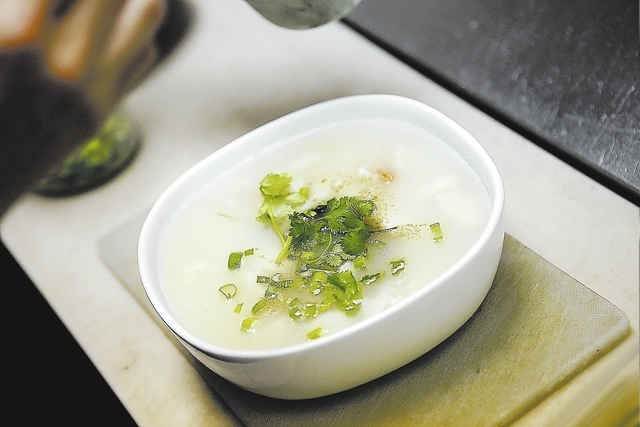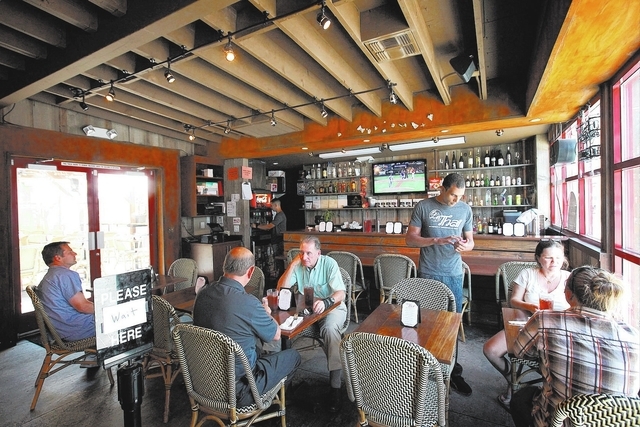 Each week Neon spotlights a different cuisine in the Dining Guide, with Asian restaurants this week. Restaurants are rated on a letter-grade scale, from A to F. Opinions by R-J critic Heidi Knapp Rinella (H.K.R.) are indicated by initials. Price symbols are based on the cost of an average entree: $ = entrees less than $10; $$ = entrees $10 to $20; $$$ = entrees $20 to $30; and $$$$ = entrees more than $30.
AMLEE GOURMET
3827 E. Sunset Road; 702-898-3358
Amlee's is an old-school kind of place, Chinese-American with the emphasis on American. Not that there's anything wrong with that, if that's what you (like a legion of others) are looking for. The chicken chow mein was in the western style, with soft noodles, and the tomato beef had lots of large chunks of bright fresh tomatoes. And the Amlee's Plate of appetizers was a true blast from the past. (3/22/13 H.K.R.)
Overall: N (for nostalgic)
$$
EAST OCEAN DIM SUM &SEAFOOD RESTAURANT
9570 S. Eastern Ave., Henderson; 702-567-4800
Dim sum isn't exactly tough to find in the valley but most of the places that specialize in it are clustered in and around Chinatown, so no wonder Henderson's East Ocean is packing them in. Well, that's not just because of geography but also because of the fresh, well-prepared foods such as shrimp wontons, shrimp noodle rolls, char si bao, pork shu mai, chive dumplings, shrimp dumplings and yellow custard buns. And the carts arrived promptly and repeatedly. (4/6/12 H.K.R.)
Overall: A-
$$
FAT CHOY
Eureka Casino, 595 E. Sahara Ave.; 702-794-3464
You may not be familiar with the Eureka Casino but Fat Choy took a peripatetic path in getting there and it's worth seeking out. For what? For the fun Amer-Asian diner vibe and especially for the fusion dishes on which chef Sheridan Su built his reputation, like the Pork Belly Bao, Peking Duck Bao, Duck Fried Rice and Fat Choy Burger. (1/24/14 H.K.R.)
Overall: A
$$
I LOVE SUSHI
11041 S. Eastern Ave.; 702-990-4055
I Love Sushi is a "fusion" sushi restaurant, of the genre that are refining and redefining the art to be more in keeping with American tastes. To that end, there's a heavy reliance on tuna and salmon, but we're not complaining. We liked the Joe's Special, Sex on the Beach, the I Love Sushi Special, the Lisa Hand Roll and the Tornado. And a vanilla mochi for dessert. And there's teriyaki, teppanyaki and yakisoba, in case sushi's not your thing. (1/15/14 H.K.R.)
Overall: A
$$
KYARA JAPANESE TAPAS
6555 S. Jones Blvd.; 702-434-8856
Tapas restaurants have been successfully borrowing from other cuisines — including Japanese — for years, and Kyara just takes that a step further, with a menu that's primarily (although not exclusively) Japanese in origin. We liked the cheese tempura, asparagus in bacon, butabara (pork belly), poke, peppered tuna, beef tataki and agedashi tofu, and the serene, soothing atmosphere. (10/5/12 H.K.R.)
Overall: A-
$$
LE THAI
523 Fremont St.; 702-778-0888
Le Thai's food, if not transcendent, does represent solid preparations of mostly traditional Thai dishes. Our favorite was our dessert, which was a pancake layered with Nutella and topped with a sweet omelet, but we also liked the pork jerky with waterfall sauce, the Three Color Curry and the Thai fried rice. But the best thing about Le Thai is that it's perfect for downtown, a pleasant funky-artsy spot that morphs as the evening wears on. (7/13/12 H.K.R.)
Overall: A-
$$
MARSSA
Loew's Lake Las Vegas, 101 Montelago Blvd., Henderson; 702-567-6125
Signature dishes: agedashi tofu, opakapaka lau lau.
NAGA THAI DINING
76 Horizon Ridge Parkway, Henderson; 702-508-2008
Thai restaurants have sprung up all over the valley and many of them are very good, but we'd have a hard time naming any that are better than Naga Thai, which offers a number of offbeat dishes among the old-familiars. We thoroughly enjoyed the Golden Cups, Miang Khum, cucumber salad, tom kah, panang curry and garlic-and-black-pepper stir-fry. (11/15/13 H.K.R.)
Overall: A
$$
RICE &COMPANY
Luxor, 3900 Las Vegas Blvd. South; 702-262-4852
Rice &Company didn't offer much in the way of surprises, but sometimes that's a good thing. We liked the innovative sushi fusion rolls the Wock and Roll and the Candy Cane, and the Blue Crab &Rock Shrimp Roll, though we thought the Garlic Chicken With Vegetables would have benefited from garlic throughout instead of in intermittent cloves. (12/13/13 H.K.R.)
Overall: B
$$$
SUSHI FEVER
5985 W. Sahara Ave.; 702-838-2927
The notion that Americans' idea of Japanese food has shifted from "steakhouses" to sushi bars was reinforced at Sushi Fever, whose teppan tables sat cold and unused while the sushi bar and dining room were bustling. And no wonder, with fusion rolls such as the Monkey Roll with its slabs of fried banana topped with crab and special sauce, and Linda's Special, its spicy crab and avocado wrapped with tuna, salmon and yellowtail and topped with garlic shrimp, raw onion and jalapeno, and served with a truly special sauce. Whew! We also liked the high-value two-item combo, for which we chose shrimp tempura and pork tonkatsu. (3/23/12 H.K.R.)
Overall: B+
$$
THAI THAI
10890 S. Eastern Ave.; 702-837-6575
Finding little-known gems is the best part of this job, and Thai Thai — a little jewel box of a place — is one of them. We loved the truly exemplary fresh rolls, plus the Tom Kha Gai, shrimp and scallop basil, Pumpkin Curry and sweet sticky rice with coconut ice cream. (2/1/13 H.K.R.)
Overall: A
$$
WING LEI
Wynn Las Vegas, 3131 Las Vegas Blvd. South; 702-770-7000
Interdepartmental teamwork from the reservationist to our server helped make our dinner at Wing Lei a flawless experience. That was, of course, in no small part because of the excellent food, which included crispy pork belly, Three Cup Sea Bass, Mongolian Beef and walnut semifreddo for dessert. (7/19/13 H.K.R.)
Overall: A
$$$$