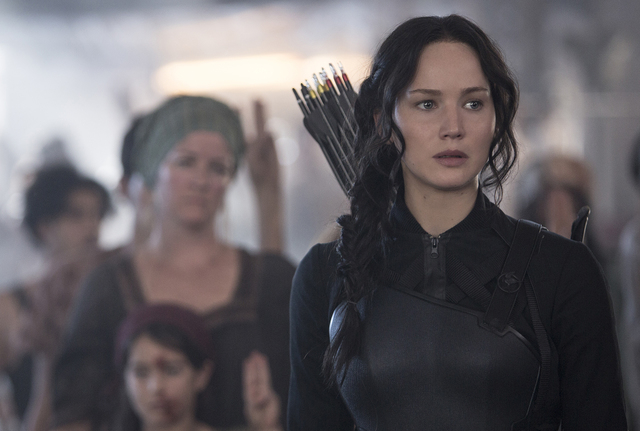 There's still time to develop a tickle in your throat, learn how to fake a sneeze, or just rewatch "Ferris Bueller's Day Off" for tips on how to get out of going to work or school.
"The Hunger Games Marathon" is taking over many Las Vegas movie theaters Thursday afternoon.
Starting between 2 and 2:30 p.m. depending on the theater, you can watch the first two installments plus "The Hunger Games: Mockingjay — Part One" for $15-$30.
Here's a look at the prices, as well as special deals and freebies, at local theaters:
Aliante: 2:30 p.m., $20 (Regal Crown Club members save $2 on every ticket and receive a coupon for a medium popcorn and drink combo for $5. The first 100 Regal Crown Club members who buy their marathon tickets at the box office will receive a "Hunger Games: Mockingjay — Part 1" keychain.)
Cannery: 2:15 p.m., $20
Cinedome: 2:30 p.m. $15 ($1 refills on large fountain or frozen drinks, free refills on large popcorns, $2 regular hot dogs, $2 Dibs ice cream snacks)
Fiesta Henderson: 2:30 p.m., $20 (Regal Crown Club members save $2 on every ticket and receive a coupon for a medium popcorn and drink combo for $5. The first 100 Regal Crown Club members who buy their marathon tickets at the box office will receive a "Hunger Games: Mockingjay — Part 1" keychain.)
Galaxy Green Valley: 2:10 p.m., $20
Green Valley Ranch: 2:30 p.m., $20 (Regal Crown Club members save $2 on every ticket and receive a coupon for a medium popcorn and drink combo for $5. The first 100 Regal Crown Club members who buy their marathon tickets at the box office will receive a "Hunger Games: Mockingjay — Part 1" keychain.)
Orleans: 2:30 p.m. $30 on the XD screen ($1 refills on large fountain or frozen drinks, free refills on large popcorns, $2 regular hot dogs, $2 Dibs ice cream snacks)
Palms: 2:30 p.m., $25 (free commemorative "Hunger Games" marathon lanyard, while supplies last)
Red Rock: 2:30 p.m., $20 (Regal Crown Club members save $2 on every ticket and receive a coupon for a medium popcorn and drink combo for $5. The first 100 Regal Crown Club members who buy their marathon tickets at the box office will receive a "Hunger Games: Mockingjay — Part 1" keychain.)
Sam's Town: 2:30 p.m., $25 ($1 refills on large fountain or frozen drinks, free refills on large popcorns, $2 regular hot dogs, $2 Dibs ice cream snacks)
Santa Fe: 2:30 p.m., $25 ($1 refills on large fountain or frozen drinks, free refills on large popcorns, $2 regular hot dogs, $2 Dibs ice cream snacks)
Showcase: 2:30 p.m., $20 (Regal Crown Club members save $2 on every ticket and receive a coupon for a medium popcorn and drink combo for $5. The first 100 Regal Crown Club members who buy their marathon tickets at the box office will receive a "Hunger Games: Mockingjay — Part 1" keychain.)
South Point: 2:30 p.m., $30 on the XD screen ($1 refills on large fountain or frozen drinks, free refills on large popcorns, $2 regular hot dogs, $2 Dibs ice cream snacks)
Sunset Station: 2:30 p.m., $20 (Regal Crown Club members save $2 on every ticket and receive a coupon for a medium popcorn and drink combo for $5. The first 100 Regal Crown Club members who buy their marathon tickets at the box office will receive a Hunger Games: Mockingjay — Part 1" keychain.)
Texas Station: 2:30 p.m., $20 (Regal Crown Club members save $2 on every ticket and receive a coupon for a medium popcorn and drink combo for $5. The first 100 Regal Crown Club members who buy their marathon tickets at the box office will receive a "Hunger Games: Mockingjay — Part 1" keychain.)
Town Square: 2 p.m., $25 (exclusive lanyard and free giveaway item)
Village Square: 2:30 p.m., $20 (Regal Crown Club members save $2 on every ticket and receive a coupon for a medium popcorn and drink combo for $5. The first 100 Regal Crown Club members who buy their marathon tickets at the box office will receive a "Hunger Games: Mockingjay — Part 1" keychain.)