3-D murals allow guests to become part of art on Las Vegas Strip — VIDEO
January 27, 2017 - 4:00 pm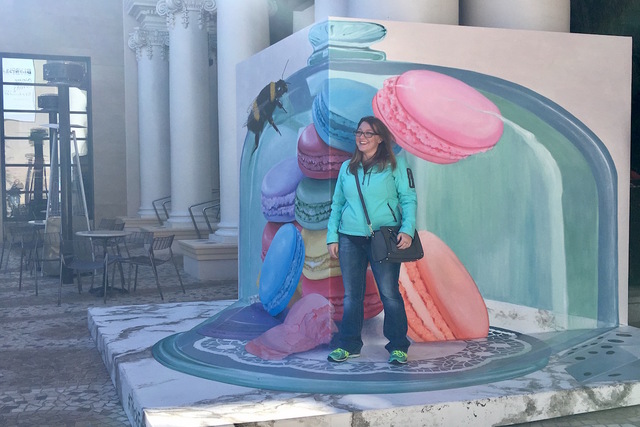 MGM Resorts has teamed up with the creative minds behind We Talk Chalk to give guests a chance to become part of art with life-size interactive 3-D paintings.
Dubbed the "Trick Eye Experience," artist Melanie Stimmell and her team of LA-based street artists have created three life-size murals that are designed to entice guests to explore the work, insert themselves into the scenario and pose for photos as they bring the vibrant paintings to life.
Located on BLVD Plaza at Monte Carlo Resort and Casino, 3770 S. Las Vegas Boulevard, two of the murals — the scorpion mural and the dessert mural — invite visitors to strike a pose and snap a photo "inside" the art.
According to MGM Resorts, "the scorpion mural pays homage to Nevada's natural landscape and features three brown and orange scorpions living inside a terrarium," the company said in a release. "If you dare to stand on the platform, it appears as if you are inside the terrarium, accompanied by prickly cacti and a fuchsia succulent."
Courtesy MGM Resorts
Just a few steps away at the dessert mural, guests can step inside a cookie jar that is filled to the brim with 12 vibrantly colored macaroons and a yellow and black bumble bee.
Courtesy MGM Resorts
"Each piece creates the illusion of being a part of the painting and invites those walking by to engage with the murals and take photos," said Stimmell. "At first observers are unsure of what they're looking at, but as soon as someone joins the piece, each work of art comes alive."
At the final third mural, located outside the Monte Carlo's west casino entrance, visitors who pose just right will have the illusion that they are about to be devoured by a great white shark.
Courtesy MGM Resorts
The "Trick Eye Experience" will be on display until 2018. Additional murals will be added throughout the year.
Contact Caitlin Lilly at clilly@reviewjournal.com. Follow @caitielilly_ on Twitter.