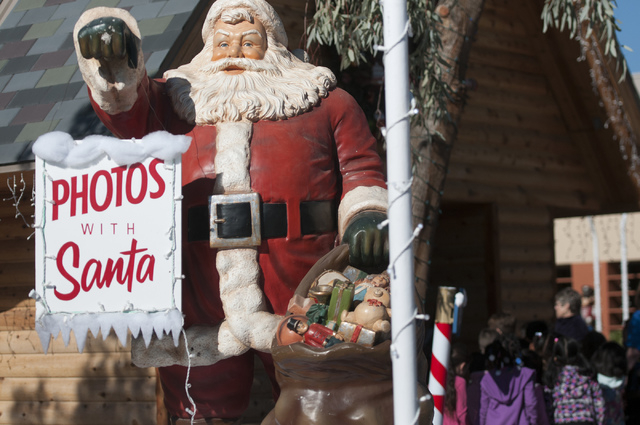 It's not exactly beginning to look a lot like Christmas.
Depending on the stores you frequent, it's been looking a lot like Christmas seemingly since August.
But one of the holiday season's biggest attractions kicks off Friday as the Magical Forest opens at Opportunity Village, 6300 W. Oakey Blvd.
The annual event includes hundreds of lighted trees, the Forest Express passenger train, a carousel, miniature golf, photos with Santa in his workshop and nightly entertainment.
Admission is $11 for adults, $9 for children ages 3-12; unlimited ride and attraction passes are $20 for adults, $18 for children.
The Magical Forest is open 5:30-9 p.m. Sundays through Thursdays and 5:30-10 p.m. Fridays and Saturdays. For more information, call 702-259-3741.
Heroes honored
Veterans Day may have come and gone, but the salutes continue at 7:30 p.m. Thursday in Artemus Ham Hall, 4505 S. Maryland Parkway, when the UNLV Wind Orchestra presents a benefit "American Heroes" concert honoring, among others, D-Day Veterans/French Legion of Honor award winners Gaetano "Guy" Benza, 89, and Davis "Dave " B. Leonard, 90.
On the program: Aaron Copland's "Lincoln Portrait," narrated by Jeffrey Koep, dean of UNLV's College of Fine Arts; a soliloquy from actor (and UNLV faculty member) Clarence Gilyard Jr.; and contributions from such guest conductors as award-winning composer Bruce Broughton, whose credits range from "Silverado" to "JAG."
For tickets ($8-$10), call 702-895-2787 or visit pac.unlv.edu.
Watch games, eat
You can score build-your-own Angus burgers, barbecue habanero chicken wings and fish tacos while you're watching the game at the new The Game at the Suncoast, 9090 Alta Drive.
Billed as an "immersive sports-viewing and dining experience," The Game has 100 linear feet of LED TVs, including 15 75-inch screens. Hours are 4:30 to 11 p.m. Mondays through Thursdays, 4:30 p.m. to 1 a.m. Fridays, 9 a.m. to 1 a.m. Saturdays and 9 a.m. to 10 p.m. Sundays.
Drag show special
If you ever thought the old "La Cage" drag show needed more of campy comic Jimmy Emerson and less lip-sync celebrity impersonation, then listen up girlfriends: Emerson and Tommi Rose have put together a raucous, dirty drag show of just the good stuff. "Funny, Phat &Fabulous" debuts at 7:30 p.m. Thursday (with a Christmas Day encore) at Ron Decar's Event Center, 1201 Las Vegas Blvd. South.
Tickets are $25 or $35 with a buffet; call 702-384-0771.
Sanctuary is back
Seattle power metallers Sanctuary never really got their due during their initial run beginning in the mid-'80s, though the core of the band did find more fame with the thrashier Nevermore, which formed after the group called it a day in 1992. But now Sanctuary is back with a fierce new album, "The Day the Sun Died," that blazes in place of said star.
See them at 8 p.m. Thursday at LVCS, 425 Fremont St. Tickets are $15; call 702-382-3849.