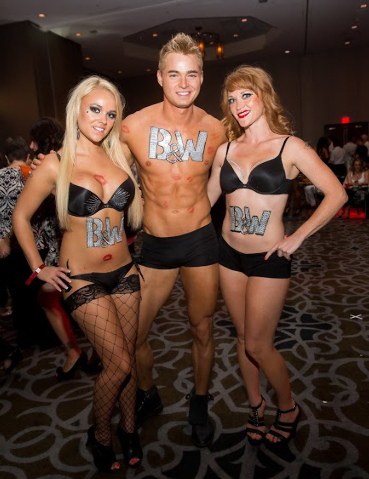 Black, white fun all over
Break out your body paint, your skimpiest outfits and your checkbooks: It's time for the 28th Annual Black &White Party.
The Aid for AIDS of Nevada fundraiser is set for 9 p.m. Saturday in The Joint at the Hard Rock Hotel.
Besides gourmet food and beverage samplings, the event will feature entertainment by Lorena Peril, "Absinthe's" Melody Sweets, the casts of "Fantasy," "Jubilee!" and Jabbawockeez, and Shangela from "RuPaul's Drag Race."
More than 3,500 guests attended last year's party, which raised more than $130,000.
General admission tickets are $40, while VIP tickets are $125.
For more information, see http://www.afanlv.org.
An art scene amid mountain scenery
Most people visit Red Rock Canyon National Conservation Area for the glorious scenery. (And why not?) But there's more to see, at least until Aug. 30, thanks to the inaugural Red Rock Canyon Artist-in-Residence program; works created by local artists Linda Campbell, Maria Arango Diener and Myranda Bair during their residencies continue on display at the Red Rock Canyon Visitor Center, 1000 Scenic Loop Drive (about 15 miles west of Las Vegas on Charleston Boulevard), from 8 a.m. to 4:30 p.m. daily. For more information, call 702-515-5350.
Birthday menu with 20-20 vision
Boulder Station, 4111 Boulder Highway, is marking its 20th anniversary with 2 for $20 menus at Pasta Cucina and Cabo Mexican Restaurant. For $20, two guests can each choose an entree and split either an appetizer or dessert. Entree choices at Pasta Cucina, which include soup or salad, are chicken Parmesan, eggplant Parmesan, fettuccine Alfredo and lasagna Bolognese; at Cabo, where the entrees include rice and beans, they're chicken fajitas, crispy ground beef or chicken tacos, the burrito of the day, pork tamales and ground beef or chicken enchiladas.The Broiler is offering 20 bottles of wine for $20 each. Also, Boulder Station's The Railhead is offering $20 buckets of Bud or Bud Light Friday and Saturday.
Strip-style country, by the spoof-ful
Whether or not you've seen "Country Superstars" (recently relocated to Bally's), avoiding the Strip when possible is what it means to be a local. So here comes "Country Legends." The 7 p.m. Saturday show at the Starbright Theatre, 2215 Thomas Ryan Blvd., features Ronnie Lee Twist as Johnny Cash, Chad Collins as Tim McGraw, Bethany Owen as more than one country diva and James Lee Reeves as himself. Tickets are $18, $15 for Summerlin residents. Call 702-240-1301.
Hip-hop with a dash of everything
Hip-hop square peg Theophilus London cites The Smiths and Kraftwerk among his influences and you can hear it in his kaleidoscopic catalog, which samples electro, disco, alt-rock and more. "This here is black excellence," he announces on "Last Name London" from his 2011 debut "Timez Are Weird These Days," and for the most part, he backs up his boast. See him at 8 p.m. Thursday at Boulevard Pool at The Cosmopolitan, 3708 Las Vegas Blvd. South. Tickets are $18; call 702-698-7000.