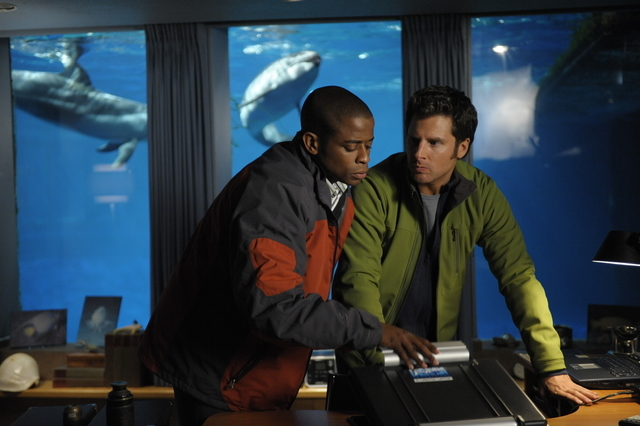 There's no shortage of reality TV shows set in Las Vegas: "Pawn Stars," "The Real World" and "Casino Confidential" are a few. But when it comes to prime-time air space in recent years, Las Vegas hasn't often served as more than a vacation destination ("CSI" being a major exception). Here are five shows we think would have been better off being set in Las Vegas:
"Will & Grace"
One of the most popular shows of the early 2000s, "Will & Grace" centered around Will, a gay corporate lawyer, and Grace, a Jewish interior designer, as they navigated the New York City dating scene.
But the reason we'd want to see "Will and Grace" in Las Vegas has more to do with the show's other two stars: Jack and Karen. Jack is Will's flamboyant gay best friend who holds about a dozen jobs throughout the show's eight-year run, most of them in the entertainment business.
Karen is Grace's rich assistant, promoting "Grace Adler Designs" among her socialite friends. She can be insensitive and ditsy at times and is often confused by working-class habits. She's rarely seen without a drink, or making reference to one.
We'd have love to seen what crazy antics Jack and Karen would have gotten up to had they had regular access to Las Vegas' casinos, where Jack would have had more opportunities than ever to get into entertainment and Karen could have carried around a drink nearly as tall as herself.
"It's Always Sunny in Philadelphia"
OK, so this would obviously have to become "It's Always Sunny in Las Vegas." The show, in its 10th season, catalogues the exploits of "The Gang," a group of friends who run a pub in Philadelphia.
The group is about as self-centered as they come, always willing to turn on one another for temporary gain. They're selfish, egotistical, underachieving and entirely amoral, spending most of their time conspiring for financial gain. They have no qualms about breaking the law or doing things that others would find distasteful or humiliating.
Off the Strip, Las Vegas is a relatively normal city. But move Paddy's Pub to a Strip location and The Gang would find itself with fast access to all the vices that enable their wild behavior.
"3rd Rock from the Sun"
"3rd Rock from the Sun" is about four aliens who visit Earth in order to observe the behavior of humans and report back to their home planet. Much of the show's comedy comes from the group struggling to understand human behavior and customs.
Imagine what the group would have had to report back to the home planet if they had lived in Las Vegas instead of Ohio. In part of the city they'd have found women with feathers like a bird, alcohol that flowed like a river and generally just a pocket of civilization that doesn't adhere to cultural norms. How confused would they have been to learn about gambling? What would they have done at a buffet?
"Psych"
"Psych" just announced it won't be returning after its eighth season, but we would have loved if it had moved to Las Vegas instead.
The series is about an underachiever, Shawn, who convinces the Santa Barbara Police Department that he is a psychic, rather than just having heightened observational skills and detective instincts.
Shawn partners with his best friend, Gus, to start a psychic detective agency, and the two solve an impressive number of crimes for the police department. They often find themselves in comedic situations due to Shawn's willingness to look like a fool to get information for a case.
Shawn and Gus have been known to take parts as a Minor League Baseball mascot, a star in a Spanish soap opera, vampires and an NFL player, to name a few, all to get information for a case. Their antics often land them in trouble with the criminals they're pursuing and leave them using ridiculous disguises in order to escape desperate situations.
Bring them to Las Vegas and they have a playground that never sleeps and an endless supply of quirky disguises and weird jobs they can take on while solving cases for Metro.
"Mob City"
"Mob City" is set in Los Angeles and based on real-life accounts of Los Angeles Police Department officers dealing with gangsters in the 1940s. The decades-long conflict between the police and the L.A. mob, led by Bugsy Siegel, is showcased in a fast-paced crime drama that portrays the city as one that, on the surface, was about glamour, fame and new beginnings, but had a dark underground where corruption reached deep within the police department.
We'd have to use some creative license to shift the events to Las Vegas, we know, but with the city's mob history, it's not a stretch to imagine the show here. And where better to show the contrast between the neon and glitz of above-ground life and the shady dark-alley dealings of the mob than in Sin City?
Contact Stephanie Grimes at sgrimes@reviewjournal.com. Find her on Twitter: @steph_grimes