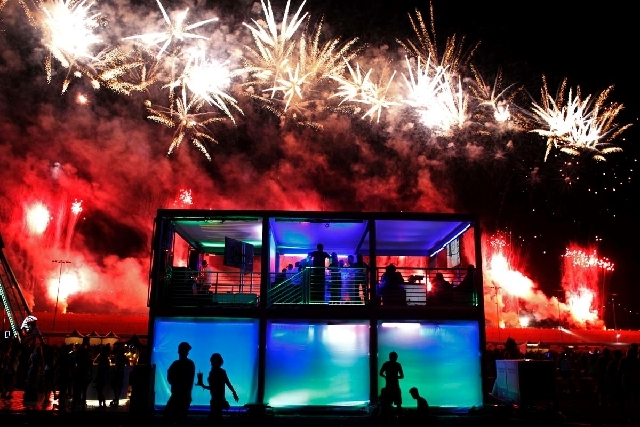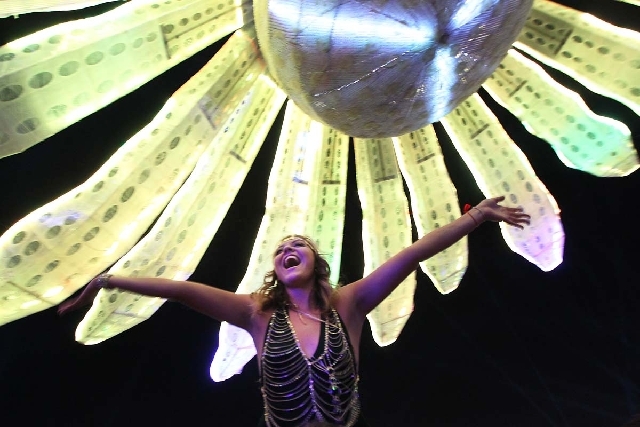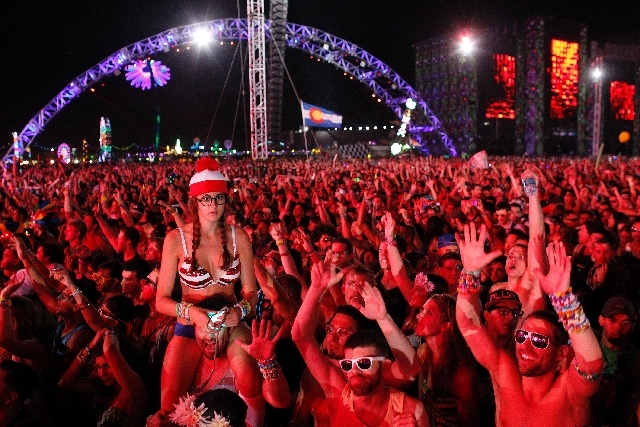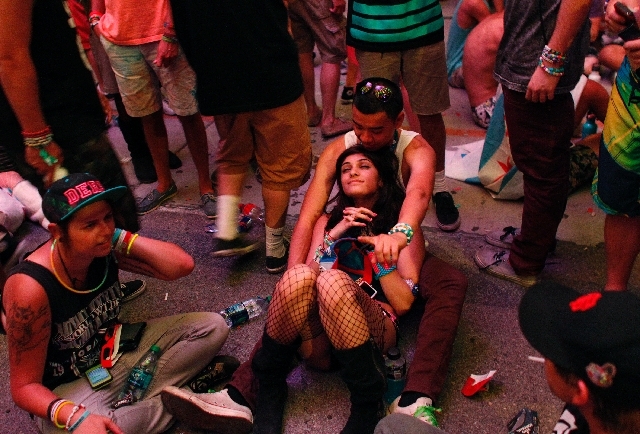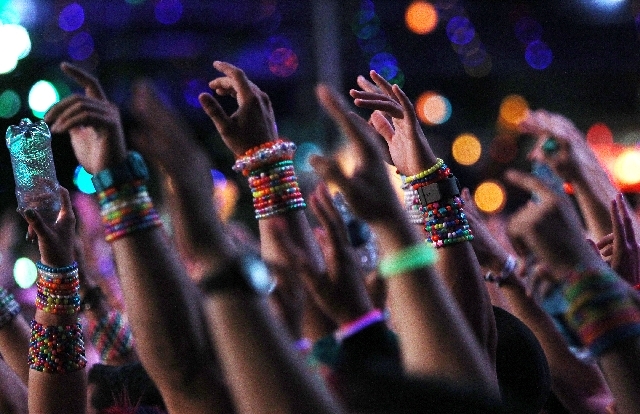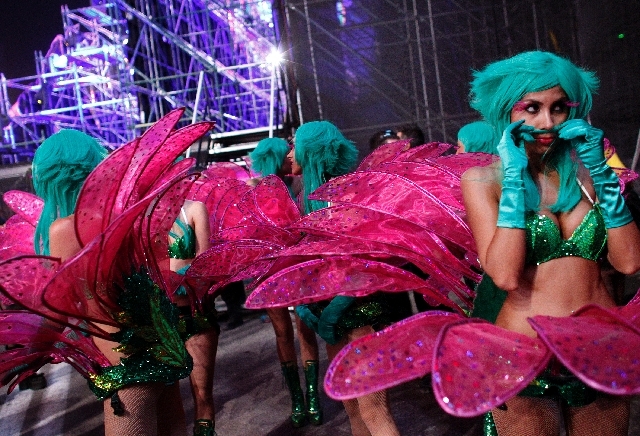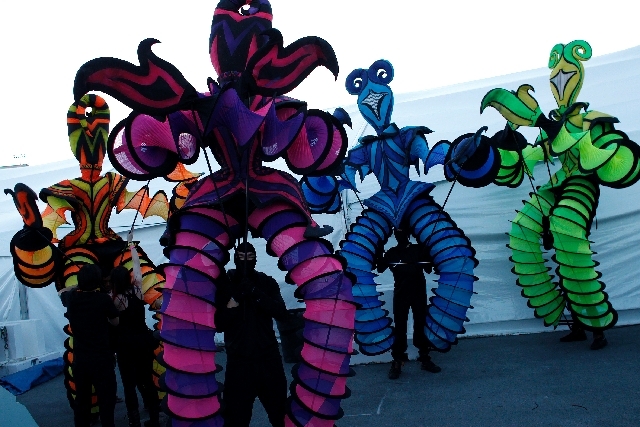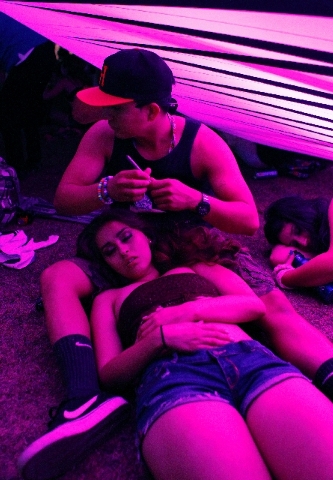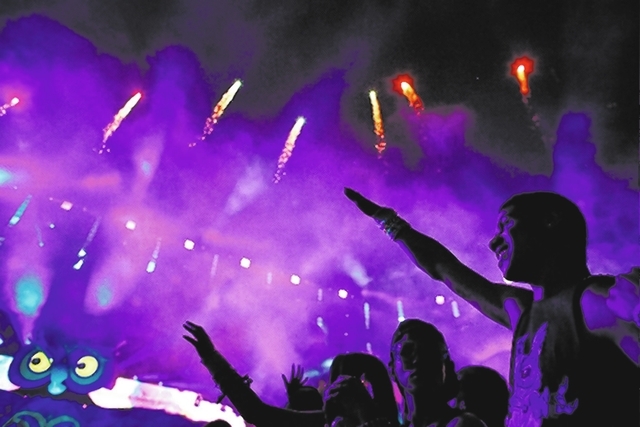 The music was as indivisible from the night air as the steady breeze that carried both.
It was everywhere, the Las Vegas Motor Speedway infield transformed into a walk-in subwoofer as saturated in sound as its 115,000 visitors were in glowing neon colors.
As such, the dancing never seemed to stop as the first night of the three-day Electric Daisy Carnival got under way on Friday.
Girls in thongs jiggled to the beat while standing in line to buy cans of Red Bull, dudes bounced on the balls of their feet on the way to the Porta-Johns, even some of the EDC ground crew got in on the action, busting moves next to the stages they were overseeing.
Those flame and fireworks belching stages were something to be seen, if not quite believed, especially the largest one, dubbed the KineticField, which is among the biggest ever built, outfitted with a giant robotic owl and mammoth, two-story mushrooms.
It all lent a surreal feel to the festivities, which suggested a fulfillment of the music's commercial and creative promise.
It's fitting that it all went down on a race track.
This definitely felt like a victory lap.
Electronic dance music has enjoyed a surge in popularity in recent years, and its audience has broadened in direct proportion to its growing mainstream presence, as evidenced by the Tupac, Metallica and Blink-182 T-shirts crowd members were spotted wearing.
There's something for all of those artists' fanbases to connect with in the music, as the Electric Daisy Carnival underscored.
For hip-hop partisans, there were acts like Bro Safari, Uz and Datsik, all of whom performed on the BassPod stage and who incorporated the lugubrious bass crawl of trap music into their sets at various points.
For the punks, there was Bloody Beetroots Live, a discordant, unyielding trio that was one of the rare bands to perform at EDC. Dressed head-to-toe in black, in direct opposition to the brightly attired EDC masses, they alternated concussive electro with Little Richard-indebted '50s sock hop rock with a snarling, downright bullying take on "New Noise" from Swedish hardcore punk great Refused (that band's singer, Dennis Lxyzen, has performed with the group in the past).
And for the metalheads, there was just about any act on the BassCon stage, where the unrelenting rhythmic pummel was as suited for headbanging as it was for dancing.
Here, it was all about feeling the music in your chest, rattling around in your sternum, be it from Alex Kidd, who sped up the vocals on hits by artists as diverse as the Red Hot Chili Peppers, Suzanne Vega and Jay-Z, and then flattened them with a bass wrecking ball, or Blutonium Boy, whose beats were suggestive of a sledgehammer driving home a railroad spike.
Alongside these niche performers, there were the unifying acts, proud populists like ATB, who favored luminous synth lines and soaring female vocals, and Dirty South, whose anthemic house was a never-ending series of crescendos.
Ultimately, it was this kind of dance music maximalism that ruled the night, be it from Knife Party, who paired spastic synth patterns with bass lines that approximated the agitated, menacing buzz of a beehive that's just been whacked with a broom handle, or the dance floor laughing gas of Dada Life.
That Swedish duo has become one of EDM's most jubilantly, endearingly overwrought acts with their madcap electro house.
As their set began, a female voice intoned "Fun, fun, fun," over and over again, articulating the one and only thing these two are about.
Her words came faster and faster, higher and higher in pitch, until her voice became purposefully cartoonish, deliberately, ecstatically over the top.
That voice, this festival, was the sound of fantasy somehow becoming reality.
More on Electric Daisy Carnival