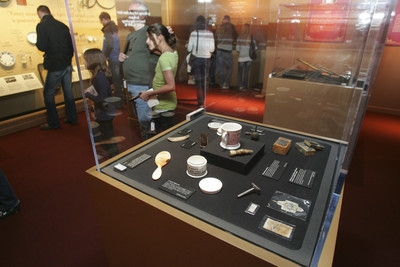 Walking into the Titanic: The Artifact Exhibition at Luxor, 3900 Las Vegas Blvd. South, is supposed to give you the feeling that you're not only viewing items from the famous ship, you're actually boarding the Titanic.
Twenty never-before-seen artifacts were added to the collection when it moved from the Tropicana to Luxor in December, says Cheryl Mure, director of education for the exhibit.
Some atmospheric elements were added, too, in an effort to lend a touch of realism to an event that happened a lifetime ago. April 15 was the 97th anniversary of the ship's sinking.
In addition to silverware, dishes, pots, pans, luggage and clothing recovered from the debris field where the Titanic rests two miles beneath the ocean's surface, visitors can see gaming chips, the personal papers of some passengers and a 15-ton chunk of the ship's hull called The Big Piece.
As visitors walk into the attraction, they are handed a facsimile of a Titanic boarding pass with the name of a real passenger printed on it, Mure says. At the end of the exhibit, guests can check for the name of their passenger on a wall where survivors and victims are listed.
"You know your passenger's age, class, party," Mure says. The boarding pass is one of the two things visitors remember most about the exhibit, she adds.
The second is the iceberg, a frozen section of wall that can be touched, giving guests an idea of just how cold the water was when the Titanic sank. Many passengers died from hypothermia as a result of the temperatures, Mure says.
Guests walk through a series of galleries, many of them designed to look like portions of the ship. A hallway and room from third class are represented, as are a room from first class and the promenade deck. There, videos show graphics of the ship, where it struck the iceberg and how it sank.
The exhibit is open from 10 a.m. to 10 p.m. daily. General admission costs $27.
Contact reporter Sonya Padgett at spadgett@reviewjournal.com or 702-380-4564.
Preview
What: Titanic: The Artifact Exhibition
When: 10 a.m. to 10 p.m. daily
Where: Luxor, 3900 Las Vegas Blvd. South
Tickets: $27 (262-4400)