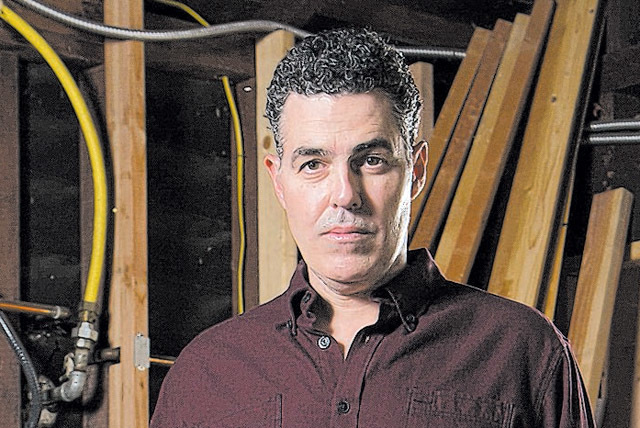 Adam Carolla is the man who made podcasting popular, but at a price — he was sued by his best friend, and he was sued by a patent troll.
The best friend claimed Carolla didn't give him a satisfying cut of podcasting cash.
The patent troll wanted money for holding a technical patent.
Both cases were settled.
Then, last week, Carolla fired his sidekick of four years, Alison Rosen, from "The Adam Carolla Show," and that caused some real fan fallout.
Carolla will be in Las Vegas this weekend to host podcasts in front of audiences, 7:30 p.m. and 9 p.m. Saturday at Vinyl in the Hard Rock Hotel.
On the phone, I told Carolla it seems like he's been through a lot of drama because of podcasting.
Carolla ascribed much of his backlash to people who have time and the Internet on their hands.
"It would be nice to coast through life and not have to deal with any controversy or naysayers, but it's just part of the new world we're living in," Carolla said.
He said he's all for accountability for himself.
"There's nothing wrong with instant feedback," he said. "I don't have any problem with doing a bad show and somebody saying, 'Your show sucked.'
"That's what being on stage is. You get on stage, and if nobody laughs or claps for 10 minutes, that's feedback. That's fine. That's genuine. That's authentic."
But he has a problem with people who "misinterpret the facts," or when Huffington Post "grabs a couple of snippets from your podcast, and decides to make it a headline," thus "twisting things you've said, and turning them into something else that fits their agenda."
I told him if it makes him feel better, Rosen said getting fired was a gift from the universe on her own podcast, "Alison Rosen Is Your New Best Friend."
"I figured it would work out for her," Carolla said.
He got backlash for firing Rosen via email.
Rosen and fans didn't like that method.
Carolla has explained Rosen once said that's how she would want to be fired.
But after being fired, Rosen said her email-firing request was only on-air, theoretical banter.
Carolla then went on Twitter and answered some fans who vowed not to listen to him anymore.
He did so with elegant responses of, "Sorry," and, "Thanks for your past support."
I told Carolla I liked his Twitter positivity after the storm.
"I don't really want to engage with people in a negative way," he said. "Also, I meant it.
"Over the past several years, I've gotten plenty of (comments from people saying): 'I used to be a fan, but now you're not funny anymore.' And, 'I was listening since 'Loveline,' but now I'm moving on.'
"I've always said to them: 'Thanks. I bought a couple of houses because you were a fan for the last 10 years. I'm fine with that.' "
Carolla has another new podcast, a subscription-based "Take a Knee," featuring interviews with successful people on the subject of personal inspiration.
Vegas fans can get Carolla to autograph his Mangria alcohol bottles at 5:30 p.m. Saturday at Hard Rock's Fuel retail store.
And Carolla has two Vegas guests lined up for Vinyl. Penn Jillette joins him at 7:30. Jeff Dunham sits with Carolla at 9.
Carolla and Jillette are two of America's most outspoken atheists, so I asked him if he feels like Jillette is a comrade.
"He's not an emotional guy. He's a very smart, pragmatic guy. And I like to think of myself as pragmatic, as well," Carolla said.
"Pragmatic people usually end up in the same place on most issues, because if you remove passion, and you remove religion, and you remove politics, and you insert pragmatism, you'll end up on the same side of most every issue."
TALKING TO WRITERS
On this week's episode of the "Doug Elfman Show," I talk to the Henderson Writers Group, a collection of published and aspiring authors who brought out the best in me. The show is available from iTunes, Android apps such as Podcast Addict, and dougelfman.com.
Doug Elfman's column appears Tuesdays, Thursdays and Saturdays. Email him at delfman@reviewjournal.com. He blogs at reviewjournal.com/elfman.