Adam Carolla's podcast success proves Internet experts wrong
February 20, 2014 - 8:10 am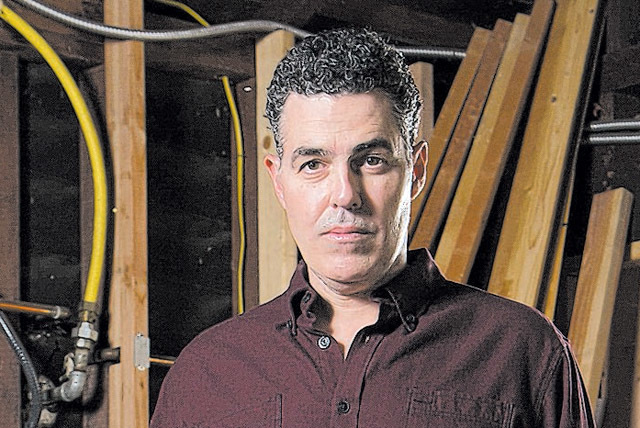 For the past few years, Internet experts have tried to convince me it's pointless for people to post long videos and podcasts online because consumers don't want anything longer than 20 seconds.
But if that's true, how do you explain Adam Carolla?
Carolla just performed two "Adam Carolla Show" podcasts in front of live audiences in Chicago, and they were sold out.
"We're talking about 1,500 tickets — for a podcast," Carolla said to me the other day.
Carolla will return to Vegas on Friday to stage his podcast here, this time in Treasure Island Theatre. He will be joined by comedian Jo Koy. Tickets cost $35 plus fees. He will meet fans beforehand at 7 p.m. at T.I.'s Gilley's and promote his Mangria wine cocktail.
Carolla certainly isn't the only mammoth podcaster commanding adoring audiences on podcast stages. The same is true for Greg Proops, Doug Benson, Marc Maron, Chris Hardwick and Kevin Smith.
Comedians such as Proops have even said podcasting is the most rewarding thing in their careers because they can do long-form, off-the-cuff material without government or corporate interference.
Carolla says his stage shows aren't popular everywhere, though.
"When you're Beyonce, every town is your town," he says. "When you're Adam Carolla, you have to limit it to about seven and a half" towns.
"For me, Seattle, Portland, Vegas, Minneapolis, Chicago and Boston are great towns" for big crowds.
When Carolla does stage shows in his hometown of Los Angeles, he's lucky if a few hundred people show up.
"L.A. is the worst town for almost all performers who live in L.A., especially comedians. It's a horrible town for comedy," Carolla said.
"All these poor sons of bitches — I include myself in this group — have to get on an airplane and go to Minneapolis or Addison, Texas, in order to sell 800 or 1,000 tickets. If you want to stay in L.A., you'll sell 214."
Vegas is a strong market for Carolla, partly because he used to have a syndicated FM radio show play here, and partly because he and Jimmy Kimmel based their Comedy Central phone-prank show "Crank Yankers" out of Vegas.
Carolla even discovered in Vegas, many years ago, how dudes pick up strippers. The magic question is simple: "When do you get off work?"
"If they say, 'I can leave anytime I want,' which is the truth, then you've got a stripper that's into you, or that thinks you've got coke and money.
"If they do the, 'My boyfriend picks me up after MMA practice,' then you've got somebody that's not into you.'"
But even Carolla doesn't know how strip club customers can get dancers to stop talking about their kids.
"I don't know. That's what the Jagermeister is for, I imagine."
LONDON CALLING
UK's Hakkasan Group on Wednesday announced it bought Vegas' Angel Management Group, which runs clubs Hakkasan, Pure and LAX, plus dayclub pools Wet Republic and Venus.
AMG's founder/CEO Neil Moffitt was already CEO of Hakkasan while overseeing the club of the same name. His charge now is to find more places around the world to plant Hakkasan's seed, which he was already doing. In other words, isn't this inevitable? I'm not sure what this changes in terms of nightclub competition.
SIGHTINGS
Young Jeezy and T.I. partied at Palomino strip club Tuesday night. I was actually invited (not by the rappers), but in a bummer of a development, I couldn't make it. Monday night, B.o.B. performed as DJ at Palomino.
David and Victoria Beckham dined Tuesday at Paris' Gordon Ramsay Steak. She had vegetarian. He had Kobe fillet.
Tuesday: Whitney Port, from TV, dined with friends at Tao Asian Bistro, chowing brown rice and steak. Young Jeezy ate sushi with friends there, too. And actor Eric Balfour was there with his family.
the luck of the IRISH
A reverend and his wife emailed me, telling me how much they love me (obviously) and asking me whether any casinos are planning special shows for St. Patrick's Day with Irish themes.
If you know the answer, would you please be so kind as to post it in the comments? Thanks.
Doug Elfman's column appears on Tuesdays, Thursdays and Saturdays. Email him at delfman@reviewjournal.com. He blogs at reviewjournal.com/elfman.