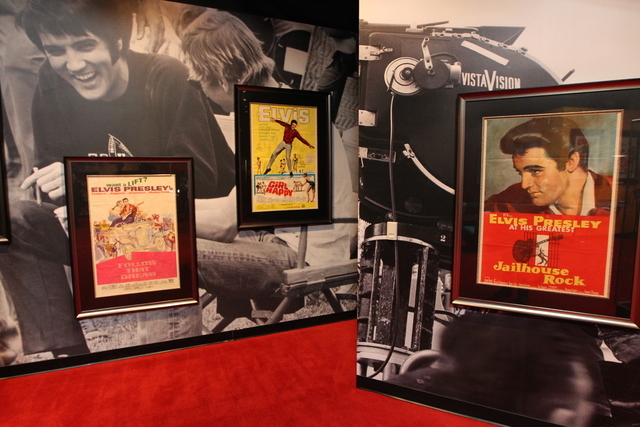 Has Elvis left the building permanently at the Westgate Las Vegas?
Things are getting tense.
Elvis Presley Enterprises announced it is "deeply concerned with the aggressive actions" taken by the Westgate in closing an Elvis exhibit over the weekend.
In a statement, EPE said the Westgate seized on Friday, "without any legitimate legal basis," hundreds of Elvis artifacts on loan to the exhibition from the Graceland Archives.
Westgate Chief Operating Officer Mark Waltrip said the 28,000-square-foot exhibit was shuttered as a "protective action" because the tenant, an EPE licensee, was threatening to default on the 10-year contract.
The tenant is Exhibit A Circle, a Delaware limited-liability company with offices in New Jersey.
EPE said it is not a party in the third-party dispute and has no contractual relationship with the Westgate, but "we have no choice but to pursue all legal means necessary to ensure the return of our artifacts immediately."
According to the statement, "Despite our wishes to retrieve these artifacts and return them to Graceland, the Westgate is currently preventing staff from accessing the exhibition space to pack up and bring home these priceless pieces of history, which are owned by EPE and the Presley family."
The 350 Elvis artifacts unveiled last April were on loan to the exhibition from the Graceland Archives.
"At the same time, Westgate staff forcibly removed employees from the exhibition and disabled the video feed from security cameras," the EPE statement said.
Waltrip, responding by email on Tuesday, said, "Westgate has great respect for the family of Elvis Presley and (we) hope that we can come to a resolution over the considerable sums that we invested to bring Elvis to life at the Westgate Las Vegas Resort.
"We remain hopeful that (the) dispute concerning the sums owed to us can be resolved amicably and resolved in the near future without the legacy of Elvis Presley being tarnished."
Stones speculation
The Rolling Stones may be headed for Las Vegas and MGM Resorts International's new T-Mobile Arena at some point, but John Meglen, president of global touring for AEG Live, said that's not why he was in Rio de Janeiro 10 days ago.
"I think people are starting to make things up," said Meglen, who's best-job-in-the-world duties include overseeing the Rolling Stones' tours the last four years.
"The way the guys (the Stones) work is take one tour at a time," he said.
The Latin tour won't end until March 25, when the Stones play a free concert in Havana, it was announced Tuesday.
On this day
March 2, 1999: Dan Aykroyd, Jim Belushi and John Goodman lead a parade of bikers on Harleys into the Mandalay Bay lobby to celebrate the grand opening of the $950 million resort. Its 12,000-seat events center is christened a month later with a concert by Luciano Pavarotti.
March 3, 2001: John Ruiz upsets Evander Holyfield at Mandalay Bay to win the WBA title and become the first Latino heavyweight champion in boxing history. The triumph is clouded when tapes show Ruiz avoided a knockout by rolling around on the ground as if he were hit in the groin, when he wasn't.
The scene and heard
As if there wasn't enough interest in the next "Bourne" movie starring Matt Damon as Jason Bourne, his co-star, Sweden's Alicia Vikander won an Academy Award for Best Actress for her role in "The Danish Girl." There have been numerous sightings of her on the Strip during the month-plus of on-location filming. …
Susan Dalitz, whose father mobster/philanthropist Moe Dalitz is featured in the Mob Museum, is sharing old Vegas stories today during a luncheon speech at Las Vegas Country Club. The event starts at 11:30 a.m.
Sightings
Tempest Storm, celebrating her Leap Year birthday with friends at Michael's Restaurant (South Point) on Monday. The flame-haired burlesque queen was a legend in an era that featured Lili St. Cyr, Sally Rand and Blaze Starr. Storm was born Feb. 29, 1928, which makes her officially 22. Attendees included former showgirl, Cindy Doumani, former "Jubilee" lead singer Dennis Park, former Broadway singers Gary Oaks and Lou Garcia and longtime society photographer Randy Soard. Doumani's new book, "From Cowgirl to Showgirl," came out last month. … Aerosmith drummer Joey Kramer, dining at Lavo Italian restaurant (Palazzo) on Saturday. … Latin Grammy winner Willy Chirino, singing with Pia Zadora at Piero's Italian Cuisine on Sunday.
The punch line
"Last year, Paul Giamatti was whupping Lupita (in "12 Years a Slave"). This year, he's crying at Eazy-E's funeral (in "Straight Outta Compton"). That's range." — Academy Awards host Chris Rock.
Norm Clarke's column appears Sunday, Monday, Wednesday and Friday. He can be reached at 702-383-0244 or norm@reviewjournal.com. Find more online at www.normclarke.com. On Twitter: @Norm_Clarke