An emotional night for 'Jubilee' farewell
February 14, 2016 - 1:32 pm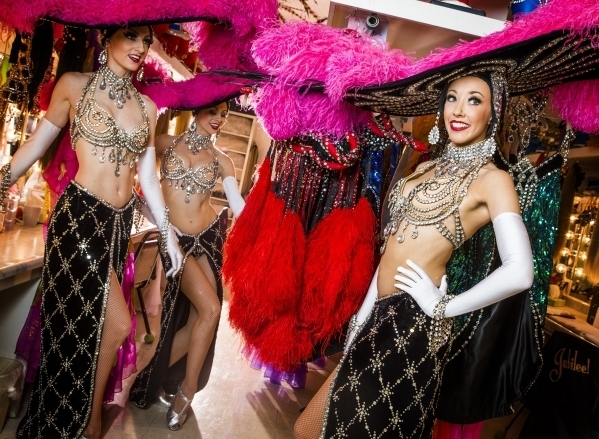 Vignettes from the closing night of "Jubilee" on Thursday, after 34 years on the Strip:
The show's former music director Joel Mann, 62, represented three generations at the finale. He spent about 20 years with the show in several jobs.
His father, Paul Mann, conducted the orchestra and did the musical arrangement in the 1990s. With Joe Mann on Thursday were his sons, Justin and Aiden Seidman. Justin had been a stagehand since 2011, and Aiden was an usher for the past year.
Afterwards, Alexandra Remke, a dancer from Brighton, England, said the dressing rooms were a mix of excitement and sadness before the show.
"Our legs wouldn't stop shaking," said Remke, who has landed a job with the "Tournament of Kings" show at Excalibur.
For Susan Devitte, who worked as a dresser and handled the spotlight, said it was tough to see it end.
"Growing up in Las Vegas, showgirls were icons to us. Showgirls and mobsters."
Dana Martin, a "Jubilee" singer from 1993 to 2002, watched the last night finale with former cast mate Adrian Little, who recalled a memorable sitdown with Fluff Lacoque, the legendary no-nonsense company manager.
Little had just returned from trip to England. Lacoque eyed his waist line and suggested he had had "too many fish and chips." She laid down the law: "Lose 3 pounds by the end of the week."
Some within the "Jubilee" family ended up getting married. Nikki Adamo, whose father was a San Diego cobbler and whose mother was named Princess, won prestigious ballet crowns in her teens before landing a spot in "Jubilee" as a featured adagio dancer. She married George Schwebel, who worked backstage and finished as the head of automation.
Others at the closing night included: fashion designer Bob Mackie; showgirl Janet Ford, who was the face of "Jubilee" for years; Jakki Ford of Reno, who worked for three Donn Arden shows ("Hallelujah Hollywood," "Jubilee" and "Hello Hollywood Hello" in Reno); showgirl Lou Anne Chessik; Abby Apple, Cheryl Slader, and Jeff and Kathi Coleman, another couple who met through Arden's Las Vegas shows.
Longtime performer Paula Moore stayed home, she said, because the experience would be too emotional.
At the after-party in the Paris Las Vegas Champagne Ballroom, longtime musical director Bill Fayne talked about the energy and electricity in the "Jubilee" theater. "It was great to see so many people dressed up like the old days," Fayne said. He had started the night at Wynn Las Vegas by seeing a friend, Anna Martinez, make her debut in "Steve Wynn's ShowStoppers."
When the long, love-filled ovation ended for the "Jubilee" cast, Fayne kept his video running to capture the curtain closing and the end of an era.
The scene and heard
VitalVegas.com blogger Scott Roeben has seen visits to his website triple since his how-to guide on how to, umm, get lucky on the High Roller observatory wheel at The Linq. "I often get 6-7,000 visits a day to my site," Roeben said, "and since it's spiked to 12,000 the first day, then 22,000 the second day and 18,000 the third day after the (Review-Journal) story broke" about the strangers who were arrested and accused of having sex in public during the 30-minute ride.
Sightings
Gary Kubiak, head coach of the Super Bowl-winning Denver Broncos, dining at Prime, the Bellagio steakhouse, on Thursday. … Legendary test pilot Chuck Yeager, celebrating his 93rd birthday Saturday at the Riverside Casino in Laughlin. The Oak Ridge Boys gave a concert honoring him. Attendees included actress Barbara Eden, who starred in the hit series "I Dream of Jeannie" from 1965 to 1970. Yeager, the first pilot to break the speed of sound in level flight, appeared in an episode of the sitcom in 1966. … John Podesta, chairman of the 2016 Hillary Clinton presidential campaign, dining with Heather Murren at Lago, the Italian restaurant at Bellagio. Murren, the wife of MGM Resorts International CEO Jim Murren, considered running for an open seat in Nevada's 3rd Congressional District but declined in October. … At Tao nightclub in The Venetian on Friday: Broncos players Malik Jackson, Sylvester Williams, Derek Wolfe, DeMarcus Ware, Brandon Marshall, Vance Walker, George Uko, Kenny Anunike and Darius Kilgo. Earlier they dined at Tao Asian Bistro and were presented with a celebratory cake.
The punch line
"Valentine's Day: the day women all around the world wait eagerly to discover the new and wonderful ways their husbands and boyfriends will disappoint them." — Jimmy Kimmel
— Norm Clarke's column appears Sunday, Monday, Wednesday and Friday. He can be reached at 702-383-0244 or norm@reviewjournal.com. Find more online at www.normclarke.com. On Twitter: @Norm_Clarke.