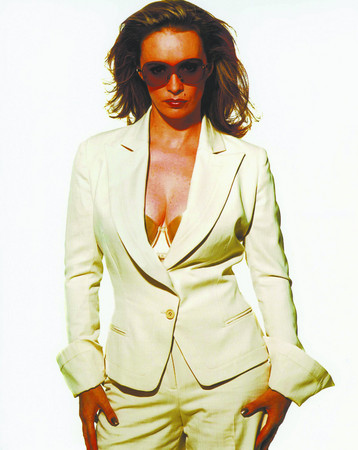 Blame me for being animal-centric lately, but today we're just going to talk about cats and dogs with Sheena Easton (singing tonight and Saturday at South Point).
Sheena has three cats and three dogs. She let her two kids name the family pets. I ask her if that means she has a cat named Waffles.
"It's not that inventive. It's not that I have cats named Snickers or Monkey Bars," she says in her usual, happy Scottish accent. "We've got a Yoda cat."
But like so many pet owners, she gives them nicknames — and then she gives them subnicknames.
"One of them: My daughter named Lizzie, after 'Lizzie McGuire,' " she says. "Lizzie went to Lisa Bellllla. … I'd go, 'Aw, Lisa Bellllla.' Then I would choose Bella. Then she became Belly Cat. So Lizzie is Belly Cat."
I tell Sheena that Lizzie/Lisa Bellllla/Bella/Belly Cat must have multiple personalities.
"The thing about a cat is," she says, "as long as you yell something that's got 'dinner' involved, they'll come runnin'."
I tell Sheena I treat my cat all nice like, the way Tom Hanks would, yet my cat still runs from me sometimes, as if I'm going to skin her alive, all of a sudden, and sell her for her pelt.
"I kinda like that about cats, as opposed to dogs," Sheena says. "Because dogs are whores. They'll just give it to you, as long as you give them treats.
"When a cat comes to you and gives you attention, you know that it's real. They ain't fakin' it."
Then again, Sheena says, "cats overthink," and dogs are happy being "less cerebral." So maybe we humans should be less cerebral, too.
I ask Sheena if she's an animal activist, because I had heard she was. Sheena says she's not. She gives money to animal charities but she doesn't want much credit for that.
"I'm not a hard-core activist. I've never gone out on a demonstration and picketed or anything."
She is concerned about animal cruelty and abandonment.
"People go buy puppies for Christmas with a red bow around their necks and give them to somebody — those are the animals that often end up abandoned. That's sad.
"I think people are too blase about pets and dump them when they don't feel like taking care of them anymore," Sheena says.
On the other hand, sometimes pet owners need to find more suitable homes for troubled pets. Sheena had a tiny dog that constantly tried to fight her other dogs to the death, to establish herself as pack leader. The tiny dog was turning into a little Cujo, she says.
"You had to keep her in a separate room, and she would snarl through the door if she could even hear the other dogs," Sheena says.
"The vet said, 'You're gonna come home one day, if somebody leaves that door open, and one of them will be dead.' "
So Sheena felt she was out of options. She found the tiny dog a good home with a couple who owned a Great Dane and another big dog. The tiny dog quickly became happier, sleeping next to the big dogs, and doesn't fight them for dominance.
"It broke my heart to let her go, but it was either that or knowing she would be dead, or the other animals would be dead," Sheena says.
Sheena got a serious pet scare a week before Christmas. One of her dogs, a 12-year-old golden retriever, ate a sock.
"Her intestines were gonna rupture. I got her to the vet. She got surgery. If we'd waited 12 hours, she probably would have been dead. And now she's runnin' around like nothin' ever happened," she says. "This dog's got nine lives, I'm tellin' ya."
During that ordeal, Sheena was worried for the worst.
"My whole life, I've always had animals. And, unfortunately, their life spans are not as long as ours. So, you know, you're gonna at some point have to face losin' them.
"It's a tough thing to have to go through. But I believe as long as you're there, and you're holding them, and they can see in your eyes how much you love them, that makes it easier."
Her more immediate problem is avoiding those sad charity commercials about animals in peril.
"That makes me crazy. My heart starts to palpitate and I have to run over and change the TV, because I want to run right down there and rescue every single one of them."
Doug Elfman's column appears Sundays, Mondays, Tuesdays and Fridays. E-mail him at delfman@ reviewjournal.com. He blogs at reviewjournal.com/elfman.
Preview
Sheena Easton
7:30 p.m. today and Saturday
Showroom at the South Point, 9777 Las Vegas Blvd. South
$30-$40 (797-8055)