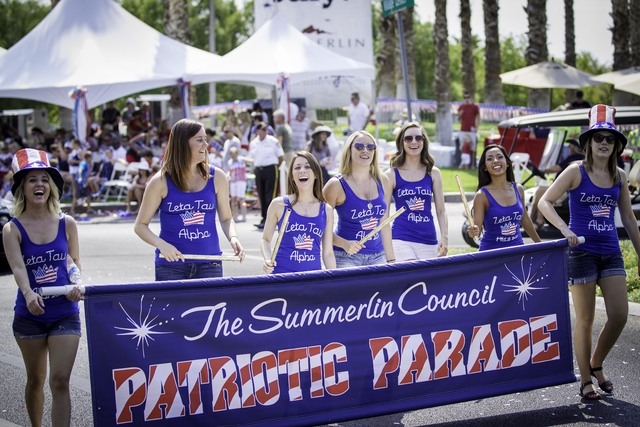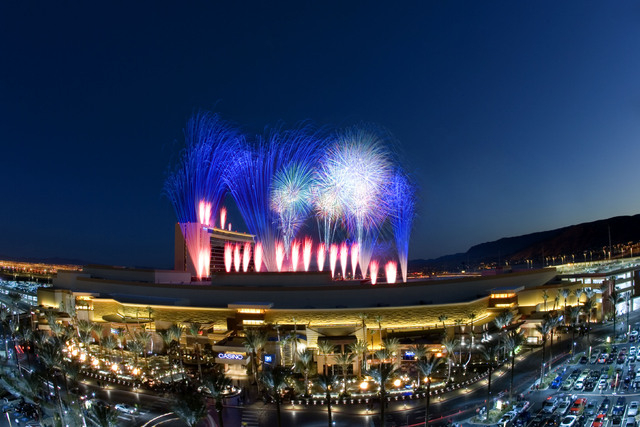 The Fourth of July falls on a Friday this year, meaning more time for fun as many residents enjoy a long holiday weekend. Along with the parade in Summerlin, pool events and a fireworks show are planned.
PATRIOTIC PARADE
The big event is The Summerlin Council Patriotic Parade, set for 9 a.m. July 4. Expect more than 70 entries, including marching bands, floats, walking groups, flag-lined streets and giant Macy's-style inflatable balloons.
"I can't believe it's been 20 years," said Lezlie Barnson-DeNardin, director of community relations for The Summerlin Council. "The community has embraced it over the years … Summerlin is a large community, and there are so many microgroups — schools and business, cultural organizations and scouting troops — and this is the one time of year when all of those representations of the community come together in this organic way to celebrate our country."
The parade route is set to begin at the Trails Village, where Hillpointe Road and Hills Center Drive meet, and will travel south on Hills Center, concluding on Trailwood Drive. For more information, call The Summerlin Council at 702-341-5500.
Barnson-DeNardin said that every year, she and her team are enthusiastic about how to make the parade special.
"The group that we have assembled to plan it, we always joke and say, 'It's in your blood. Once it's in your blood, you're in, you're family,' because I think we all appreciate the potential for it," Barnson-DeNardin said. "We're committed to bring it to a level of entertainment to honor the country. … it really is an act of love."
She said things were kicked up a notch about 10 years ago when the decision was made to bring in Macy's-style balloons for a full-on parade feel. That doesn't mean the event is one never-ending procession of filler components.
"We recognized that it's the morning of the Fourth of July, a very hot morning," Barnson-DeNardin said. "We wanted to power pack in a fantastic parade and (decided to) elevate some of the requirements to be in the parade. We always say, 'It's quality, not quantity.' "
The council also kept the parade to a 90-minute time limit.
Gov. Brian Sandoval is expected to join the parade on the Nevada 150th anniversary float. New entries on the parade roster are set to include: a "Frozen" movie-themed float; a 25-foot tall My Little Pony cold air-inflatable balloon; a "Jungle Book" entry featuring a 74-foot-long snake; and The Glamorous Miss Piggy Mascot. More than 16,000 cubic feet of helium will be used to inflate the 25-plus giant balloons. Also expect float favorites such as An All Star Salute to the Military, Undersea Jubilee and the Danza Del Carrizo Native American performance group and Neon City Garrison costume club decked out in "Star Wars" regalia.
Groups in the parade typically do more than march. They will use props, burst into song or walk in changing formations to keep the entertainment value high.
Summerlin resident Leilani Jeffrey began attending the parade three years ago. Now married and with a child, she and husband, Keith, plan to be at this year's event.
"I'm very a patriotic person, and I enjoy spending time with family — it's one of the most important things to me and … the Fourth of July is my favorite holiday," Leilani said. "We love the whole atmosphere, that families bring their children. Everyone is dressed up in their red, white and blue gear. It's like you're celebrating with the whole community."
Michele Vogan and her husband, Eric, began attending the parade after their daughter, Valerie, now 9, was born. It's become a tradition despite a shaky start.
"We've been going since she was 10 months old, but the horns on the firetrucks kind of scared her," Michele said. "So, there I was, trying to wheel her away in the stroller, but the trucks kept following us. It was so funny."
Members of the Vogan family, which now includes Vincent, 8, said they enjoy the floats and characters the most. As many as 20 of their neighbors from The Willows join in for the morning event.
STATION CASINOS FIREWORKS
Continuing its tradition, Station Casinos plans to host the largest Independence Day fireworks show in Southern Nevada after 9 p.m. July 4 at Red Rock Resort, 11011 W. Charleston Blvd.
There will be public viewing areas in the surface parking lot facing Charleston Boulevard for the nine-minute We Love Locals July 4th Fireworks Blast, produced by Fireworks by Grucci.
FUN IN THE WATER
Not all the events occur on the Fourth in Summerlin. The city plans Yankee Doodle at the Pool for all ages from noon to 4 p.m. July 3 at Pavilion Center Pool, 101 S. Pavilion Center Drive. Water games and activities are planned at the event.
The cost is $1 for ages 4 to 17, $2 for those 18 to 49 and $1.50 for attendees 50 or older. For more information, call 702-229-1488.
Wet 'n' Wild Las Vegas, 7055 S. Fort Apache Road, plans one of its Dive 'n' Movies for July 4, when Disney's "Monsters University" is set to be screened. Movies are held at the Red Rock Bay wave pool. Guests will be able to view films while relaxing on inflatable tubes, available to rent, or on lounge chairs enjoying popcorn and other snacks.
Movie times are 8 to 10 p.m., when the park closes. For more information, visit wetnwildlasvegas.com or facebook.com/wetnwildlasvegas, or call 702-979-1600.
Clark County pools are set to offer free swimming from noon to 4 p.m. July 4. Locations include the Desert Breeze Aquatic Facility, 8275 Spring Mountain Road.
For more information, call 702-455-7716 or 702-455-8508.
Contact Summerlin Area View reporter Jan Hogan at jhogan@viewnews.com or 702-387-2949.