Artist retraces Hunter S. Thompson's 'Fear and Loathing' journey
November 12, 2015 - 12:35 pm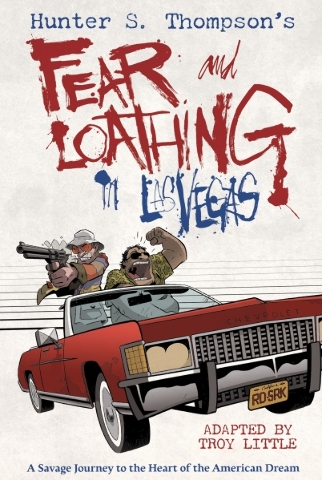 When Troy Little took on the task of creating a graphic novel adaptation of Hunter S. Thompson's "Fear and Loathing In Las Vegas: A Savage Journey to the Heart of the American Dream," he was taking on not just a classic, but a favorite book by one of his favorite authors.
Now, Little hopes that his adaptation, called "Hunter S. Thompson's Fear and Loathing in Las Vegas" (Top Shelf Productions $24.99), might prompt a new generation of readers to take a look at Thompson and his work and the self-described gonzo journalist's place in American literature, journalism and popular culture.
Little will arrive in Las Vegas on Wednesday for a series of book signings and events.
— From 4 to 7 p.m. Wednesday, Little will sign books at Maximum Comics, 5130 S. Fort Apache Road.
— From 4 to 7 p.m. Thursday, Little will sign books at Maximum Comics, 520 S. Marks St., Henderson.
— From noon to 3 p.m. Friday, Little will sign books at Maximum Comics, 7950 W. Tropical Parkway, and at 7 p.m. he'll sign books at Barnes & Noble, 2191 N. Rainbow Blvd. Afterward, he'll attend a karaoke party at Flex Lounge, 4371 W. Charleston Blvd. (For more information, visit http://www.topshelfcomix.com/catalog/fear-and-loathing-in-las-vegas/919)
"Fear and Loathing in Las Vegas," published in 1971, chronicles in surrealistic style a trip to Las Vegas by Thompson and his attorney and includes Thompson's experiences covering an off-road race and crashing a law enforcement convention.
Little, whose work includes the Xeric award-winning graphic novel "Chiaroscuro" and the Eisner-nominated "Angora Napkin," said he came across Thompson's book during the mid-90s.
"I was into William Burroughs and Beat-era writers, and they all kind of lead into the counterculture world and I came across Hunter S. Thompson," Little said during a recent phone interview. "I really enjoyed his writing and was captured by the energy of the book. Also, when the Terry Gilliam (film adaptation) came out, I was big fan of Monty Python and a big fan of Terry Gilliam, and I just devoured that film."
Thompson and his work "just became a part of my life after that," Little said.
Thompson, who became widely known through his coverage of the 1972 presidential campaign for Rolling Stone magazine, was a unique voice who came along at a unique time in American history.
"I think he came along at the crossroads, basically, of a point in American culture at the tail end of the Sixties and the dying of the hippie era and the cynicism of the Nixon era," Little said. "He kind of walked that fine line between the two of those, not really following the script of (the establishment) and also kind of not really putting a shine and gloss on the hippie movement, either, pointing out faults on both sides.
"So he was kind of almost like the last American outlaw in a way, pushing things to excess and showing the shine and gloss had gone off of the American Dream."
And, as a journalist, Thompson did "not follow the script at all, but just comes from an outside point of view, a completely sideways point of view," Little said.
In adapting Thompson's best-known work into illustrations, Little discovered Thompson to be "a very visual writer," and found that his own challenge often would stem from the fact that "I could draw things five or six ways."
"With giant manta ray bats, how do you capture the feel of that?" Little said. "He describes things turning into lizards. There's that great visual language as well. That's a lot of fun, to try to figure out what's the best way to interpret those, or which way am I going to go with that, or how can I enhance the text with the visuals?"
Any artist who takes on Thompson also faces the intimidating prospect of having his or her work compared with that of Ralph Steadman, the British artist who illustrated most of Thompson's most well-known pieces, including "Fear and Loathing in Las Vegas."
Because Steadman's illustrations have become indelibly tied to Thompson's work, Little said having his art compared to Steadman's is "just a given, for sure."
But, he said, "I couldn't imagine even attempting to do a Steadman version of this book, and I wouldn't want to. I'd come off as a poor substitute, for one thing."
However, "being a huge Ralph Steadman fan, I took a lot of inspiration (from) his tone and his style, and in cases here and there in the book there's a little nod to that without being overt," Little said.
The era during which Thompson created his best-remembered work has passed and Thompson himself died from a self-inflicted gunshot wound in 2005. But Little said "Fear and Loathing in Las Vegas" still resonates with readers, even younger readers, today.
"The reader can read that book and have a vicarious ride along with him," Little said, enjoying the "wild ride when everyone feels reckless, and the fun of it all."
"I think there are different ways for different generations to get hooked on Hunter S. Thompson. Anyone I come across of any age, when they discover the black humor, the cynicism and the charm of the book, it kind of captures them right away."
Contact reporter John Przybys at jprzybys@reviewjournal.com or 702-383-0280 or follow @JJPrzybys on Twitter.