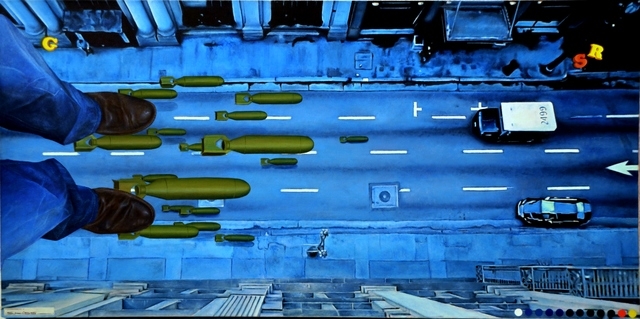 Family fun
STARGAZING SET AT NEON MUSEUM
When it comes to stars, the closest most Neon Museum visitors will ever get is the Stardust sign on display.
That is, until Saturday evening's "Stars and Stardust: Sidewalk in the Neon Boneyard."
The free program, scheduled from 6 to 9 p.m., represents a partnership between the museum, 770 Las Vegas Blvd. North, and the Las Vegas Astronomical Society.
The volunteer astronomy group has hosted star parties at such out-of-town locales as Mount Charleston and Red Rock Canyon, but Saturday's event represents its first urban viewing, according to Julian Shull, the society's vice president of public outreach.
Although Shull's not sure how many members will participate, he's planning on setting up his 16-inch telescope at the event and hopes his fellow members will do likewise.
One member sent this message in response to his email invitation: "That is way too cool to miss — we are in."
The museum's Stardust sign will provide an appropriate backdrop for the stargazing, notes Cynthia Behr Warso, the museum's education and programming manager. However, most of the neon boneyard's loop trail will be roped off during the event, she adds.
The lighting used to illuminate the museum's signs will be dimmed so amateur astronomers can have a clearer view of the stars.
And while Las Vegas' famous lights may block "some of the more subtle nebulae," participants will "certainly see stars," Shull says, "maybe even double stars. And Jupiter's going to be up, which should be spectacular."
Although children must be accompanied by an adult, the free program is appropriate for all ages; to register, e-mail education@neonmuseum.org. For more Neon Museum information, call 702-387-6366 or visit www.neonmuseum.org; more information about the astronomical society is available online at www.lvastronomy.com.
Art
GALLERIES DEBUT
NEW ART EXHIBITS
Artworks by Cirque du Soleil employees — and by a Las Vegas-based artist who recently received a master's degree from UNLV — take center stage in two new exhibits at downtown's Arts Factory, 107 E. Charleston Blvd.
The ninth annual "Parade: The Collective" opens Friday at the Trifecta Gallery; the eclectic showcase features paintings, sculpture, photography and mixed-media works by Cirque's Las Vegas-based performers, technicians and support staff. (The artists' "day jobs" range from wig technicians to wardrobe attendants, aquatic performers to riggers.)
In addition to the exhibit, Cirque du Soleil and Trifecta also will host "Late til 8," a Thursday series featuring conversations with local artists, from 5 to 8 p.m. throughout January; next Thursday's program will focus on Cirque's community outreach programs.
"Parade: The Collective" runs through Jan. 30 at Trifecta Gallery; hours are 11 a.m. to 5 p.m. Mondays through Wednesdays and Fridays, 11 a.m. to 8 p.m. Thursdays, and 11 a.m. to 3 p.m. weekends. For more information, call 702-366-7001 or visit www.trifectagallery.com.
The Contemporary Arts Center, meanwhile, presents Nathan Cote's "Cannibals, Survivalists and the Plus Ultra Habitat" through Feb. 2.
Cote's photographic and sculptural works feature personified flora and simulated habitats, unifying synthetic and organic elements to explore the connection between nature and nurture.
Originally from North Dakota, the artist graduated in 2013 with a master's degree in studio art from the University of Nevada, Las Vegas.
Contemporary Arts Center hours are 2 to 5 p.m. Thursdays and Fridays and noon to 6 p.m. Saturdays and Sundays; for more information, visit www.lasvegascac.org.
Family fun
BELLAGIO DISPLAY
ENDS HOLIDAY RUN
The holidays may be over — everywhere but Bellagio's Conservatory and Botanical Gardens, that is.
The resort's winter wonderland display, complete with the Strip's largest indoor Christmas tree, continues through Sunday, spotlighting everything from a life-sized chocolate house to topiary polar bears.
The centerpiece of the display: a 42-foot-tall, 6,800-pound white fir tree from Mount Shasta, Calif., adorned with 2,500 ornaments and 7,000 lights.
Other conservatory attractions include a walk-through snow globe guarded by a quartet of toy soldiers and six life-size reindeer, embellished in live moss, hauling gifts in an antique sleigh — over a full-scale house made of 1,600 pounds of chocolate.
In the conservatory's South Garden, topiary polar bears — crafted from white carnations — frolic on an icy pond, adjacent to a gazebo where vibraphone and marimba players perform from 5 to 6 p.m. daily.
The free conservatory display is open around the clock through Sunday at Bellagio, 3600 Las Vegas Blvd. South; for more information, call 702-693-7111.
Art
CSN SHOWCASES
'BORDERLINE' ART
Classes don't resume until Jan. 21 at the College of Southern Nevada.
But the classwork continues — on exhibit — in "ART 298: Borderline," which showcases selected student artwork from the Department of Fine Arts' capstone course, ART 298, at CSN's Artspace Gallery in North Las Vegas.
The student exhibition includes a range of fine art media; participating student artists include Tamara Baggi, Vincenzo Bello, Charelle Burns, Daniel Cope, Mudiwa Tendayi Dete, Adryana Duval, Alan Gamburg (Ruzo Logic), Rachel Hanley, Gilda Haro-Mejia, Katherine Lugo, Christine-Gayle Rios and Danny Tran.
The free exhibit continues from 8 a.m. to 10:30 p.m. weekdays and 8 a.m. to 5 p.m. Saturdays in the Artspace Gallery at the College of Southern Nevada's Cheyenne campus, located upstairs from the main entrance at 3200 E. Cheyenne Ave. in North Las Vegas.
For more information, call 702-651-4146 or visit sites.csn.edu/artgallery/index.html.
— By CAROL CLING