12 Inches of Sin art competition grows from modest beginnings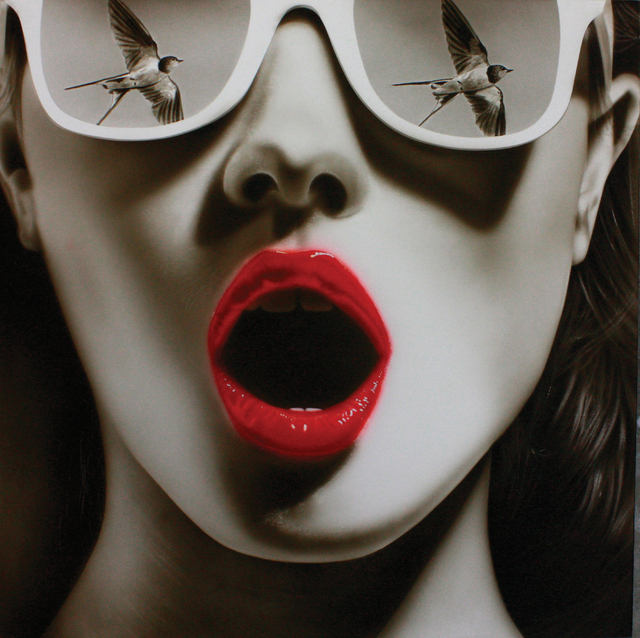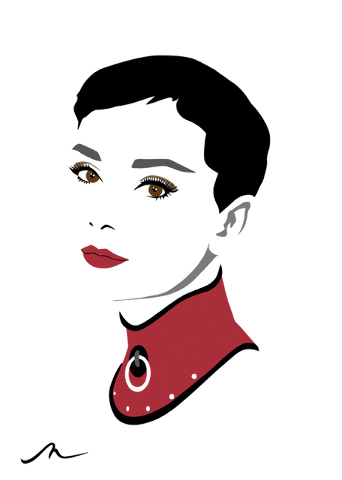 Size matters — especially when it comes to 12 Inches of Sin.
But it's not what you're thinking.
The title refers to Sin City Gallery's annual juried art competition — so named because the artworks are restricted in size to 12-by-12 inches.
After all, the Arts Factory gallery is small, notes owner Laura Henkel, and the 12-inch restriction was designed "to get as much art into the space as possible."
But while the size of the artworks has remained the same, 12 Inches of Sin has grown in other ways during its five years of existence.
In the beginning, the exhibition had 40 submissions from five countries. This year's 12 Inches of Sin attracted more than 300 submissions from artists based in 23 different countries.
The chosen entries will be on display Saturday when Sin City Gallery takes over the Arts Factory for 12 Inches of Sin Immersive, an all-day-and-into-the-night celebration for the 21-and-older crowd.
In addition to the featured artworks, the 11-hour event — which runs from 1 p.m. to midnight — will include live bands and DJs, burlesque performances, art lectures and three live auctions with art priced from $50 to $35,000, according to Henkel.
Gift bags will be distributed to the first thousand attendees, she adds, along with information on other downtown arts district attractions.
"We're encouraging people to explore," Henkel says. "I think there's just wonderful synergy happening" throughout the arts district. (For a detailed Immersive schedule, visit sincitygallery.com or www.12inches.com.)
A portion of ticket sales will benefit an HIV/AIDS charity, the Sin Sity Sisters of Perpetual Indulgence, to support community outreach and educational programs.
"Every year, we've celebrated, and every year," the kickoff event for 12 Inches of Sin has "gotten bigger," Henkel notes. "I never was expecting this to grow as it has."
Judges for this year's 12 Inches of Sin range from former Las Vegas mayor Oscar Goodman to Burning Man Project co-founder Will Roger Peterson.
"It's pretty diverse," Henkel says of the jury lineup.
That description also applies to the artworks chosen for this year's 12 Inches of Sin, which range from the winning entry — Indonesian artist Kei Kusama's delicate ink drawing "The Spoiled Ram" — to other paintings, collages, photographs and sculptures exploring eroticism and sensuality.
Some are as subtle as "Miss Hepburn," British artist Michelle Mildenhall's portrait of Audrey Hepburn — wearing a red slave collar. Other entries are considerably more explicit, depicting a variety of imaginative and sometimes witty twists on the subject of sexuality.
Commenting on Iranian artist Azadeh Ramezani Tabrizi's painting "Chick" — which shows a plump, provocatively posed cooked chicken — "you'll never look at a chicken the same way again," Henkel says, laughing.
And while "I know I'm being classified as an 'erotic' art gallery," she acknowledges, "I really dislike that term. I prefer 'provocative.' "
Artist Nicola Filippo, however, has no such qualms about labeling his art as "erotic."
Participating for the fourth time in 12 Inches of Sin, Filippo's mixed-media collage — titled "Alright, Mr. DeMille" — depicts a porn movie shoot with a cheerfully nude camera operator and cast members, male and female, sporting male genitalia.
Filippo embraces the "erotic art" label, adding that "I like to be playful about the eroticism," he says. "I'm very much about humor and play and vividness. I want to people to see that it's all about fun."
Now based in upstate New York (with a winter home in Palm Springs, California), Filippo grew up in Las Vegas in what he describes as "a chaotic household."
His musician father played for casino headliners and the Stardust's long-running "Lido de Paris," while one of his stepmothers was a topless dancer.
"There was a lot of toplessness going on," he remembers. But "such an unconventional childhood" has its advantages, Filippo adds. "I looked at the world as not locked in."
Leaving Las Vegas after high school, he never intended to return, admitting "I would never, ever go back to Las Vegas if it weren't for" 12 Inches of Sin.
Other participating artists also appreciate the "lure of Las Vegas," Henkel adds, especially "people who have never been to Las Vegas," because "everyone wants to come here."
The annual 12 Inches of Sin exhibit moves into Sin City Gallery next month, following the current solo show by last year's "Best in Show" winner, California photographer Raymond Elstad. (That exhibit continues through April 24.)
In addition to the gallery show, however, the 12 Inches of Sin competition includes a companion book showcasing the artworks themselves. (It's available at downtown's Writer's Block; "Barnes and Noble has asked for the books" as well, according to Henkel.)
"The judging and the books look serious, but it's quite humorous," Henkel says of 12 Inches of Sin. "It's somewhat of a mirror of who we are."
As for Saturday's Immersive event, "I hope it intrigues people," she says, pondering a future of ever bigger 12 Inches of Sin celebrations to come.
"My goal is eventually to take over First Street" downtown, she says, "as if the New York Armory" art show and San Francisco's "Folsom Street Fair had a baby."
Read more from Carol Cling at reviewjournal.com. Contact her at ccling@reviewjournal.com and follow @CarolSCling on Twitter.
Preview
What: 12 Inches of Sin Immersive
When: 1 p.m. to midnight Saturday
Where: Arts Factory, 107 E. Charleston Blvd.
Tickets: $20 general, $150 VIP, 21 and older (702-608-2461, www.sincitygallery.com, www.12ofsin.com)