2012 in the Arts: Cultural wasteland? Not in Las Vegas
December 30, 2012 - 2:01 am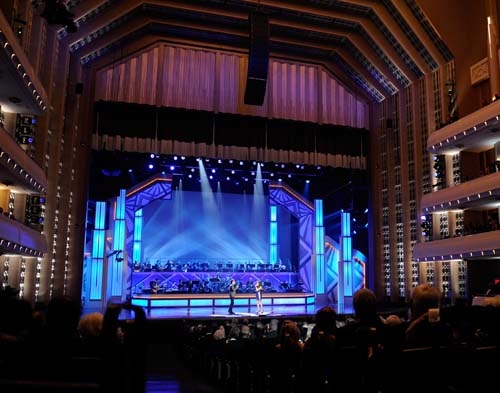 Contrary to conventional "wisdom" espoused elsewhere, Las Vegas hasn't been a cultural desert for quite some time.
But even the biggest skeptics would have to admit that, in 2012, the cultural desert not only bloomed but boomed.
And although the cultural community's sparkling new crown jewel, The Smith Center for the Performing Arts, may bestride Las Vegas like a Colossus (to paraphrase Shakespeare's "Julius Caesar"), it was hardly the only addition to the local arts scene this year. Merely the most monumental.
After a 32-week construction period, the $470 million Smith Center made its long-awaited debut in March, to local (and national) acclaim.
With its art deco-influenced architecture and opulent interiors, The Smith Center's four performance venues catapulted Las Vegas into a new cultural league – as a PBS broadcast of the black-tie opening gala, "From Dust to Dreams," demonstrated, the all-star lineup showcasing everything from country (Willie Nelson) to classical (Joshua Bell), Broadway (Brian Stokes Mitchell) to pop (Jennifer Hudson).
True to its billing, the 2,050-seat Reynolds Hall provided a glittering home for Broadway tours (from "Wicked" to "Memphis"), classical music (with the likes of Bell, Yo-Yo Ma and the Cleveland Orchestra joining the resident Las Vegas Philharmonic), dance (whether the Alvin Ailey Dance Theater, Pilobolus, Ballet Folklorico de Mexico or Nevada Ballet Theatre) or comedy (Lily Tomlin, David Sedaris). From Clifford the Big Red Dog to the Pink Floyd Experience, from Celtic Woman to the Irish (and Canadian) Tenors, Reynolds Hall provided a welcome home for these performers and more.
Meanwhile, in the intimate, swellegant Cabaret Jazz, resident headliner Clint Holmes shared the stage with a host of legendary performers (including Tony-winners Barbara Cook, Betty Buckley and Christine Ebersole) who, until now, never had a true Las Vegas venue for their singular talents.
The flexible Troesh Studio Theater hosted touring productions from "Golda's Balcony" to "Late-Nite Catechism," while also providing a setting for such home-grown productions as "Willy Wonka Junior" and a gender-bending "Odd Couple." And an outdoor space in Symphony Park – with Las Vegas artist Tim Bavington's "Fanfare for the Common Man" sculpture as a backdrop – joined the party with the Zoppe Family Circus and a free holiday concert featuring Broadway's Linda Eder.
Next year, The Smith Center will also be home to the Discovery Children's Museum, which is moving there from its current digs at the Las Vegas Library in early March. (But that's a topic for our 2013 roundup.)
Although The Smith Center inevitably claims No. 1 status on any arts-centric 2012 countdown, it's far from the year's only notable debut.
The $42 million Mob Museum – or, if you prefer its more formal moniker, the National Museum of Organized Crime and Law Enforcement – opened in Las Vegas' former federal building on Feb. 14, the 83rd anniversary of Chicago's notorious St. Valentine's Day Massacre.
That Chicago connection's no accident; there's plenty of only-in-Vegas content at the Mob Museum, but its shadow-and-light perspective extends far beyond Glitter Gulch and the Strip.
And in October, a brighter (literally and figuratively) salute to Las Vegas' storied past arrived on the stretch of Las Vegas Boulevard North known as downtown's "Cultural Corridor."
That, of course, is the long-aborning Neon Museum, where signs of past times shine again in a "museum without walls," a living boneyard that spotlights star signs from the Golden Nugget to the Silver Slipper, from Stardust to Sahara, from Aladdin's Lamp to Treasure Island's beached buccaneer marquee.
Across Las Vegas Boulevard from the Neon Museum is another promising cultural attraction: the Las Vegas Shakespeare Company, which in September launched a $45 million capital campaign to remodel the 50-year-old Reed Whipple Cultural Center and transform the troupe into a full-time professional company.
Elsewhere downtown, First Friday celebrated its 10th anniversary in October. During that time, the event has expanded from a monthly art walk bringing hundreds of patrons to a few galleries to a multifacted, multivenue happening drawing tens of thousands of make-the-scene celebrants to downtown's Arts District. (Hardly coincidentally, First Friday also marked its first anniversary under the auspices of an investor group led by Zappos.com CEO Tony Hsieh .)
Also in the Arts District, Art Square opened its doors, providing a venue for several theater, film and art endeavors.
Not all of 2012's arts action was confined to downtown, however.
At the University of Nevada, Las Vegas – long the focus of Southern Nevada's cultural activities – the renovated Marjorie Barrick Museum's September reopening provided cause for a dual celebration. Not only was the museum back, but so was the Las Vegas Art Museum; the latter closed in 2009, but the Barrick's return meant a new home for LVAM's collection, including works by numerous UNLV-trained artists.
The arts also flourished elsewhere on campus, from the Nevada Conservatory Theatre in Judy Bayley Theatre to the Charles Vanda Master Series in Artemus Ham Hall.
Whether going "Crazy for You" at Super Summer Theatre in Spring Mountain Ranch State Park or exploring the past, present and future at the Springs Preserve, Las Vegans had ample reason – and ample opportunity – to celebrate the arts in 2012.
There's just one nagging question: What do we do for an encore next year?
Contact reporter Carol Cling at ccling@reviewjournal.com or 702-383-0272.
2012 in Las Vegas
I (HEART) THE ARTS, 2012
With hundreds of cultural events throughout Southern Nevada in 2012, there's no way anyone could possibly see everything. But I did see enough to know that these are a few of my favorite (Smith Center) things:
1. "Stephen Sondheim: A Life in the Theater" (July 14, Reynolds Hall) – As a self-confessed Sondhead , I would have loved this one-night-only audience with the Broadway titan even if he only strolled onstage and waved. Instead, the 82-year-old composer of landmark musicals from "Company" to "Sweeney Todd" shared backstage memories, self-deprecating confessions – and his creative philosophy – while Tony-winners Christine Ebersole and Brian Stokes Mitchell performed (gloriously) some of the many brilliant songs that have made Sondheim such a giant. Revelatory, celebratory and utterly unforgettable.
2. Yo-Yo Ma and Friends (April 24, Reynolds Hall) – Those expecting the superstar cellist to hog the spotlight must have been disappointed – until they heard the concert's first beguiling notes of a magical musical tour to Brazil and beyond, in the simpatico company of pianist Kathryn Stott and the amazing Assad Brothers, Sergio and Odair, on guitar.
3. Barbara Cook (Aug. 16-19, Cabaret Jazz) – Making her at-long-last Vegas debut at 84 (!), the Broadway and cabaret legend's unpretentious, humorous approach only heightened the impact of her crystalline tone, perfect diction – and that sunbeam smile that not only lit up her face but everyone else's.
4. Betty Buckley (Nov. 15-18, Cabaret Jazz) – Another Tony-winning Broadway and cabaret veteran, Buckley's "Ah, Men! The Boys of Broadway" demonstrated the nuances a sensitive, assured performer can bring to even the most familiar songs.
5. Alvin Ailey American Dance Theater (March 20-21, Reynolds Hall) – A stirring, soulful program spanning a half-century of dance proved how truly timeless that legacy is – and how powerful speaking volumes without saying a word could be.
6. Branford Marsalis Quartet (March 31, Cabaret Jazz)
7. Christine Ebersole (Oct. 19-21, Cabaret Jazz)
8. "Steppin' Out With Ben Vereen" (Nov. 10, Reynolds Hall)
9. "Jewels" (Oct. 13-14, Reynolds Hall)
10. "Wicked" (Aug. 29-Oct. 7, Reynolds Hall)