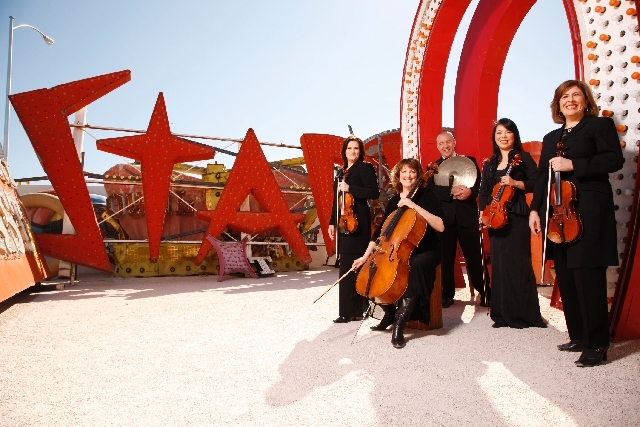 Americans celebrate freedom of choice on Independence Day.
And it's an integral part of "4th with the Phil."
The Las Vegas Philharmonic's first Independence Day concert in three years, The Smith Center bash offers celebrants two options.
Guest conductor Matt Catingub summarizes the choice this way: "Either virtual fireworks or virtual music."
Those enjoying the Family Fun Day at Symphony Park, outside The Smith Center, can watch live fireworks at 9 p.m., accompanied by an audio simulcast of the Philharmonic concert.
Philharmonic concertgoers, meanwhile, can watch a video simulcast of the fireworks if they'd rather concentrate on hearing the music in Reynolds Hall.
The Family Fun Day begins at 4 p.m. in Symphony Park, with a lineup of all-American music — in all its myriad forms.
Among the scheduled performers: Stratosphere headliner Frankie Moreno; "Zumanity" guitarist Melle Vasquez, playing the ukulele and performing Hawaiian music; country singer Sam Riddle; the Swamp Stompers, performing Cajun and zydeco tunes; Mariachi Mexico Antiguo; and Desert Suzuki Institute flute and violin students.
Before the "4th with the Phil" concert in Reynolds Hall, Catingub and singers Clint Holmes and Kristen Hertzenberg will make a special appearance in Symphony Park.
Hot dogs, hamburgers, snow cones, ice cream, beer, wine, soda and water will be available for cash-only purchase. Attendees may bring bottled water, but — unlike previous Philharmonic Fourth of July concerts — no other outside food or beverages will be permitted. The Smith Center's Boman Pavilion lobby will be open as a cooling station throughout the day.
In addition to Symphony Park admission, "4th with the Phil" ticket-holders also will enjoy free admission to the Discovery Children's Museum, adjacent to The Smith Center, from 5:30 to 7:30 p.m. — or until capacity is reached.
At 7:30 p.m., Catingub and the Philharmonic strike up for a concert that ranges from the inevitable (John Philip Sousa's "Stars and Stripes Forever," accompanying the fireworks show) to the unusual.
In the latter category: "a wonderful (George) Gershwin medley from his jazz days," Catingub says, including "our very own original Gershwin song."
Audiences may recognize the melody as part of Gershwin's 1928 symphonic tone poem "An American in Paris."
But "people don't realize there are lyrics — it's an actual song," titled "Home Blues," Catingub says, with lyrics by Gershwin's brother Ira. Singer "Michael Feinstein put it all together," he says. (Before his performing career took off, Feinstein spent six years as Ira Gershwin's assistant, earning him access to numerous unpublished songs by the legendary songwriting team.)
As a singer and saxophonist as well as conductor, Catingub will perform "Home Blues."
But Holmes, The Smith Center's resident Cabaret Jazz headliner, and former "Phantom — The Las Vegas Spectacular" co-star Hertzenberg will handle most of the vocalizing, Catingub says.
Holmes will perform "The House I Live In," which Frank Sinatra introduced in 1945 in an Oscar-winning short film promoting religious tolerance. (Sample lyrics: "The children in the playground, the faces that I see, all races and religions, that's America to me.")
Hertzenberg, meanwhile, will perform a "76 Trombones" and "When the Saints Go Marching In" mashups with definite singalong potential, in Catingub's view.
Other offbeat concert selections include "a '70s TV medley that should pique the interest of most people," says Catingub, a four-year Summerlin resident who's making his Philharmonic conducting debut at "4th with the Phil."
The event marks the Philharmonic's return to Independence Day concertizing after a two-year hiatus, during which orchestra officials focused on "the transition into The Smith Center," according to Philharmonic President Jeri Crawford says.
"We do have a history of doing this event," and the Philharmonic has "received so many requests" for a Fourth of July revival, she says. "We're hoping the community is ready for this again."
The Smith Center, however, provides options that previous venues — Summerlin's Hills Park and the Springs Preserve — did not.
Chief among them: the lower-cost Family Fun Day.
"Expanding it into the park, it has that broader reach," says Jennifer Scott, the Philharmonic's communications manager.
Although Scott expects Family Fun Day tickets to be available at the gate on July 4, "we don't know how many people can fit" at Symphony Park, she says. (About 2,000, according to a Philharmonic estimate.)
"It's not Central Park," Scott says. "If people want to secure a spot on the lawn, they should buy tickets before the Fourth of July."
Concert tickets also are "$20 less than our pops concert prices" during the Philharmonic's regular season, she adds, and include Symphony Park admission. (VIP packages include a 6 p.m. pre-concert barbecue.)
Although a portion of food and beverage sales will go toward offsetting the Philharmonic's expenses, "this is not a fundraiser," Crawford says, citing corporate sponsorship of the event. "All we want to do is break even."
In the future, with additional corporate and public support, "4th with the Phil" could become a free event, Crawford says.
After all, Scott says, the Boston Pops' annual Fireworks Spectacular concert has been going strong for 40 years, "and it's presented by a really big insurance company."
The Las Vegas Philharmonic has a long road to travel before "4th with the Phil" gets to that level.
But "it seems like the time is right to start a community-driven event," Scott says. "If we can afford a hot dog at the end, we'll be happy."
Contact reporter Carol Cling at ccling@
reviewjournal.com or 702-383-0272.
Preview
"4th with the Phil"
Family Fun Day 4-10 p.m., Las Vegas Philharmonic Concert 7:30 p.m.
Symphony Park/Reynolds Hall, Smith Center for the Performing Arts, 361 Symphony Park Ave.
$5-$10 for Family Fun Day, $25-$125 for concert (702-749-2000, www.lvphil.org)