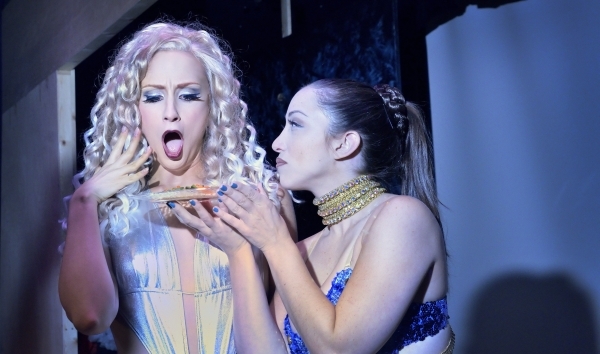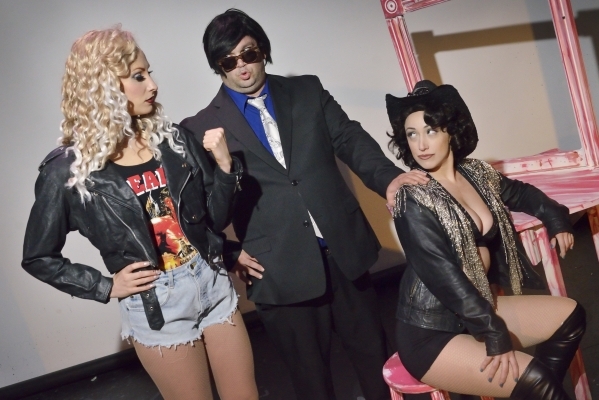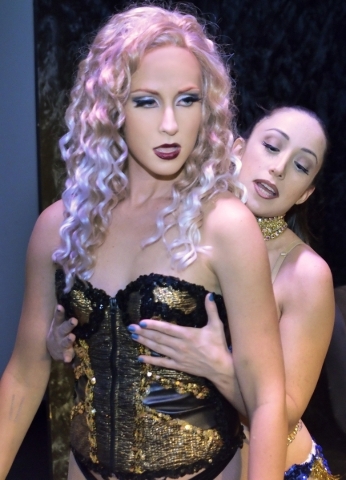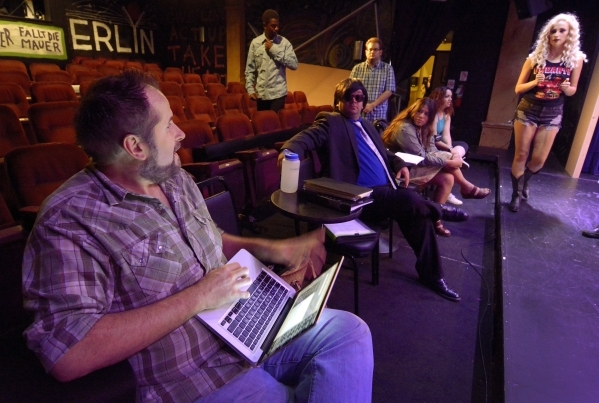 The poster promises "The Most Important Theatrical Event in the History of Western Civilization."
An ambitious Shakespeare cycle? A radical reinterpretation of "Oedipus Rex"? The debut of a world-shattering new playwright?
No, something far more momentous: "Showgirls the Musical."
A musical parody of the 1995 movie, the all-singing, all-lapdancing "Showgirls" begins a month-long run Thursday at the Onyx Theatre. It's not the first "Showgirls" spoof to hit the stage.
But the Onyx "Showgirls" boasts one element parodies elsewhere have lacked, writer-director Troy Heard points out.
"The difference," he says, is that "we have real Vegas showgirls."
Kady Heard (yes, she's married to the director), who plays "Showgirls' " central character — innocent drifter-turned-Vegas vixen Nomi Malone — spent two years in Bally's "Jubilee!"
Fellow cast members Claudia Cervenka and Socorro Jones have performed in "Jubilee!" and "An Evening at La Cage," respectively. (Costume designer Cari Byers also has showgirl cred as a former cast member of the Tropicana's long-running, long-gone "Folies Bergere.")
And these real Vegas showgirls deliver "a lot better acting" than their movie counterparts, Heard contends.
Of course, that wouldn't be difficult, considering the musical's instant-trash-classic inspiration — source material that "we're treating like a Greek tragedy," Heard says.
A Greek tragedy with such strut-your-stuff numbers as "Thrust," featuring new lyrics by Second City alum Derek Shipman (who teaches improv at the Onyx) to familiar Prince tunes.
"There's just something about Prince," Heard explains, "and dirty glitz and glam."
That helps explains why, and how, Prince's beguiling "Raspberry Beret" has metamorphosed into the theme song of the Stardust show where Cristal Connors (Amanda Kraft) reigns supreme — at least until ambitious newcomer Nomi arrives on the scene.
With cheeky lyrics about "looking mighty fine in a chorus line," Cristal welcomes audiences to "the kind of show you come to Vegas for."
In the movie, that show was called "Goddess." In "Showgirls the Musical," it has a new title: "Bitches."
And an audition number features casino mogul and producer Tony Moss (Stephen R. Sisson) advising "Bitches" hopefuls, to the tune of Prince's "Kiss," with these reassuring lyrics: "You don't have to read, you don't have to be good … "
As Moss reminds the wannabe dancers, "It's called 'Bitches,' it ain't called 'Classy.' "
Truer words were never spoken — but that's the point, demonstrated yet again when Nomi and Cristal have an intimate tete-a-tete in the latter's dressing room.
"If someone gets in your way, step on 'em," Cristal tells Nomi. (To which we would add one thing: Watch your back, girl — or haven't you ever seen "All Above Eve"?)
From its made-for-parody plotline to its sleazetastic Vegas setting, "Showgirls the Musical" echoes its cinematic source, according to Heard.
Even with a few composite characters and compressed sequences, "we actually try to tell the story," he says — a story he calls "the quintessential Vegas story," with small-town dreamers "coming to Vegas to reinvent themselves."
Although the "Showgirls" transformation from cult movie to stage spoof "came together very fast," "finding the tone was difficult," Heard acknowledges, especially because the original "Showgirls" already plays like a parody — of itself.
In addition, "dramaturgically, Nomi's a difficult character," he explains, because things happen to her — rather than because of her — for much of the show.
Many of those things — from the notorious strip club where Nomi gets her start ("Fleshdance," anyone?) to the even more notorious swimming pool hookup between Nomi and Cristal's boyfriend — are staged in "enormously interactive" style, Heard promises.
Accordingly, he expects seats in the Onyx's first two VIP rows to be quite popular, despite a $5 surcharge. (There's no theatrical equivalent to the movie's NC-17 rating, but "Showgirls the Musical" definitely qualifies as adults-only.)
Turning "Showgirls" into "Showgirls the Musical" required repeated viewings of the original by both Heard and Shipman, who as a result developed some strange symptoms — from Stockholm Syndrome (in which kidnap victims form an emotional attachment to their abductors) to Shakespeare Comparison Syndrome.
"It reminds me of 'Measure for Measure,' " Heard says of "Showgirls," drawing a connection between the Bard's morally knotty tale set in a vice-ridden Vienna, where "the bawd and the pimp are more moral than the duke and his second-in-command," the puritanical hypocrite Angelo. Just as the characters as the club where Nomi gets her Sin City start "are a lot more moral" than the Stardust powers-that-be.
Even so, "they're all morally reprehensible," Heard says of "Showgirls' " over-the-top characters — or, more precisely, caricatures.
Except perhaps for Molly (Natalie Senecal), Nomi's seamstress roommate, who takes in the new-to-town dreamer after their first encounter — a catfight in the Riviera parking lot.
That's almost as good a meet-cute as Troy and Kady shared "at opening night of a show of mine," Heard recalls. (They've been married three years.)
"A year and a half prior" to that fateful first meeting, however, Heard had "gone on a date" — with someone else — to see "Jubilee!" Which means, as Heard notes, "I'd seen her boobs before we ever met."
And if that's not a quintessential change-your-life Vegas story, neither is "Showgirls the Musical."
For more stories from Carol Cling go to bestoflasvegas.com. Contact her at ccling@reviewjournal.com and follow @CarolSCling on Twitter.