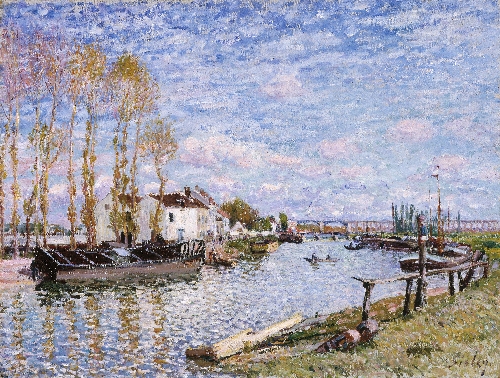 "I haven't seen it, and I've sailed farther than most men have dreamed."
— Kevin Costner's "Mariner" searching for land in "Waterworld"
Psst, Kev — over here, dude.
"We are looking at how artists are looking at landscapes in today's world and what that means," says Tarissa Tiberti, director of the Bellagio Gallery of Fine Art, which unveils its latest long-term exhibition, "A Sense of Place: Landscapes from Monet to Hockney" Saturday, on display through January. "They're feeding into a lot of different things about their environment."
Adhering to tradition, the upscale museum space will be taken over by an all-star roster of artists from various eras contributing to a mixed-media show that will encompass paintings, photographs and a video installation.
Among the artists: Claude Monet, Marc Chagall, Helen Frankenthaler, David Hockney, Sylvia Plimack Mangold, Robert Rauschenberg, Vik Muniz and the single-monikered Christo.
Aligning such pieces as Monet's impressionistic haystacks painted in 1885 alongside Muniz's pigment prints from 2006, and placing representational paintings next to more austere, abstract pieces, "A Sense of Place" aims to reveal how landscapes have been portrayed throughout history.
"What's exciting is it will get people to look again," says Kathryn Kanjo, chief curator of the Museum of Contemporary Art, San Diego, which contributed pieces to "A Sense of Place" along with the Museum of Fine Arts, Boston.
"No matter how traditional an art history is, we can pull it into the present," Kanjo says about San Diego's modern contributions to a landscape collection. Simply the word "landscape" suggests to some gallery-goers merely pleasant, unchallenging works with pastoral charms — "a horizon interrupted by trees or a path or a mountain," as Kanjo puts it — but more contemporary expressions spiral off in offbeat directions.
Such a work, she says, is Inigo Manglano-Ovalle's "Juggernaut," which not only presents new ideas but, as a video installation, appeals to a new generation of tech-savvy viewers. The creation is 16-millimeter film digitized to a high-definition projection, on a video loop.
"It plays with the idea of scale because it has these salt flats, but it also has a piece of heavy equipment bellying back and forth," Kanjo says. "That isn't what you expect to see in a landscape."
Elsewhere in the exhibit, Eric Aho's 2008 "Saxtons River II" portrays a wintry river, the vibe gray and cold, yet somehow beautiful in winter's chilly grip. More soothing in a traditional sense is Eugene Louis Boudin's "Venice, Santa Maria della Salute from San Giorgio" from 1895, a kind of painter's long shot of Venice's picturesque loveliness. Gondolas float upon crystalline water fronting the city under a gentle, light purple-ish sky.
Created in 1975, Christo's "Running Fence, Project for Sonoma and Marin Counties," is a stark but compelling portrait of a fence, its white folds seeming to undulate as it runs along a bare, brown-gray countryside. "They are mixed-media, so that fence is actually made of cloth," Kanjo says. "It's a cross between a divide and a drape and a flag. It carries the rhythm of the landscape."
Seemingly more conventional, modern colorist David Hockney's 1998 "Garrowby Hill" depicts an English country-scape of rolling hills and a winding highway ascending to an unfolding of farmland, its sections cut almost like diamond shards. And yet …
"David Hockney's is a great piece because it's not what people are used to in terms of his L.A. swimming pools or other things he's known for," Tiberti notes. "The colors are very vibrant, which is not known for an English countryside, so it's cool how he's bringing in L.A. sensibilities to that."
Meanwhile, Martha Diamond's 1994 "Black, White & Gray Cityscape #2" gives us a grayish, incomplete skyscraper set against dark, white-flecked skies, imparting a grand yet cold feel. And Stephen Hannock's "Vortex at Dawn," an oil on canvas painted in 1990, features a spiraling cloud seemingly rife with fire and smoke against a foreboding sky that rises from queasy pea-green to dark blue to black.
"It's beautiful, but it also suggests something ominous — it's very realistic, but it's an imaginary realism, and that artistic translation and imagination makes it more of a compelling landscape," Kanjo says, comparing it to older, more straightforward landscapes created at a different point in American history.
"There was a contemplative sense that when you go to them, you think about the majesty of God or something. There was a time in our history when that was an illustration of our Manifest Destiny almost, the grandeur of the West and coming to a new land that read symbolically of the time. These are much less fixed. There is so much intervention in the landscape."
Whether mellow depictions from traditionalists or edgy translations from modernists, "A Sense of Place" is a mixed-media, mixed-tone approach to landscapes.
Dry off and come on in, Kev.
Contact reporter Steve Bornfeld at sbornfeld@ reviewjournal.com or 702-383-0256.
Preview
"A Sense of Place: Landscapes from Monet to Hockney"
10 a.m.-6 p.m. Sundays-Tuesdays and Thursdays; 10 a.m.-7 p.m. Wednesdays, Fridays-Saturdays (through January)
Bellagio Gallery of Fine Art, 3600 Las Vegas Blvd. South
$8-$15; children 12 and younger admitted free (693-7871;
bellagio.com/bgfa)