Aria hike exhaustive artistically and aerobically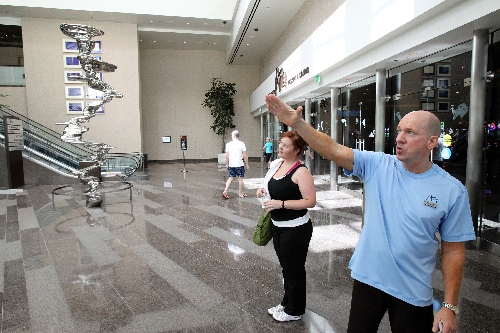 Of the handful of singular Strip experiences, few are as odd, or embarrassing, as doing pushups in the lobby of a luxury resort.
Except maybe doing lunges and squats in front of that same resort, with dozens of people giving you that "look," the one usually reserved for immature drunks or the clinically insane.
You could question my sanity but not my sobriety; I was not drunk when I was doing pushups Friday in the lobby at Aria. I swear. I was on a hike.
And, had it not been for my guide, Steve "the Rocket" Rosen, wearing a blue T-shirt advertising "Aria Fitness Indoor Hike," I'm sure more than one person would have called security.
The Spa at Aria has offered a 60-minute indoor hike/art walk since the resort opened in 2009. It costs $50. CityCenter provides maps that highlight its $40 million fine art collection for guests to discover on their own. The spa's hike comes with a built-in guide who not only tells you the title and creator of each piece but also relates the details behind the works of art. That guide also happens to be a certified personal trainer.
This is the part I didn't think through. In my head, I imagined a nice person leading me through the Aria and Crystals, pointing out the fine art that hangs in public spaces around CityCenter. How strenuous could that be? Hiking just meant we would be walking around a giant Strip resort. That's a hike in any given situation. And I've been on 20-mile outdoor hikes; a one-hour walk around a hotel is nothing.
Except it was something. I should have known better. That's what I kept saying to myself as the Aria spa's fitness hike/art walk kicked my butt.
I started to get an idea that I was in for something more than a leisurely stroll around the resort when we met in the spa and Rosen handed me a yoga mat and a bottle of water.
"Want a towel?" he asked me.
"We're only walking for an hour, right? I don't need a towel," I said.
I needed a towel.
My hiking companion, Sara, had tried to warn me the day before.
"Wear comfortable clothes and shoes," she said.
I thought she was being ridiculous. Let me take this opportunity to say, Sara, you were right. And I was arrogant.
The hikes are tailored to an individual's fitness level, Rocket said, and I think he took it a little easy on us. Still, we climbed at least 20 flights of stairs, including the "endless stairs" in the convention area. They are called endless because, just when you think you're done, there's another flight of stairs to climb.
We did several sets of squats, push-ups, lunges, step-ups, crunches, leg lifts and planks.
I don't want to give the wrong idea; this hike was more fun than I imagined it would be. And I went into it thinking it would be fun. I learned more about CityCenter's art and Aria's restaurants and retailers than I ever knew. Or wanted to know.
For instance, there are ice sculptures in Crystals. How did I miss those? They have always been there. I also discovered that Mastro's Ocean Club in Crystals serves some kind of butter cake that is said to be as addictive as crack. This is the kind of detail you need to know while you're doing lunges and squats.
And did you know there are healthy dining choices at Jean-Philippe Patisserie at Aria? What they are, I don't know because I was trying to surreptitiously catch my breath as Rosen pointed them out as we passed.
I also learned something about myself on this hike/art walk: I am out of shape.
Contact reporter Sonya Padgett at spadgett@review journal.com or 702-380-4564. Follow @StripSonya on Twitter.
By appointment only
The hike/art walk is open to the public Monday through Thursday by appointment, only. The 60-minute session costs $50 and also comes with a day pass to the wet areas of the spa.
Each hike can be tailored to an individual's request. Call for reservations, 590-9600.