Artist Robert Beckmann incorporates Las Vegas into his works
February 14, 2017 - 12:13 pm
Updated February 15, 2017 - 11:22 am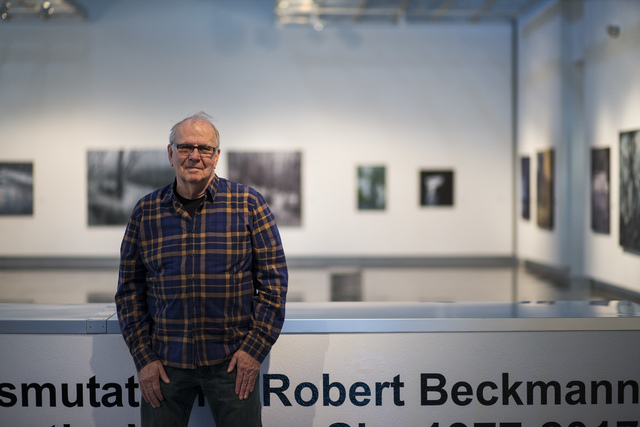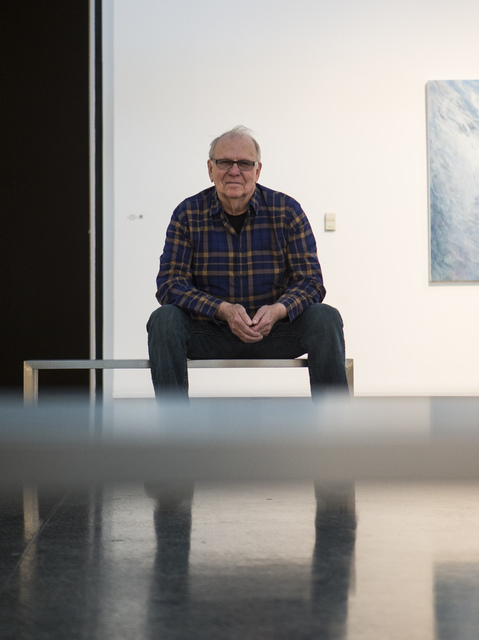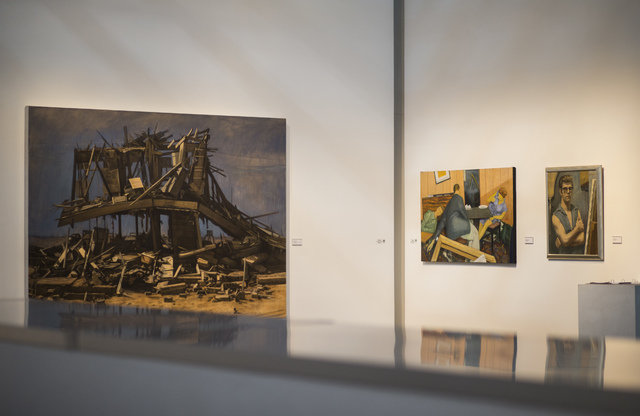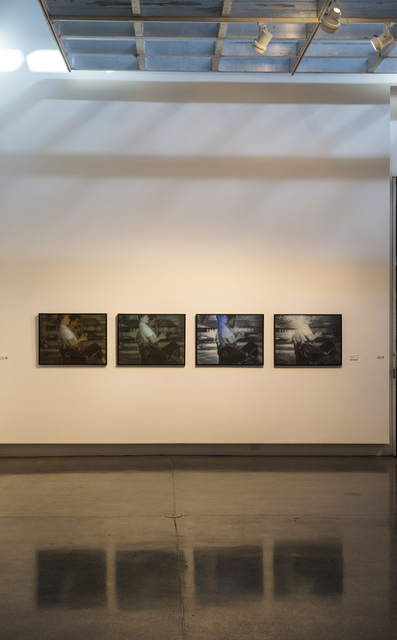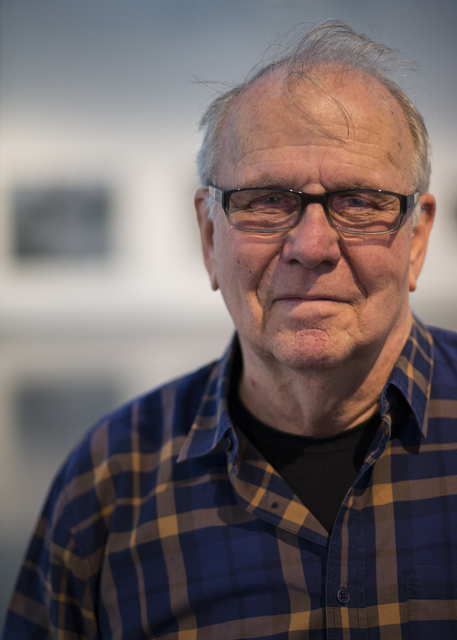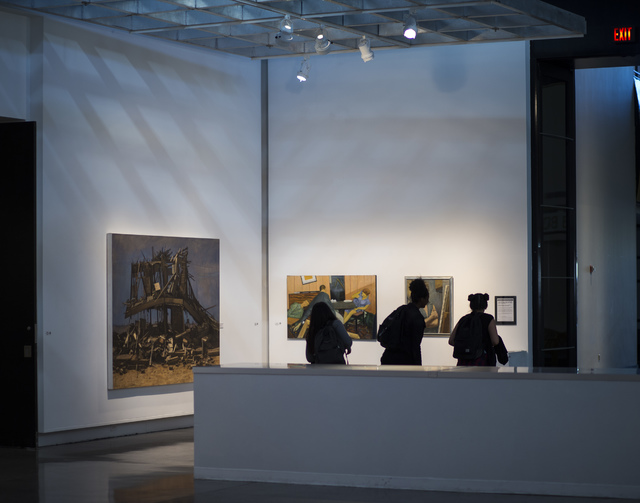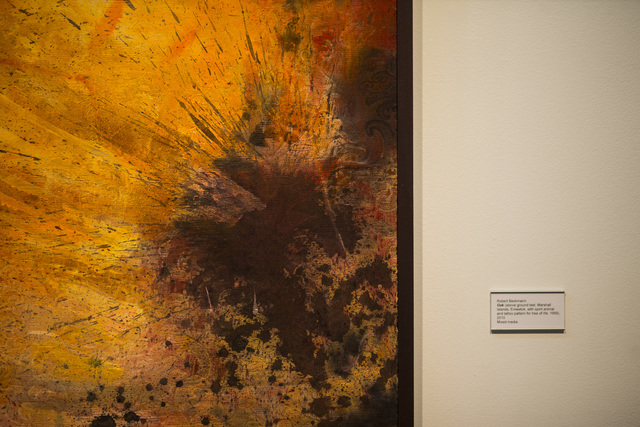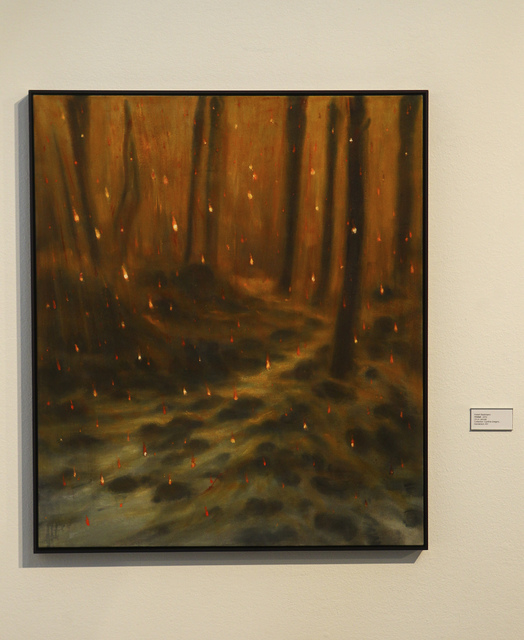 Vegas Voices is a weekly question-and-answer series featuring notable Las Vegans.
For artist Robert Beckmann, all roads lead (back) to Las Vegas.
Museums from Russia to Scotland to Canada have exhibited his works, along with museums and galleries from coast to coast. His murals (more than 250 of them) include six at the United States Botanic Garden in Washington, D.C. (He also has one at McCarran International Airport.)
But Beckmann's latest exhibit may be closest to home: "Transmutations: Robert Beckmann, Under the Western Sky 1977-2017," a retrospective that continues through March 18 at the Sahara West Library's Studio.
The eclectic exhibit reflects Beckmann's wide-ranging style, from visually exuberant abstracts to sly social commentaries, as in his "Vegas Vanitas" paintings, which put a Sin City twist (the Dunes implosion, for example) on landscapes worthy of, and inspired by, Old Masters.
Beckmann, 74, moved to Las Vegas in 1977, initially working with high school students to paint murals in a variety of public spaces. In 2005, he moved to Ashland, Oregon, a change of location captured in some of his more verdant landscapes. When he left Oregon, he spent five weeks in Japan — but found himself returning to Southern Nevada in 2012.
"It's a strange place to call home, isn't it?" the artist muses, a wry note in his voice, as he ponders a 40-year career that's convinced him that "all art is local, like all politics. You've got to observe, you've got to be present."
Beckmann will discuss his observations, and his artworks, during a 6 p.m. artist talk March 2 at the library, 9600 W. Sahara Ave.
For a sneak preview of those insights, we caught up with the artist on a quiet afternoon at the Sahara West gallery.
Review-Journal: When, and how, did you discover art? When did you realize it would become your life's calling?
Beckmann: I was always curious about everything. … I went to college and that whole kind of curiosity kicked into high gear. … Art was a way to filter things to make sense of it and put things together.
RJ: What's your favorite of the paintings you've done, and why?
Beckmann: The most recent. … It's all a search for me. … If you have a style, it's suspicious. There are people who just paint squares or stripes. There are too many questions for me. I've got to do what I don't know how to do. … To do original work, you've got to risk. My art is never expressive, it's always expansive. … I just say, "What the hell, let's try this."
RJ: How has your art changed through the years? And how has your art changed you?
Beckmann: It's the same question. Through the years, my art has changed as I've lived different places. It's always about engagement and observation. It's about being here, being present. … It all came down to me and the tuning out of the ratchety-rachety, raciocination, rational thought. … My art, I see it as meditation and it's brought me into being conscious of the present moment. … If you're alive, you just open up to things.
RJ: How has Las Vegas' cultural landscape changed since you first moved here?
Beckmann: Whew. Honestly, I feel it's a retrograde notion, with NICA (Nevada Institute of Contemporary Art) and the collapse of it and the Las Vegas Art Museum (formerly at Sahara West Library), the Guggenheim and the Guggenheim Hermitage (at The Venetian). … People cocoon into their cyberworlds and cell phones. In terms of the real work, arts are really a necessary thing in our cultures. There's got to be support for the National Endowment for the Arts, the National Endowment for the Humanities and arts in schools, to engage kids, young people, each other in observations and see what's really happening out there.
RJ: What's your favorite thing about living in Las Vegas?
Beckmann: I think it's just the variety of people, more than anything else. The broad cultural and racial mix that's here. I think it's just wonderful. I make friends easily. I'm open. I have a lot of friends from Asia. It opens you up. It expands you. It goes into my art, that kind of exhilaration.
Contact Carol Cling at ccling@reviewjournal.com and follow @CarolSCling on Twitter.
A previous version of this story listed incorrect dates for the closing of the exhibit and for the artist talk.
GETTING TO KNOW … ROBERT BECKMANN
Ringtone?
A cricket
Favorite vacation destination?
Kyoto, Japan
Best place to take out-of-town visitors?
Wetlands Park
Favorite sport?
Tennis
Favorite indulgence?
Movies
Favorite movie?
"Blow-Up" and "Pennies From Heaven"
Hobbies?
Birdwatching
Personal Motto?
It's one I came up with: "Stumble humble"