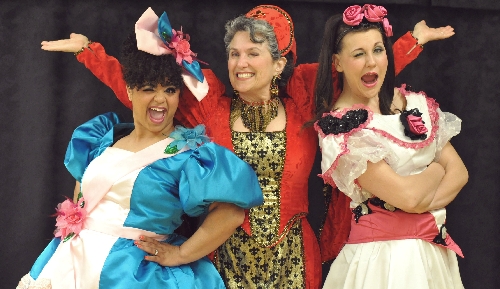 Theater
HENDERSON HOSTS
'CINDERELLA' MUSICAL
It might not be Shakespeare, but even the Bard himself knew the power of a great fairy tale – and the magic of song and dance.
So the Las Vegas Shakespeare Company's current production of "Cinderella" – the ultimate rags-to-riches tale – makes perfect sense.
Sweetened by Rodgers and Hammerstein songs, this "Cinderella" – which made its 1957 debut on television, with future "My Fair Lady" Julie Andrews in the title role – recounts this familiar story of the title character, who's stuck playing servant for her stepmother and stepsisters following her beloved father's death. That is, until a certain wand-waving Fairy Godmother transforms her into the belle of the ball, given in honor of a particularly charming Prince – and proving that the impossible's possible after all.
But you know the rest – except for the fact that the clock's ticking down on this particular "Cinderella," which has three more performances this weekend – 8 p.m. today and Saturday, 7 p.m. Sunday – at the Henderson Pavilion, 200 S. Green Valley Parkway. Tickets are $10 and are available online at www.hendersonlive.com; call 267-4849 for more information.
Ice show
DISNEY ON ICE
SKATES INTO town
And speaking of princesses, plenty of them turn up this weekend at the Thomas & Mack Center as Disney on Ice presents "100 Years of Magic."
Disney Princesses – from Snow White and Cinderella to such modern-day maidens as "Beauty and the Beast's" Belle, "The Little Mermaid's" Ariel and "Aladdin's" Jasmine – are among the 65 favorite characters portrayed in the show, which also salutes Pixar favorites from "Toy Story" and "Finding Nemo" and classic Disney animation from "Pinocchio" to "The Lion King." Not to mention those two lovebirds (or should we say lovemice?), Mickey and Minnie, along with their ducky pals Donald and Daisy.
Stephan Alvin and Marina Bystryakova are the show's principal skaters, joining Adam Blake and Alibele Alegre Smith as featured performers. For the 20th time, Jerry Bilik adapts the various stories and directs the show, while Sarah Kawahara provides the choreography.
Performances continue at 7 p.m. today, 11:30 a.m., 3:30 and 7 p.m. Saturday and 1:30 and 5:30 p.m. Sunday at Thomas & Mack Center, at the corner of Tropicana Avenue and Swenson Street. Tickets are $14 to $50 and are available at the Thomas & Mack Center box office, by phone at (866) 388-3267 or online at unlvtickets.com.
Music
FLAMENCO GUITARIST
DE LUCIA comes to lv
Flamenco guitarist Paco de Lucia makes his Las Vegas debut Wednesday night at The Smith Center for the Performing Arts, bringing fellow musicians – along with singers and dancers – to Reynolds Hall.
The most innovative and influential flamenco artist of the past three decades, de Lucia has infused new life into the art form with his recordings; groundbreaking collaborations with jazz artists from Chick Corea to Larry Coryell, plus his contributions to soundtracks from such movies as Woody Allen's "Vicky Cristina Barcelona," have brought his music to an even wider audience.
The guitarist and his fellow performers will appear at 7:30 p.m. Wednesday in Reynolds Hall at The Smith Center for the Performing Arts, 361 Symphony Park Ave. Tickets are $29 to $108 and are available by phone at 749-2000 or online at www.TheSmithCenter.com.
– By CAROL CLING