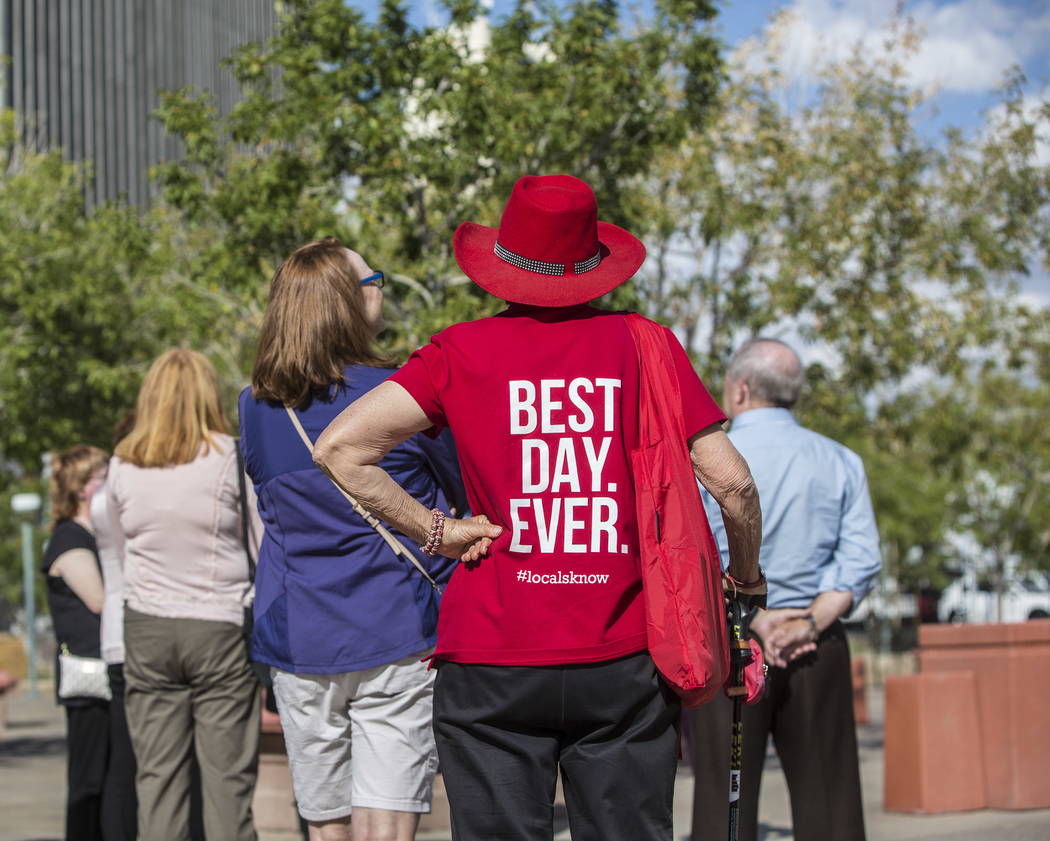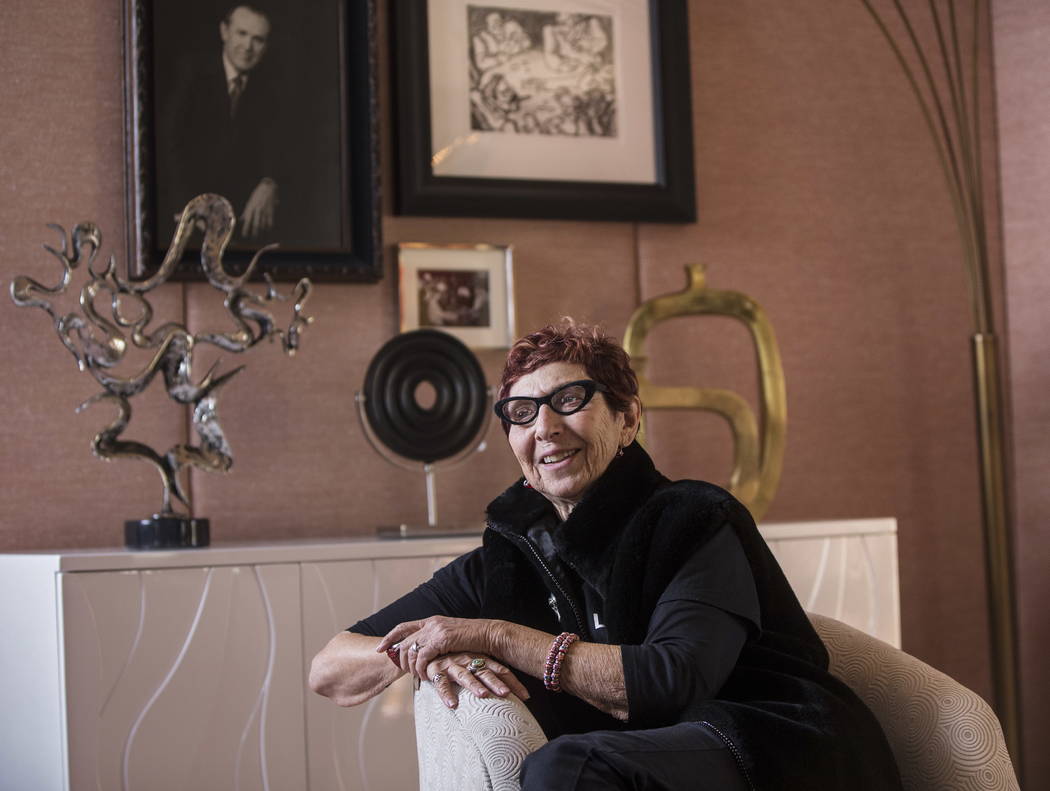 Vegas Voices is a weekly series highlighting notable Las Vegans.
Once upon a time, Babs Daitch had an identity problem. Not because people didn't know her; they did. But only because they knew her employers.
"I had no identity for myself," she says. "I was Mia Farrow's secretary, Frank Sinatra's secretary. Eventually, you say, 'Hey, wait a minute — I want top billing too!' "
Daitch never quite found it in showbiz, although she appeared on stage (including a turn as one of "Gypsy's" gotta-have-a-gimmick strippers) and TV (her roles included the euphoniously named Lu-Lu LaVerne in a 1973 "Odd Couple" episode). She even played Vegas, appearing with Spike Jones Jr.'s zany Toonerville Trolley comedy troupe at the International (now the Westgate).
These days, however, Daitch has a different identity, as a fast-walking — and even faster-talking — Las Vegas tour guide for not one or two but three ventures: Las Vegas Pop Culture Tours, Las Vegas Urban Adventures and Thanks Babs the Day Tripper.
The current president of the Las Vegas Tourist Guides Guild, Daitch describes herself as "ADD" and "a A (as in Type A) personality." Which, in a sense, makes her an ideal guide for "a fast-paced, 24/7 town."
We caught up with Daitch at the El Cortez — her favorite downtown hangout and the final stop on the downtown walking tours she leads — to discuss the long and winding road that led her to Las Vegas.
Review-Journal: When and where were you born? Where did you grow up? And what did you think you would be when you grew up?
Daitch: I was born in '47, so I'm an old fart. … I was born in the Bronx, New York, at Dr. Liff's Maternity Hospital. My parents divorced in the late '50s, so we moved to L.A. … I was always an outgoing person. When I was younger, I wanted to be on the police force, so I took classes. … Later, I got involved in the entertainment industry.
What are the requirements for being a good tour guide?
First of all, I think curiosity, flexibility and giving the correct information. It's OK to say, "I will get back to you." Spontaneity. The tour is not about the guide — it's what the customer, the client, the tour-goer wants.
What makes Las Vegas a good place to be a tour guide?
It's all about image. It's about smokescreens and the presentation at that moment versus behind the scenes. And it's constantly reinventing itself. … For me, you have to look at it as past, present and future. What we enjoy doing is giving the tourists that "aha" moment.
What are some of your favorite Las Vegas tour stops?
Things where I can show people a history. Fremont Street — I like it at 10 o'clock in the morning. … On the Strip, Bellagio. … I love bringing everyone to see the conservatory and getting a good position for the fountain show. … I love The Linq. It's big, bold. Everything in Vegas has to be big.
How, and why did you become Frank Sinatra's social secretary? When, and how long, did you work for him?
I was working for his wife, Mia Farrow, long before she became his wife. I was her assistant. … (Farrow) was in "Peyton Place" and they needed somebody to do her fan mail. … She was just starting to date Frank then. … When Mia married Frank (in 1966), she wasn't doing a film, so (they wondered) "What do we do with Babs?" (And Sinatra said) "I'll take her." He flew me to Vegas and I stayed at the Sands. … I handled all of his social engagements. Everyone came to see Sinatra. … My job was to make sure everyone got there. … I was his personal concierge. … I was different than the typical personal assistant, all the yes people.
Sinatra is such a legend to so many people. When you worked for him, did you see the legend or the person? Was there a difference between the two?
I saw the person for sure. … Morning, evening, I saw him with his glasses on, having a Jack Daniel's. … And the legend. … Being Sinatra in the hallways, giving tips to people. He gave a $100 to a doorman and asked him, "Have you ever gotten a tip like this before?" "Yes." "From who?" "You." He was very generous in that way, so generous.
What's your favorite Vegas-y thing to do?
One of them is coming down here (to the El Cortez) and playing roulette and not busting the bank.
What's your favorite un-Vegas-y thing to do?
Going out to Red Rock and walking on the trails. Getting lost and saying "Help, is anybody out there?" They all start to look alike. I just enjoy the outdoors. I like going out to Boulder City, although honestly, I'm kind of sick of Hoover Dam.
Getting to know: Babs Daitch
Favorite indulgence
"Good scotch"
Favorite movie
"Auntie Mame" and "Breakfast at Tiffany's"
Favorite vacation destination
"Spain. I find it wonderful."
Last performance attended
Terry Fator at The Mirage
A food you could eat all day
Potato chips
Best place to take out-of-town visitors
Fremont Street
Hobbies
Photography and walking
Personal motto
"Life is a banquet and most poor suckers are starving to death!" from "Auntie Mame"
Contact Carol Cling at ccling@reviewjournal.com or 702-383-0272. Follow @CarolSCling on Twitter.