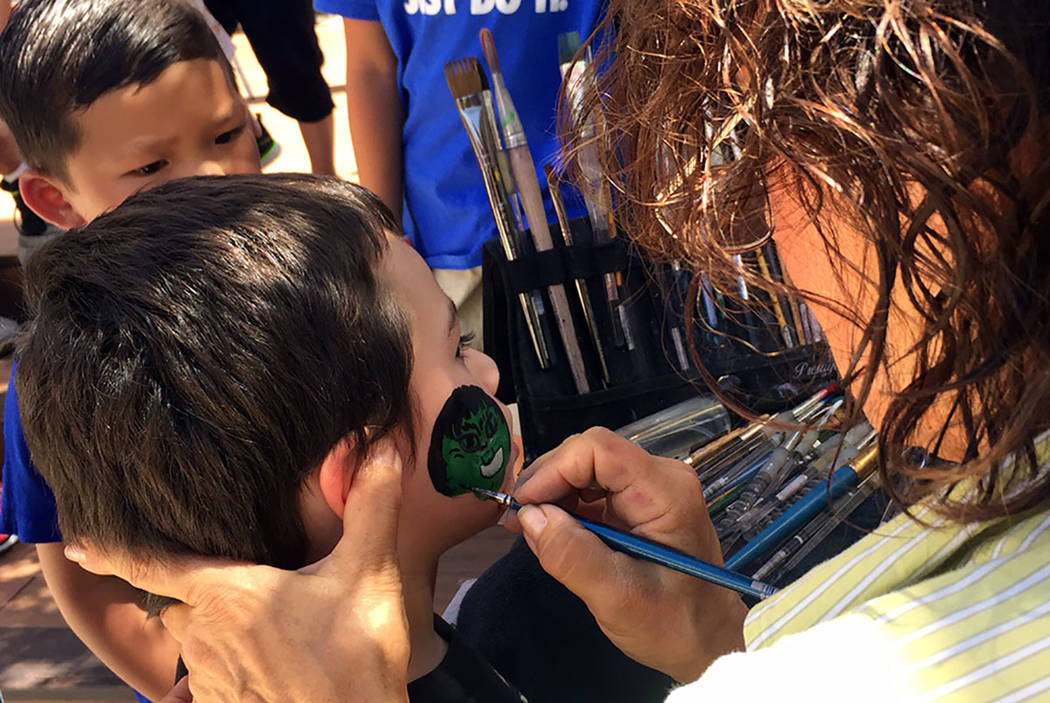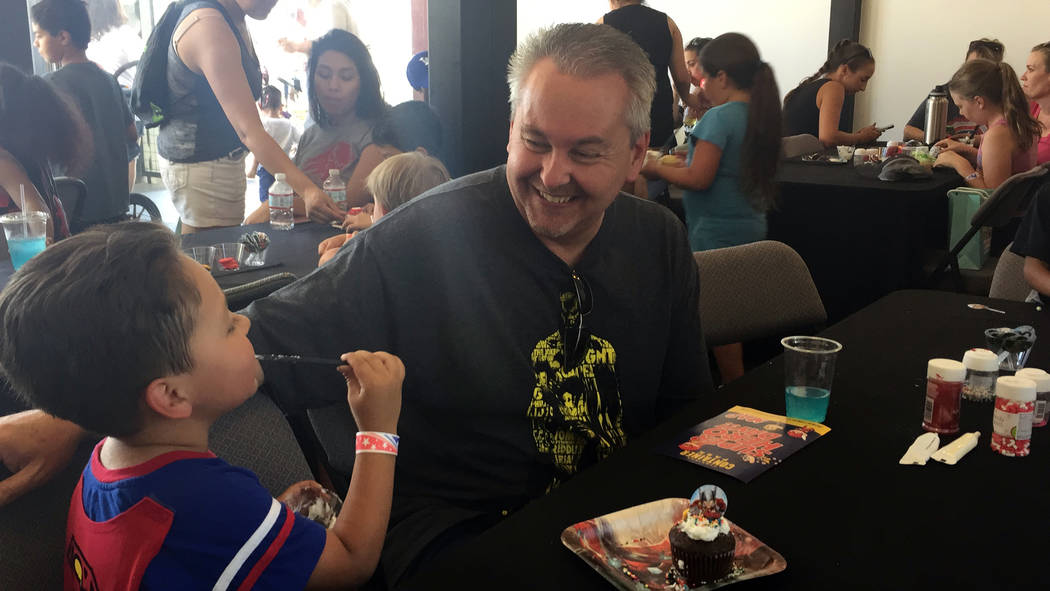 On a blistering late morning, when the temperatures hit triple digits, some locals might have wished for a superhero to save them from the heat. Such heroes were in plentiful supply at downtown's Container Park.
They ranged from caped kids, Batman dads and green Ninja Turtles. One such turtle, who'd run far ahead of his parents, turned around and shouted,"Follow me!"
He was headed to the blow-up obstacle course set up for the kids as part of the park's Kids Camp series, a themed event held the third Saturday of every month.
Saturday's event featured 10 kid-friendly activities including beanbag tossing, a photo booth, face painting and balloon artists. For their $9 entry fee, the kids received superhero masks and belts, along with a prize of pingpong paddles printed with "Pow!" and "Bam!"
"It's Father's Day tomorrow, and every kid's favorite superhero is their father," said Edith Louviere, banquet manager for the Downtown Project. "We try to tie each event to something that's going on in the community."
Next month is carnival theme, she said of the Kids Camp, which started in April to bring more kids and families into the park.
On Saturday, Corissa Girton watched as her 10-year-old son, Elias, visited the face-painting station.
"You're gonna get Batman?" Girton, 27, asked.
He shook his head.
His 4-year-old brother, Ricky, had just gotten a green-and-blackHulk face painted on his cheek.
"That looks nice," Girton said. "High five!"
Ricky reached up to smack her hand.
Inside, where the cupcakes were being decorated, 4-year-old Gavin Anderson was about to take a bite out of his newly decorated Superman cupcake.
"That's for Daddy," she said.
"No," Gavin said with a giggle.
Gavin and his dad, Jim, have a lot of practice being superheroes. At home, Gavin is Superman and his dad is Batman. "Forever, he thought he was Superman," his mom, Adita, said.
Gavin licked the icing.
"Is that what Superman eats?" Jim joked. "Frosting?"
Outside, even superheroes had weaknesses. As the 100-degree weather came out in full force, one Wonder Woman needed water. Her mom poured some in her mouth and on her head to keep her cool.
A masked Batman swung from a blow-up ball in the inflatable obstacle course, falling with a splash in the shallow water below.
"I'm OK!" he shouted.
He popped up screaming and ran toward his friends.
Contact Briana Erickson at berickson@reviewjournal.com. Follow @brianarerick on Twitter.
Camp series
Superhero day is part of the Downtown Container Park's Kids Camp series, held from 11 a.m. to 1 p.m. on the third Saturday of every month. Visit https://downtowncontainerpark.com/ for details.
707 Fremont Street Las Vegas, NV 89101 United States