Barrick Museum has new life, new art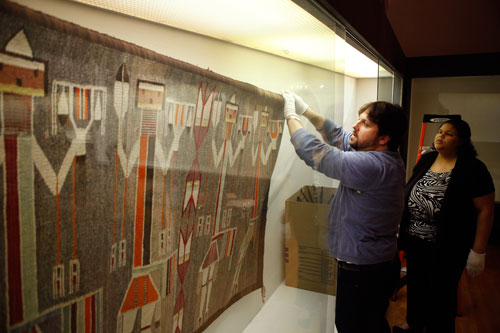 Aurore Giguet wasn't worried when funding cuts last year threatened to turn the Marjorie Barrick Museum on the University of Nevada, Las Vegas campus into an endangered species.
"I had a feeling that we wouldn't close, but we might have diminished services or diminished hours," says Giguet, the museum's program director.
"But I always knew something would happen. I wasn't scared that we'd close."
Giguet's faith was rewarded last fall when the museum, which had been part of UNLV's Harry Reid Center for Environmental Studies, became part of the university's College of Fine Arts.
And that wasn't the end of the good news: When the Barrick Museum reopens later this spring after a renovation, it will house several pieces of modern and contemporary art from the shuttered Las Vegas Art Museum.
The Barrick Museum opened in 1969 with the aim of educating students and community members about life in the American Southwest and Mesoamerica. Named after Las Vegas philanthropist Marjorie Barrick, who also founded the Barrick Lecture Series at UNLV, the museum's works include a comprehensive collection of pre-Columbian art donated by Dr. Michael C. and Mannetta Braunstein.
However, budget cuts last year stripped the museum of its funding — about $267,000 annually, Giguet says — and imperiled its future.
Giguet began working at Barrick as a student in 1991 and found "disappointing" the apparent lack of appreciation of the museum's value to the UNLV and Southern Nevada communities.
"But, in another sense, I knew we would survive," she says. "I knew that something would happen and that we would remain open.
"I always had sort of a positive outlook that we'd make it," she adds, even while acknowledging that there were a tough couple of months between the budget cut in July and news later in the year that a solution had been found.
During that time, "we did a lot of things to keep the museum in the public eye, whether it was exhibits or events," Giguet says. "We did fundraisers. It seemed there was always something going on in here … just to show what we can do and how we could be part of the community."
It was right after Thanksgiving when, Giguet says, "we heard the decision that we'd be coming under the College of Fine Arts."
The administrative move was spearheaded by Jeffrey Koep, dean of the College of Fine Arts, says Jerry Schefcik, UNLV's art curator and director of the Donna Beam Gallery of Fine Art.
"In December of this past year, all the parts came together and the transition was made," Schefcik says. "So the Barrick Museum now is part of the College of Fine Arts."
It's "a perfect fit, because we've been showing an increasing number of art exhibits," Giguet says. "That's not only where we were headed, but where the community wanted us to go."
Several years ago, the Barrick Museum's focus began "changing from natural history more toward ancient America because of the Braunstein collection of pre-Columbian art that will stay and that will become part of the new museum," Schefcik says.
Then, in January, it was announced that UNLV will acquire about 200 pieces from the Las Vegas Art Museum, which closed its doors in February. The Barrick Museum will be the home of many of those pieces when it reopens later this spring, Schefcik says.
With the renovation, the museum "will have greater capacity as far as space," Schefcik says, and "give us an opportunity to show more extensive exhibits and traveling exhibitions that won't fit into the Donna Beam gallery."
After the renovation, Barrick museumgoers will find "a pretty dramatic change," Giguet says.
The chief goal has been to "open it up and change the lighting to make it a space that's adaptable to any number of types of exhibitions that can come in here."
Construction is expected to conclude in late May and, after a few weeks of unpacking time, set up a mid- to late June reopening.
Giguet says the museum's patrons are divided about evenly between students and community members. Attendance has just about tripled over the past three years, she says, with about 2,500 patrons a month stopping in before the renovation shutdown.
That's been due mostly to word-of-mouth and social media, she adds. "We did a couple of ad buys, but our marketing has always been sort of grass-roots/guerrilla."
The Barrick Museum now also may benefit from the college's ability to coordinate marketing with other museums on campus.
"As we get into this, one of the needs, obviously, is public awareness, maybe rebranding the museum and building some sort of public awareness program that would let potential visitors know what it is that we have," Schefcik says.
It's surprising that, after what could have been a dire ending a few months ago, things now look bright for the Barrick.
It is, Giguet says, "a very exciting time."
Contact reporter John Przybys at jprzybys@reviewjournal.com or 702-383-0280.